How many of you are not reflecting on your own childhood, AND, does not remember some of your favorite cartoons ?
Maybe some of you had some preferences such as Mickey Mouse, or Tom & Jerry cartoons but i guess that my following characters that i will bring to you through my photos, will be some of your favorites as well !!!
Who does not remember and like Chip and Dale cartoon episodes ???
I guess more than 80 % of this generation remembers their weekends or afternoons, when, after finishing their homeworks and the practicing time on their instruments (if they were studying music/art) they were more than happy to watch some of these awesome cartoons on the tv.
I do hope that most of you will be a little bit'nostalgic and will remember with a smile on your face, for instance, the famous characters from Donald Duck cartoon series or Chip and Dale ...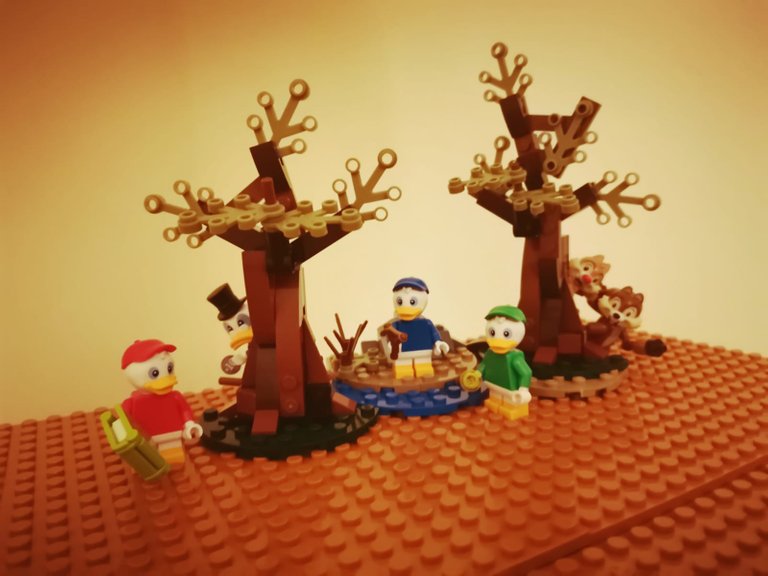 This idea came very easy and i couldn't just leave it in the air, without shooting a couple of photos ...
I've included Donald Duck along with Dewey, Louie and Huey ...
Of course, i've included the famous couple, which might be considered the most adventurous one inside the entire Disney cartoon world ... Chip and Dale ...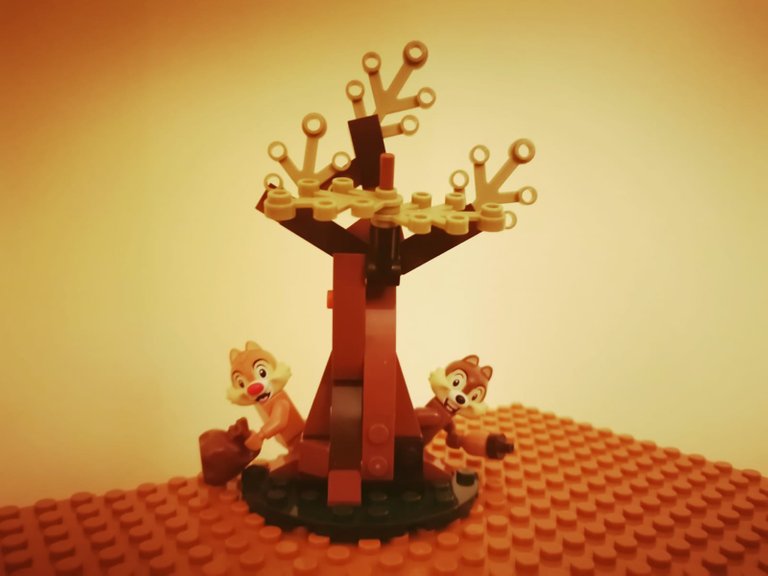 As a hobby for lego world, i've discovered that here, inside this vast spectrum of imagination, you can create all kind of landscapes and all kind of fiction stories with your minifigures ...
Therefore, recently i've took some photos with three favorite characters inside this lego world ... I've created their unique desert hut and i guess, that, in combination with that red earth illusion, which might be like a desert inside Morocco ... i guess Jedi Yoda, Chewbacca and Jeddak Cobranium were looking very genuine inside this environment ...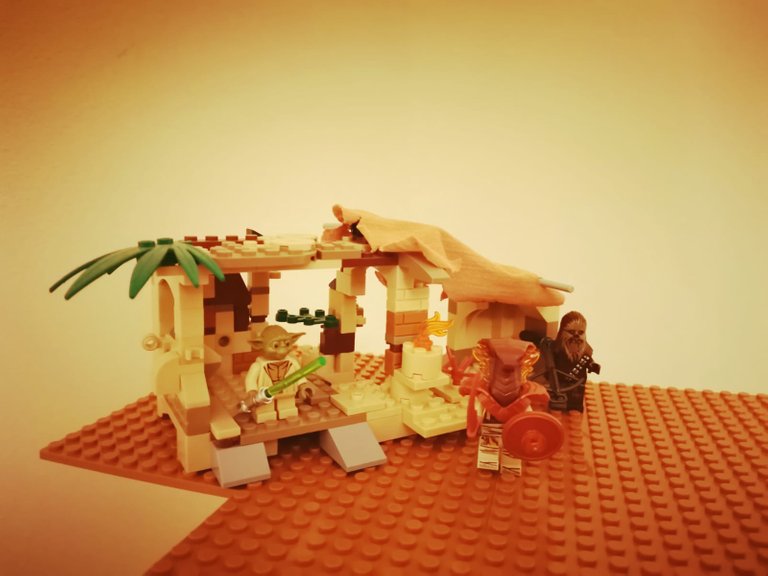 Another cool creation came during my presentation on lego ideas platform, when, i wanted to create a sort of a futuristic dewpack animal of the desert within Barsoom, for my fictive character, Jeddak Cobranium ...
I guess, the entire idea came out in a cool way ...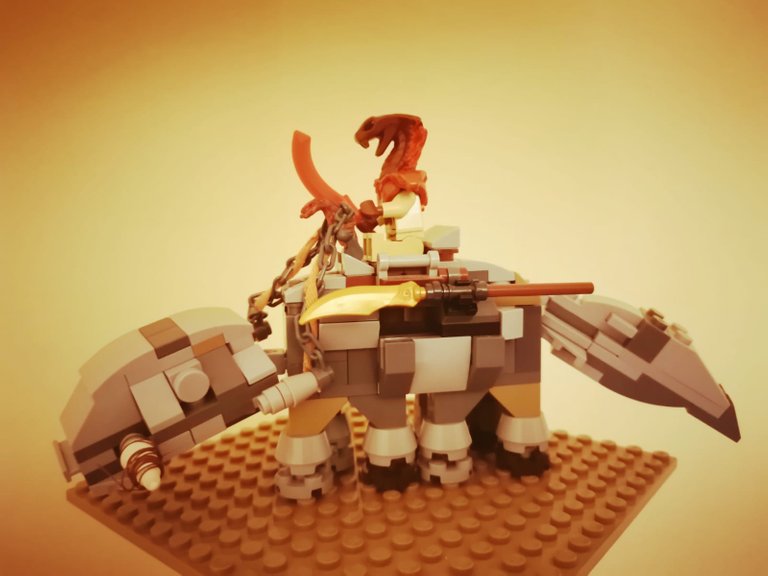 Recently i've realized as well, how easy you can create some #philosophical stories, having as protagonists some well knwn minifigures like Harry Potter and Albus Dumbledore ...
The following story, might be fiction for many ... but somehow i do believe there is a seed of true inside of it ...
We are in a continues return here on this matrix named Earth/Heart ...
While our soul is always running, maybe, it's still offering a short second to each one, to watch trhough the window of the secret chamber of virtues and desires, and, some will have the opportunity to make the right pick-up on his gifts that will be with him in his journey throgh this thing called life ...
Maybe a picture that would reflect this moment would be like the one i've shoot, having Harry Potter as a protagonist.
While the soul is forcing each human to run to the entrance point through the Portal of Life, we still have that small amount of seconds to pick-up our talents ...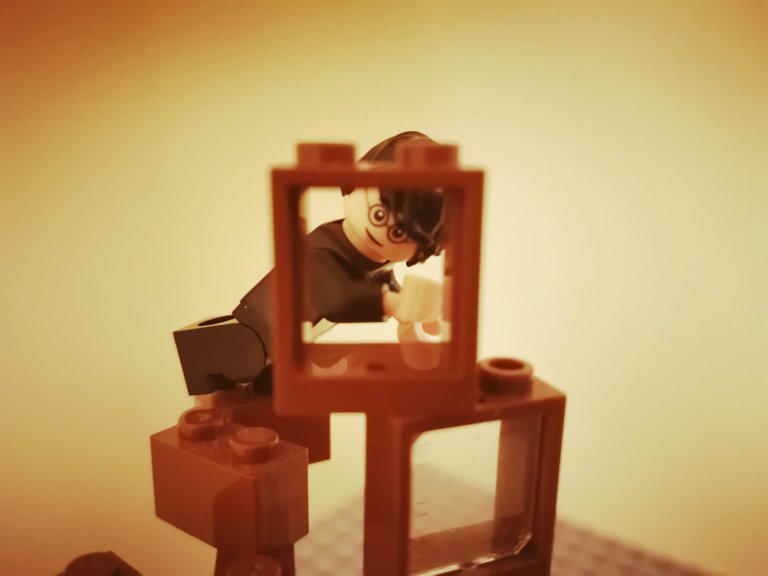 Some, will pick-up the same talants/talents, which, hopefully in most of cases will facilitate each soul ... but as far as i'm sensing what's going on here on Earth/Heart it seems like everytime, people are living with a sour taste inside their mind ... i am specifying the idea of mind, because the Soul is the Eternal entity ... the mind is representing the engine, the hardware, which can create all these illusions, that luckily can be seen right now spreading all over this Universe and will create this illusoric reality of a non-realistic Garden of Eden/ADN :)
Most of the young souls, will pick-up the same habits, with little changes that somehow appeared from theis previous life ... and until they will become that Old Soul that will take this journey with a major confidence, with a sort of "one-way ticket" and knowing that everything is nothing but a dream inside this matrix, there won't be an end ... It will be just a silly game of eternal return ...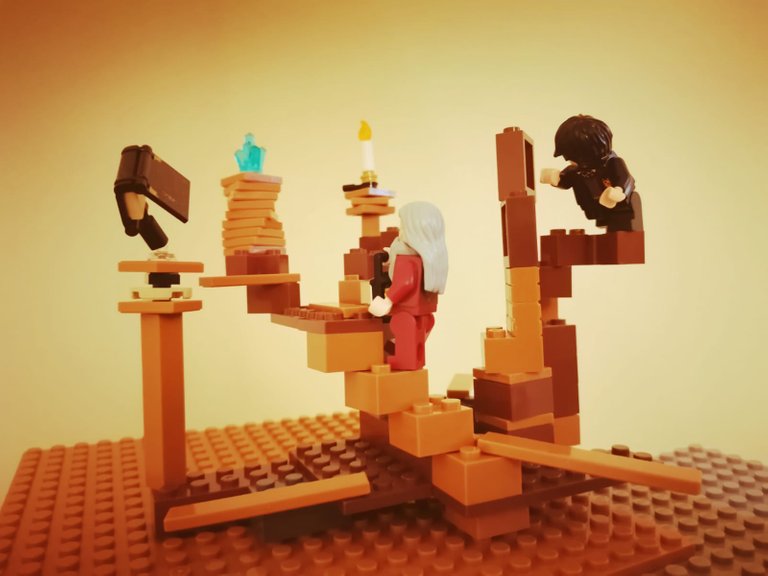 Some will pick-up good talents, and will create a marvelous life, but, some will get stuck inside the temptation of choosing the material things ...
As you can see on my photo, the book has the meaning for art/music/knowledge, while the lue crystal for all th treasures that will always stop the soul from its harmonious journey and will always tempt him to wanting more and more of the material things of this World ... AND, the most important element, represented by that awesome candle, will be the Sacred Love ... but not in reverse, as "Evol" :) which somehow at this moment in time it's at the highest point in history ...
Hopefully, everyone will step through Life on those big stairs, like the master wizzard, Dumbledore, and will be able to receive the guidance from the Great Architect to receive the True Enlightenment ...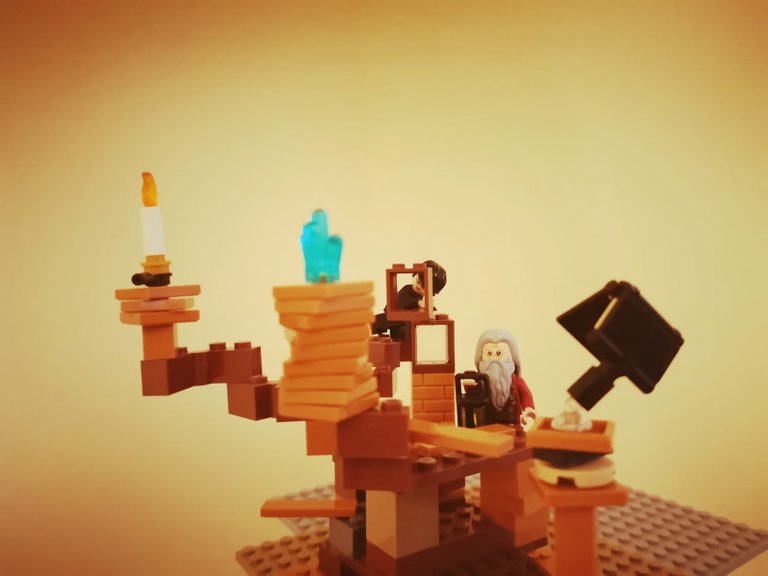 Some would consider my story from a fiction category, but, i would take everything from a different perspective ...
Most of the time, everything what has been presented to each soul that traveled through this matrix, was always in an opposite way and definitely we are leaving the Times with the biggest lies hidden'in plain sight ...
The best way to hide a true fact ...
At this very moment in time, i am reflecting on each soul of each artist arround this matrix, that somehow has been anihilated and left inside his/hwe own world, which somehow was taken until this very moment through phases of disruption and anihilation of the true identity of each artist ...
Nowadays, the art/music is something like a "left-over" thing ... which actually could be the main course of the entire menu of this thing called life ...
Hope you all will enjoy my thoughts, that were randomly and in a hurry written on this virtual paper :)
May the Force be with us ...