Today I want to introduce a newcomer to Coinbase...
COMPOUND [ticker COMP]
From Coinbase description:
Compound (COMP) is an Ethereum token that enables community governance of the Compound protocol. The protocol is a series of decentralized interest rate markets that allow users to supply and borrow Ethereum tokens at variable interest rates. COMP token holders and their delegates can also debate, propose, and vote on changes to the protocol.
Since it's intro to Coinbase, it seemingly has survived the inevitable P&D cycle. Starting Jun 17th at $61, peaking to $381 just three days later, and now settling in a narrower trading range at around $175...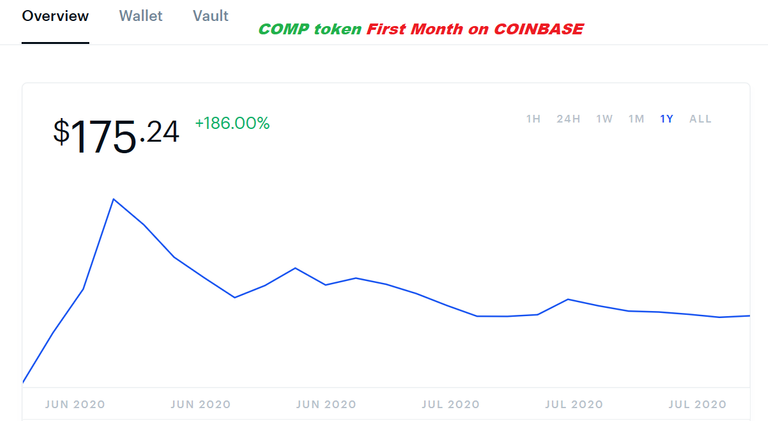 img. credit: coinbase.com; Undy Screenshot 💪😎👍
the interest earned beats the heck out of banks...
But it's so far not impressive for crypto. The better earners are closing in on 3% but others are like bank rates, barely over Zero% APR. DAI, paying back 2.94%; USDT = 2.76%; ZRX paying 2.38% and USDC is at 1.76%. Those are the highlights. COMP has out 1.68 Billion U$D in 9 markets, which is a nice start!
My only hangup right now is "When will COINBASE pay out these rewards?" They usually retroactively pay out, once they get the details aligned. Otherwise I'll be selling it or sending it off to private wallet where I can collect MY %.
My assessment of this one is...
LOOKS GOOD FOR THE 'RISK-SENSITIVE' Crypto Hodler 😎

But if you are still wary of the price, wait another month. OR, DCA with smaller amounts Now. If the price drops off, your periodic investment will simply garner more coins! (I like a weekly buying plan)