Psyber-X - Why I am Going All In & 100 PsyberCrate $2,000 USD Value Giveaway Challenge

3 Ways To Win PsyberCrates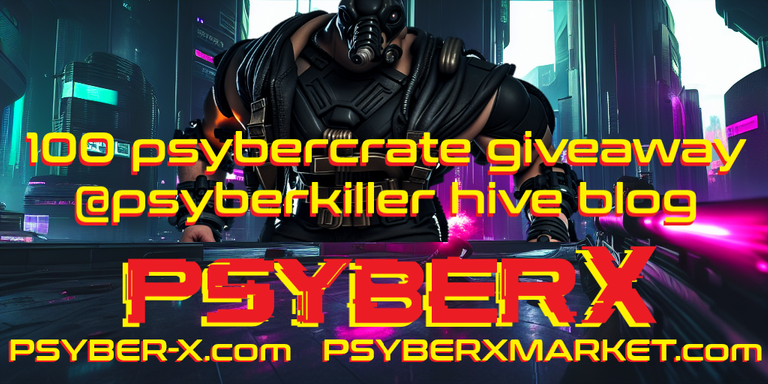 Psyber-X is going to be an experience unlike what you've played in other first person shooter (FPS) games with risk based play to earn (P2E)tournament options, free to play (F2P) while long term massive multiplayer online (MMO) role playing game (RPG) metaverse plans are continuing to evolve.
Utilizing a very dynamic economy of utilities to incorporate sustainable play to earn mechanics Royal Reptile is bringing the power of blockchain and crypto into the gaming world.
"I bought 77 crates in the past 3 days myself in anticipation of things to come. I want to build an impressive NFT collection to have many scholarship accounts and rentals available to help new players having fun playing and me fishing on a boat with starlink satellite shooting it up on Psyber-X."
-@dynamicrypto
Two of the mini games are already under development with Psyber-Towers beginning in 2023. LVL Token will be utilized in all 4 games as well as the primary currency for the PsyberX Marketplace.
Psyber-X is a switchable first/third/vr shooter (FPS/TPS/VR), Psyber-Decks is a turn based strategy (TBS), Psyber-Sects is a top down shooter (TDS) and Psyber-Towers is a tower defense (TD) game.
"With very complex logic in the NFTs they will be utilizing many of them on the games Psyber-Sects , Psyber-Decks and Psyber-Towers as well as Psyber-X giving the utilty and demand for just 500,000 ALPHA supply an invaluable price tag in the near future."
-@dynamicrypto
---
Dynamicrypto what else are you up to?
A: Learning Unreal Engine 5
Why would you do that?
A: To design & build on my own NFT land plot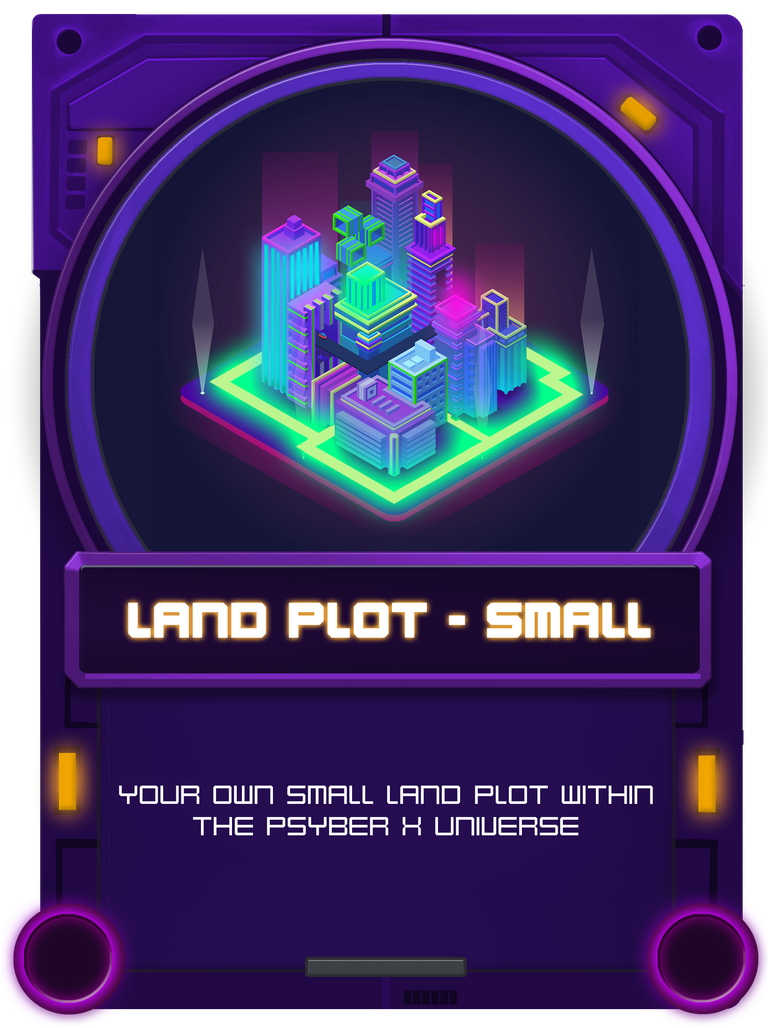 Build & Design on Your NFT Land Plot
Top of The Line Open Source Design Software Unreal Engine 5
Small Land Plot NFT 20 X 20
Commercial Land Plot NFT 250 X 250
Unreal Engine 5 YouTube Tutorials
beginning tutorial how to get building
create a 3D character of yourself
4 ways to create 3D characters in 17 minutes
create an open world map in 20 minutes
Unreal Engine 5 Written Tutorials
Unreal Directive tips & tricks
---
Giveaway Lasts Till October 31st 11:59PM
Any of you stuck around this far congratulations, here is the offer
I will give away up to 100 PsyberCrates $2,000 USD value
1 Crate Airdrop to make a PsyberCrate opening video & post it on 3speak & youtube
Include keywords play to earn, first person shooter & unreal engine 5
10 crates will airdrop to 10 random comments tagging 3 friends in a comment below
10 crates will airdrop to 10 random comments sharing an instagram or twitter link in a comment below of your opening video with above keywords & hashtags included
Own a PsyberCrate Yet? PsyberX Marketplace
(cost $20 USD each at market unless you hold 200,000 LVL token to get 30% off)
November 1st The Crates Get Airdropped
(each wallet can win a maximum of 3 Airdropped PsyberCrates, 1 by the opening video, one by the tag a friend challenge & another by the share a instagram or twitter link of your opening video)
Once 100 Airdropped Crates are Reached or Timer the Promotion is Over
That is it 550 word article, the rest is included for information & links from the official Psyber-X blog I authored yesterday here
---
THREESHORTS Psyber-X Reel Most Recent Posted (share this to your socials)
---
Notable Posts:
Official Lore Stories
Informational:
---
---
Financial Links
---
---
---
Social Links
---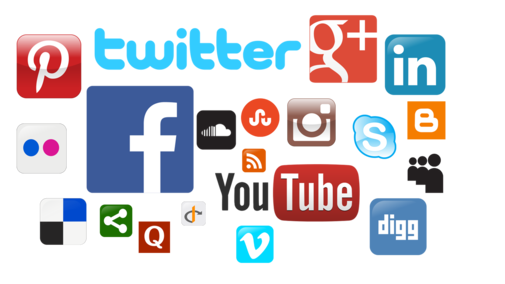 Psyber-X on Pimp Media


PsyberX on 1UP Zone


Hive account @psyberx


Twitter account psyberxofficial

Official Psyber X Discord Chat


Official Youtube account Psyber X


Official Facebook page Psyber X


Our Instagram account PsyberXofficial


The official Psyber X TikTok


Telegram Chat Invite
The Gaming Studio Royal Reptile Twitter


NftShowroom Psyber X Collection


Psyber X Blog on Reddit


Official 3Speak PsyberX Account


Whatsapp Chat Invite


Line App Chat Invite
---
Why Consider Delegating HIVE Power to @psyberx
Here's a few reasons why you might
50% of curation paid back daily via automated payments and API running smooth.
Upvotes for delegators with quality content.
Delegate HIVE Power to @psyberx for account creation ticket onboarding efforts
Delegation system is 100% automated now with upvotes and payments automatically coming in 7 days after you begin your delegation.
Click a link below to delegate to PsyberX
Tiers
| HP Delegation | Tier # | % of Upvote | Weekly Upvotes |
| --- | --- | --- | --- |
| 50 | 8 | 2% | 3 |
| 100 | 7 | 4% | 3 |
| 250 | 6 | 10% | 3 |
| 500 | 5 | 20% | 3 |
| 1,000 | 4 | 40% | 3 |
| 2,500 | 3 | 80% | 5 |
| 5,000 | 2 | 100% | 7 |
| 10,000+ | 1 | 100% | 7 * |
Tier 1 gets access to submit posts in discord for automated upvotes, each 5k delegation can give 1 more daily submission for PsyberX curation
---
What is Psyber-X
Psyber-X is a play to earn first person shooter NFT blockchain game.
Phase 1
Royal Reptile Studios is building Psyber-X to launch initially as a 10 versus 10 brawler where players will battle it out for Level (LVL) token and bragging rights. It is a switchable first and third person shooter game built on Unreal Engine 5.
Phase 2
Once the game is launched into closed beta, the next phase of development begins, the land 'between' the brawls - the PsyberVerse. With a myriad of mini-games and activities planned to give all of PsyberX NFTs, and those of our partners, deep utility within an expanding ecosystem and player driven economy, while continuing to develop the different FPS game environments available across the map
Future Phases and Updates
We will integrate lands and partnership advertising through them, this includes the possibility to 'broadcast into' the live PvP matches.
Psyber-Decks
Who knew that a few NFTs could cause people to get up to no good? Grab your commons and uncommons, boys...the Rares and Legendaries are about to get overwhelmed in this battle scene of NFT vs NFT. Each NFT within the Psyber-X line up has been assigned stats with varying strengths, defenses, speed, etc. There are some NFTs in Psyber-X that have been given special powers over others and of course counters have been built in to smack the powerful ones back and keep them in line. There is balance, but it will only take playing to find out where the "easter eggs" are and what strategies work best.
If you're not familiar with "Easter Eggs" in terms of movies and games, it means there are hidden gems throughout the game. In this case, some cards that you'd expect to be weak turn out to be strong. While the rarities have been set by our crews here at Psyber-X, Psyber-Decks has added some spice by flipping the rules. They're programming it, so it's their rules and their stats. Wanna find an "Easter Egg" NFT amongst the commons or uncommons? Guess you'll have to grab a crate or two.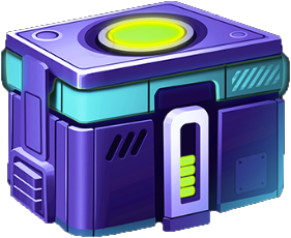 Psybercrates
Each Psybercrate holds 5 NFTs. You can buy them at http://www.psyberxmarket.com where you can connect your Hive wallet and pick up the latest and greatest NFTs. Psybercrates are currently purchasable with Hive or HBD for a limited time. In the coming months, we intend to allow purchasing of crates with LVL only.
*** Exclusive Special ***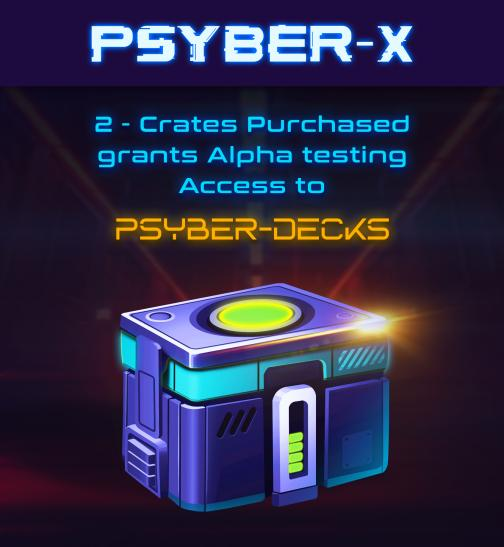 If you buy 2 crates in the market, you'll qualify to test Psyber-Decks in its Alpha testing phase. That means once it's ready for players to test it, you'll be able to jump in. That gives you 10 NFTs to play. When the full version comes out, you'll need at least 5 NFTs.
Psybercrate Accessibility
The current Psybercrates have a limit. There are only 100K crates. That may sound like a lot; however, nearly 10,000 crates have already been distributed/purchased. That leaves approx. 90,000 crates to go. This is the first wave of NFTs developed by Psyber-X. Just like games similar to Magic the Gathering(c), Psyber-Decks will allow variety for your NFT holdings. When MTG first came out, the first cards (called Alphas) became very valuable later on. Who knows if the same will happen with Psyber-X NFTs? We don't...but you may be in for a treat when you can use your NFTs in multiple ways...
Psyber-X NFT uses
Psyber-Decks is going to be the first mini-game provided by these side developers (Psyber-Decks is not developed by the Psyber-X crew, but we're providing the information they need to be able to incorporate our NFTs). They've already let us know that there are several other games they're building at the same time based on gaming formats we all love, like tower defense, top-down shooters, and of course Psyber-Decks which is a turn-based strategy game. Therefore...if you own NFTs from Psyber-X, you'll be able to play Psyber-X related games. With that also comes the ability to rent your NFTs to others who will play.
Renting NFTs/"Scholarships"
Similar to other games on the Hive blockchain, once Psyber-Decks is up and running, you will be able to rent out the NFTs you own to others. I also know several people who have told me they're buying crates to partner with others who will play on their behalf. If you're not familiar with this, the way it works is one person owns a set of NFTs. We'll pretend it's 25. They find someone who is really good at strategy games. The two join into a partnership where one plays using the other's NFTs and they split the reward based on a percentage they both agree upon. This way, someone who does not have the funds to buy an NFT can connect with someone who does and voila! a partnership is made and both are satisfied. Did someone mention risk?
Risk Based Games
First, let's discuss risk...In risk-based games, you ante up something with the chance of earning something in return based on your skills or based on chance. Psyber-Decks is a game based on how strong your NFTs are vs your opponent's and how skillful you are at challenging their attacks and defenses. Will bots be able to play? Yes they will. But just like anything, they'll have to be programmed first, and if you have better NFTs than the bots, then the bots lose and you take the winner's plunder. So your ability to win is not set in stone just because a bot is playing. You still have to use a strategy to beat your opponent.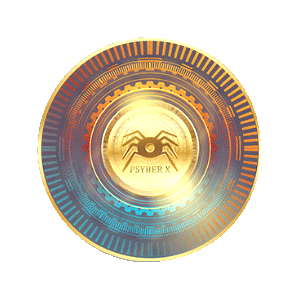 Cost
Every mini-game, like Psyber-Decks, will have an ante to play; however, they will each also have a Practice mode where you can play just "for funsies." At first the game may set differing ante amounts or they may allow players to set the terms, but this is still being developed. There will be a take by the developers for providing the game and it will range between 1-5%. This information will be provided at a later date. The hope is that sponsored games will also be provided so that those who own NFTs but don't have LVL can join a sponsored game to earn some LVL, then reuse that LVL in the anted games. A minimum of NFTs are needed to play; therefore, Psyber-Decks will not be a free play-to-earn game, but entry into the game will be as low as buying 1 crate of 5 NFTs. If you have questions or concerns, feel free to ask the team.
Reminder for Upcoming Psyber-Decks Testing Access
Psyber-Decks is a turn-based strategy mini-game being developed to use Psyber-X NFTs & LVL token. If you'd like to be able to play the game before anyone else, you simply need to buy 2 Psybercrates at http://www.Psyberxmarket.com.
Psyber-X Going Omni-Chain with Myria!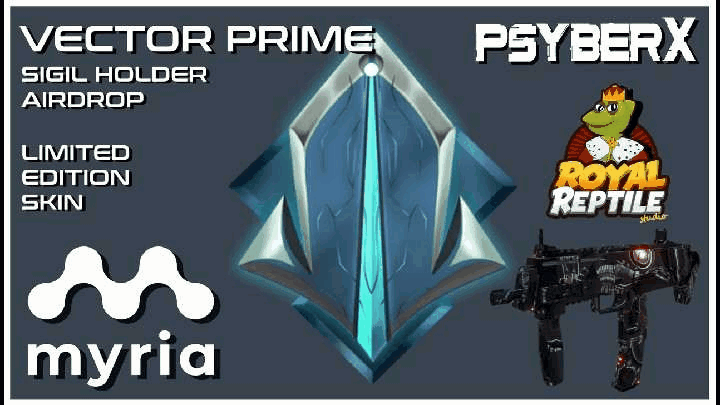 ---
---
---