Why, Yes, I DO Make a Mean Baked Ziti: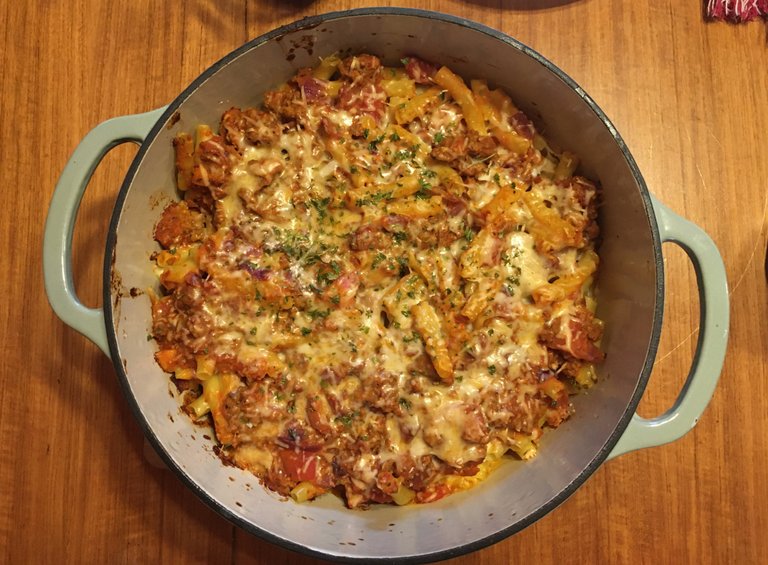 Admittedly, I've never been much of a cook. But I retired a while back, and I've taken on more of the cooking chores in our household. I started making baked ziti maybe six months ago, slavishly following a recipe I'd found on the intertubes. But after a few times, I started branching out, making it my own, changing things from one edition to the next.
Last night's iteration used a pound of cooked ziti and a pound each of hot Italian sausage and ground turkey. When the meats were almost browned, into the pan went a chopped large red onion to sauté until translucent. Then simmered with marinara sauce, diced tomatoes, garlic, Italian seasoning and thyme.
Then onto layering ingredients in a Dutch oven. First, three large ladles of the meat, onions, tomatoes, then a layer of ziti, then ricotta, provolone, and mozzarella. Repeat the layering twice. Atop the last of the sauce, Parmesan cheese and parsley. Into the oven for a half hour at 355°F.
More than enough for the four of us so plenty of leftovers.
Coronavirus News, Analysis, and Opinion:
MIT researchers say you're no safer from Covid indoors at 6 feet or 60 feet in new study challenging social distancing policies
Panel Urges Restart of J&J Vaccine
Cryptocurrency, Investing, Money, Economy, and Debt:
If you're not stacking EDSM on Hive-Engine, you might well be making a mistake. The current APY is about 35% and it's All But Impossible™ for it to fall below 20% but, if you hate money, Move along folks, nothing to see here.
Disclaimer: This should not be construed as financial advice. I am not a registered financial advisor; I don't even play one on TV. Do your own due diligence. Batteries not included. Objects may be larger than they appear in mirror. Some assembly required. Do not taunt Happy Fun Ball.
Politics:
Marine Le Pen Could Win French Election
Marine Le Pen could defeat President Macron at next year's elections if she capitalizes on contempt for him among left-wing voters, a leading think tank has suggested.
There is a growing consensus in the political world that a far-right victory is no longer unthinkable if the contest moves to a run-off between the pair, as it did in 2017.
Republicans Aren't Done Messing With Elections
A new, more dangerous front has opened in the voting wars, and it's going to be much harder to counteract than the now-familiar fight over voting rules. At stake is something I never expected to worry about in the United States: the integrity of the vote count. The danger of manipulated election results looms.
Some of these efforts involve removing from power those who stood up to President Donald Trump's attempts to overturn the results of the 2020 election… Republican state legislatures have also passed or are considering laws aimed at stripping Democratic counties of the power to run fair elections.
Matt Gaetz Probe Includes Possible Public Corruption
Why Is Trump Going to War Here?
In a normal political world and in a normal political time, a second-generation Cuban-American former NFL player from the Rust Belt with an MBA from Stanford would be considered practically by definition a rising GOP star. But Rep. Anthony Gonzalez's impeachment decision made him a traitor in the eyes of the man who is manifestly the unofficial leader of the party.
But it's not that simple, according to more than three dozen interviews with strategists, analysts and current and former elected officials from both parties who know the region well. As battlefields go, Ohio as a whole is more red than purple, and so is the 16th District — but it's replete as well with warning signs for Trump that his quest for retaliation might succeed only in further tearing the party apart.
Serendipity:


Badge thanks to @arcange