What is Rent Golem and why should you use it?
Hey everyone this is Shaddrak and today I wanted to share a journey with you that I've been on for a few days now. It involves the renting of my splinterlands cards through an automated system called Rent Golem.
Before I start just check out this really cool user interface!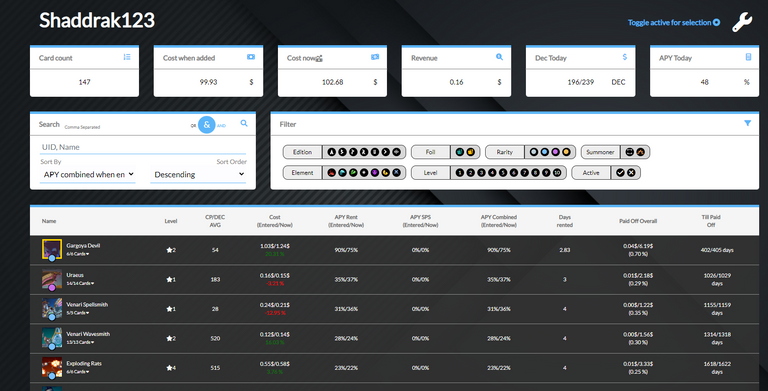 So what is this Rent Golem?
Rent golem is an automated bot that allows all of your splinterlands cards that are 20CP or higher to be rented out at a higher than average amount than the usual renting methods will allow. For example look at the bottom picture of what I'm renting out.

Now if you pay careful attention you will notice on the right side the ROA is crazy high compared to renting a card at similar rate off of other sites that are not Rent Golem. For example let's look at Gargoya Devil Gold Foil BCX 1 and compare it to what I'm getting above.

Do you notice the difference between the .800 at Lv 2 vs the Rent Golem's 14-19 DEC Lv 2 of the exact same card? I'm getting between 300-400% ROA on that using Rent Golem's services.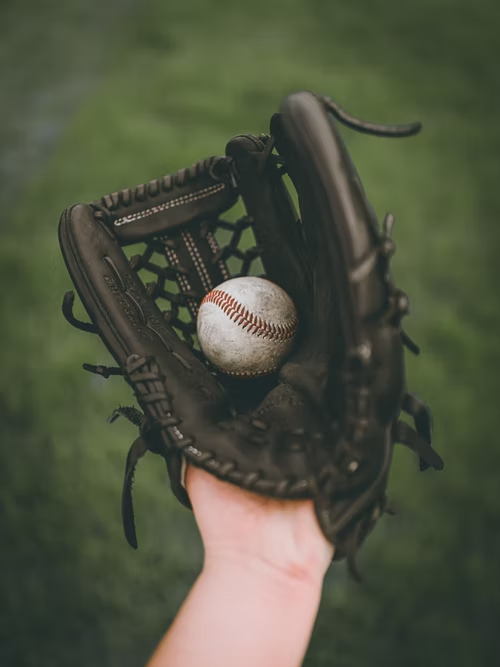 So by now you are probably wondering, what's the catch here?
Well simply put to use Rent Golem you will pay a daily invoice of 20% of your DEC earned as a service fee and the other 80% is all yours to enjoy. Now let me say this is where lots of people begin to complain so I'm going to tackle this head on first for that very reason.
Let's use the example of the Gargoya Devil Gold Foil Lv2 card above that I'm using. Would you prefer to keep 100% of the same card renting at a max of .800 or give up 20% with each one renting between 14-19 DEC each? It's kind of a no brainer here, the obvious answer is to pay the 20% and keep the 80%. For example (.800DEC x 5 cards = 4 DEC) VS (14 DEC x 5 cards = 70 DEC) x 20% = 14 DEC you'd pay and have 70-14 = 56 DEC you'd keep for yourself. When you look at it from this perspective that 20% doesn't really mean much does it? Or would you rather keep the original 100% 4 DEC you had before?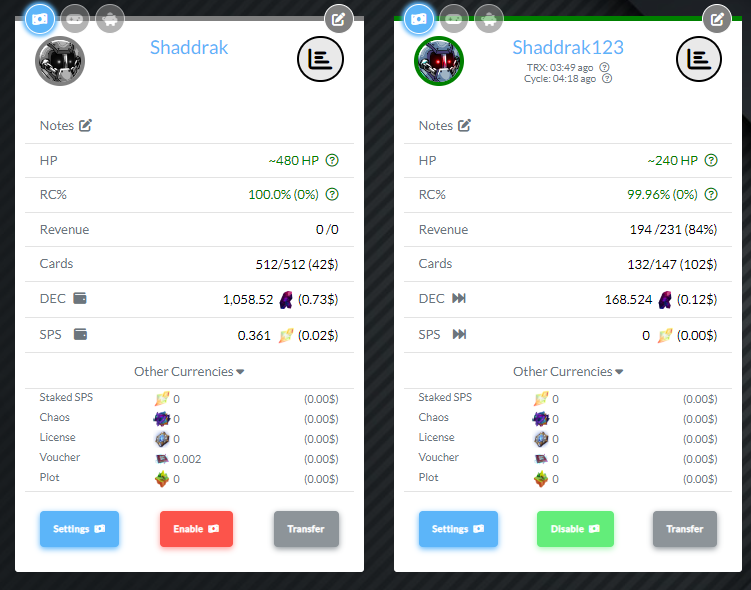 Now that that's over I'd like to show you how well done this Rent Golem program is. I'll start off by showing the 2 accounts that I own in the picture above and the growth I've had on my 2nd rental account shaddrak123. The 1st account is for management and the 2nd is the renting one.
Trying let you see what it looks like when you go on the overview page to see your accounts. On this bottom photo you will see my very first ever invoice and how I've been daily compounding what I've made in DEC back into the buying new cards AND also using the crypto I make from Rising Star ($2.50) a day to put back into Rent Golem.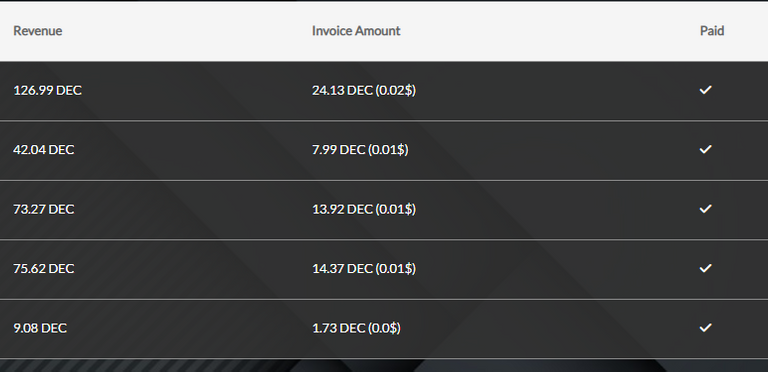 I began with renting at 9.08 DEC a day and with RS profits. My current amount is at 196/239 DEC. It's daily compounded and my goal would be to earn at least $2.50 worth of DEC per day with the Rent Golem and then allow it to further feed itself and grow into a monster by purchasing the correct card which I will get to next.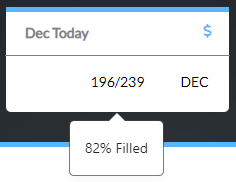 So now as to what cards to use to rent for highest profit? Well the developers @Yixn and @genepoolchlrn8r are working on a market system that shows the ROA of each card and the amount of combined cards needed to reach that very goal. This is still in the works and looks something like this. I took a screen shot of a screen shot that @Yixn posted hope they don't shoot me for sharing it but I wanted the community to know that this Rent Golem is going places and is only in the beginning stages of what can be produced.

I could go on and on and on but at this point hopefully I've caught your attention and now want to point you to the official site where you can find the discord and under the Welcome page ask to be signed up for an account. You have to be manually added or you can simply go to discord and message @genepoolchlrn8r and he will gladly sign you up and direct you to next steps.
splinterlands.rentals is the official site and I think this is the discord link if I copied it right from my discord page. https://discord.gg/bWfk7tVZ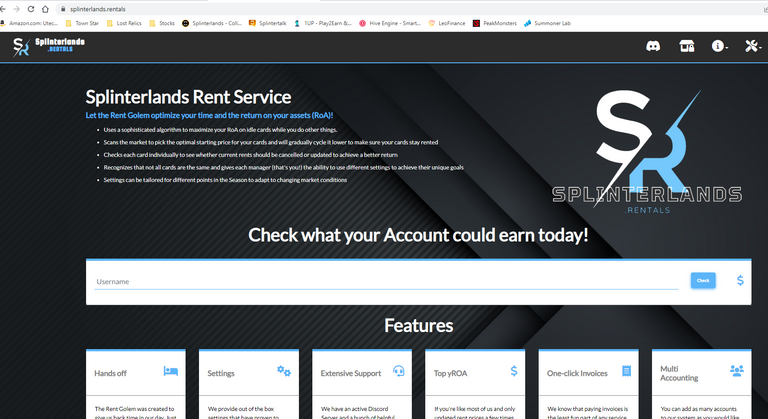 ---
---