STEEM tokens price is 0.174 USD, now.
Before 6 hours, he was 0.165 USD,
The current price is the lowest price in a year.
so, can be bought in small quantities.
I think STEEM is worth investing for the following reasons:
You can add power , to up your steem blog.
In terms of encryption blogs, I thought STEEM is still the first platform.
On steem, Currently there are > 20 blogs, they are linked to the STEEM platform.
Such as palnet / marlians / Bilpcoin / weedcash / etc.
Although it has fallen to a low price, I believe it will pick up soon.
Such as 2016 year....
STEEM's price fell below $0.2.
After May of 2019, its price began to up.
Until the beginning of 2018, the price reached a record high of $8.
So I think STEEM to be able to cheer up again.
But be aware that :
The benefits of investing in STEEM tokens are long-term, and your tokens will grow gradually, but it is difficult to increase significantly, so be patient.
Investment is have risky, please don't invest more than your load.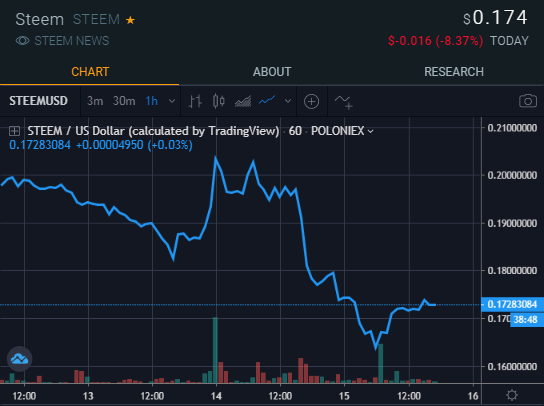 现在,STEEM令牌价格为0.174美元。
在6个小时之前,他是0.165美元,
目前的价格是一年中的最低价格。
所以,可以少量购买。
我认为STEEM值得投资,原因如下:
你可以为你的steem博客增加力量。
在加密博客方面,我认为STEEM仍然是第一个平台。
在steem上,目前有超过20个博客,它们与STEEM平台相关联。
如palnet / marlians / Bilpcoin / weedcash /等
虽然它已经降到很低的价格,但我相信它会很快回升。
比如2016年....
STEEM的价格跌破0.2美元。
在2019年5月之后,它的价格开始上涨。
直到2018年初,价格达到8美元的历史新高。
所以我认为STEEM能够再次振作起来。
但请注意:
投资STEEM令牌的好处是长期的,您的令牌会逐渐增长,但很难大幅增加,所以请耐心等待。
投资有风险,请不要投入超过您的负担。