Hi everyone! This is my first bounty... yes... I got to try it. Quite late to be honest, but there's always so much to do.
I have given away my previous power bank!
Yes, it was somehow useful and up to my needs. 20,000 mAh with 2 USB for charging devices, and for charging the battery a lightening port connector and mini-USB so you can either charge it (the battery) or charge your iPhone with it's own cable. A full charge of that battery would take forever, especially under normal USB ports... (more than 24 hours), but if connected to a 2/3 A USB port, using the lightening charge port, it would speed up to around 12 hours.
Now I need a new one...
But, along the way, my specs have also increased. So, I am turning this into a double bounty! Yes you heard it right.
Everyone answering this post with valid products, will compete for a chance to be the winner of a crazy 20 SBI Sponsoring! Find me, my dream power bank, that meets my specs and is the most likely I would or will buy (kickstart or product PoCs are also valid as long they are somehow credible and not just fake stuff).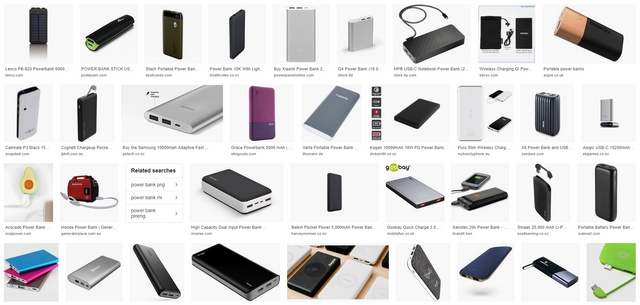 Rules
I will need the link of the product at least and a photo showcasing it will also be nice. In addition I need you to meet the requirements specs at least.
Specs
These are not flexible, but try to meet as many as you can (including the optional).
Requirements:
Equal or more than 100Wh, but not exceeding 160Wh
At least one in/out USB-C port (two is perfect, otherwise one in/out and another just out)
Minimum of two USB-C out ports (if they are also in, it's ok too, therefore stacks with the above)
At least one of the USB-C ports has to be rated 100W and the other 60W (if higher better)
At least one +2A USB-B port (this is the typical USB 3.0 you know), in addition to the USB-C ports
Wireless charging for at least one device (Qi-enabled and minimum of 10W output per device/location)
Support for UPS mode (charging in while feeds another device on an out port)
Needs to fit in a small/medium backpack
Capacity indicator
Continuous operation (can NOT have automatic turn off mechanisms or sleep timers) - if I leave it supporting a laptop for a week, it has to keep running... kind of thing.
Optional (but nice to have):
Multi output port up to +12Volts (there multiple applications, like charging car battery, laptops, etc)
Input port for solar panel (can be any type of solar panel, as long it is portable, has to fit in any small/medium backpack)
Contain built in storage space (anything above 256GB will do), accessible by at least one USB-C port AND one USB-B port
Support for data hub and control (like any USB3.0-Hub, but also being able to control and view the battery status, charging/discharging logs, etc)
IPX54 or above
LED light source (built-in), support for RGB (or some colors) if available
Bluetooth Speaker (and if available combined with the LED as strobe mechanism or light effects)
Bounty Advice
Don't grab ANYthing from SteemHunt, because I have seen them ALL!!! None of those are valid for this bounty. Plus, this is a favor I am doing to you, because you can go and create for it, and if you do it right, you will get my support on your hunt too.
Try to think big and high end quality... I am not worried about the price for now.
The SBI Sponsoring is executed at the end of the curation period of this post after the winner announcement.
Questions?
If you have any, let me know in the comments bellow and I will try to help. I don't want to make the hunt harder for you.