New Communities Interfaces Quick Orientation Guide

It is surprising to me to see how many people waited for the communities to come to the main interfaces before they actually give them a look!
And I discover that via the confusion that I sense transmitted in enough posts since the roll out of communities and other updates to steemit.com and steempeak.com.
While I believe people will catch on rather quickly, I thought maybe a Quick Orientation Guide would help.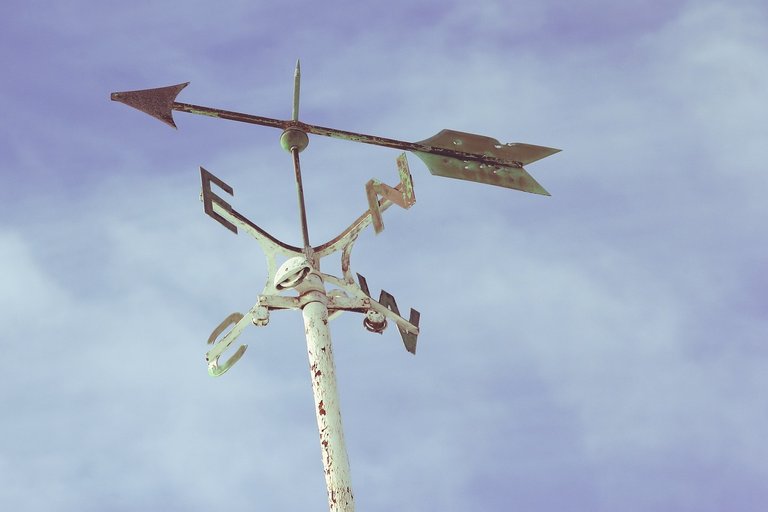 Source
I won't go into many details and will do the guide for both steemit.com and steempeak.com, for the most basic elements you need to be aware of.
Your Old Feed
On steemit.com, that's been renamed as "My friends" and you can see it on the left sidebar.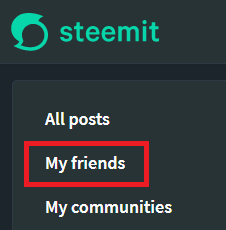 On steempeak.com, all your feeds are grouped in the Feeds menu at the top, including your old feed, or as it's called on SteemPeak, "Following Feed".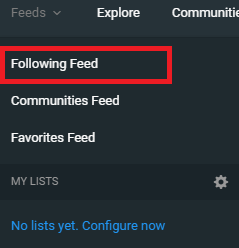 Old Trending, New and Promoted posts
There's no more Promoted tab, in the form it was in the old steemit.com interface.
Old Trending and New tabs can be found as filters on "All Posts" page on steemit.com. The good thing is they will show both personal blog posts and community posts.


Two more filters appeared on steemit.com compared to the old main website, to list the posts by payout time, and to see all the muted posts.
On steempeak.com, there are many more options to explore posts, including their newly introduced badges or the "old" lists and favorites.
They can all be found from the Explore menu at the top.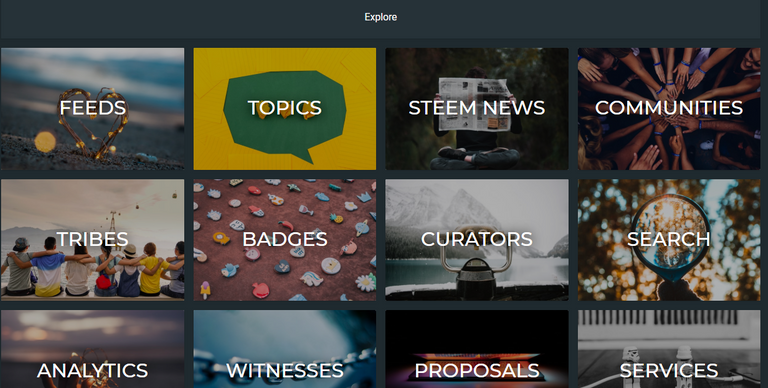 To restrict ourselves to only trending, new and promoted posts, they can be found via the Topics option from the Explore page.
On that page you have a filter to show the posts you prefer and in the right order.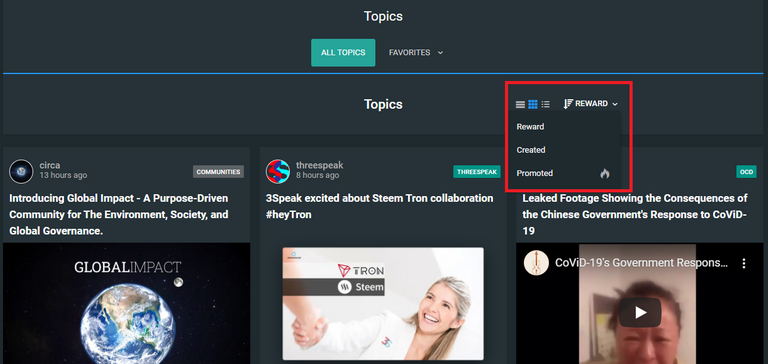 You might also notice I use a different view for posts in this case. Steempeak has three standard views you can choose from and switch between at any time: list, grid (the one active above), and blog (with big images).
Subscribing and unsubscribing to/from a community
From now on, everything is new on the main sites. If you checked out the betas, of course, not so new.
Let's take a few questions out of the way first, based on the current type of communities we all know.
What's the effect of subscribing to a community? Posts from that community will show up on your communities feed and you can always see a list of the communities you subscribed to.
Does subscribing to a community makes you a member? No.
Can I post to a community if I'm not a member? Yes.
Can I post to a community if I'm not a subscriber? Yes.
What's the difference between a subscriber and a member of a community? You can subscribe and unsubscribe from a community at any time. Only a moderator, admin or community owner can assign roles, including the role of a member or guest (i.e. no role). In the current communities type, a member has the same rights as a guest.
So, let's see how you subscribe to and unsubscribe from a community.
On steemit.com, you go to Explore communities on the left sidebar.
If you don't know what you're looking for, you can scroll down and see the communities that are listed. At the top there is a filter from where you can switch to see communities by rank, number of subscribers or the newest.
All you have to do is click "Subscribe" next to the communities you like.
If you know what you are looking for then you can use the search field to narrow down the number of communities.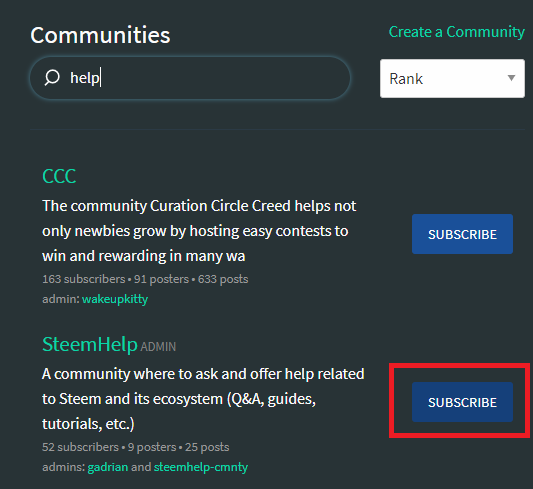 To join SteemHelp community, for example, you can write "steemhelp" or "help" if you can't remember, and after you press Enter choose it from the list of results, like above to subscribe.
On steemit.com, the communities you subscribed to are listed on the left sidebar under "My subscriptions", and also, if you explore communities or go to a community page, you will see a button with the text "JOINED", where "Subscribe" would have been. If you hover over the button, the text turns into "LEAVE", and if you click the button, you will unsubscribe from that community.


On steempeak.com, exploring communities can be done from "Communities" -> "All Communities" top menu.
On that page, your subscriptions are listed first, then all other communities, with a field to search them, if you know what you're looking for.
You can't subscribe / unsubscribe directly from this page, which is probably a good thing because you need to check out the community first.
To subscribe / unsubscribe from a community, you click on the community which interests you which brings you to its page. And from there you can either subscribe or unsubscribe.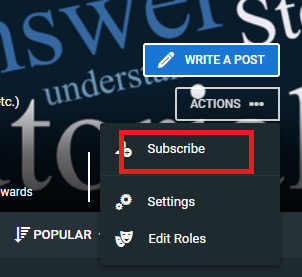 Writing a post in a community
On steemit.com, go to the community's page (click on the community's link anywhere you see it - if you are a subscriber it's on your left sidebar).
From there click on New Post on the right sidebar, and that's it, from there you know what to do.

On steempeak.com, it's equally simple if you are a subscriber. You have the communities you subscribed to accessible from the top level menu Communities: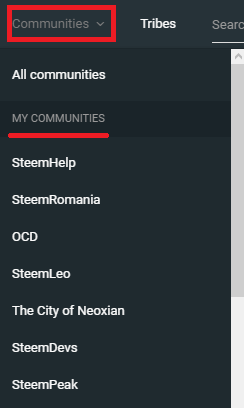 From a community's page, it's very easy to identify the button to write a post, at the top-right: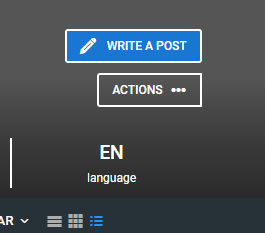 When you post inside a community, remember the first tag is the community tag, even if you don't see it (you don't have to add the "hive-" name anymore). Also don't select by mistake the option to post on your blog, or your post will go to your personal blog instead of a community.
Tips and tricks
Finding what someone wrote on the personal blog and on communities
Both from steemit.com and from steempeak.com, you can do it from the profile page.
On steemit.com, the "Blog" menu has a history of your personal blog posts, including resteems, while "Posts" menu has a list of all posts you wrote in communities.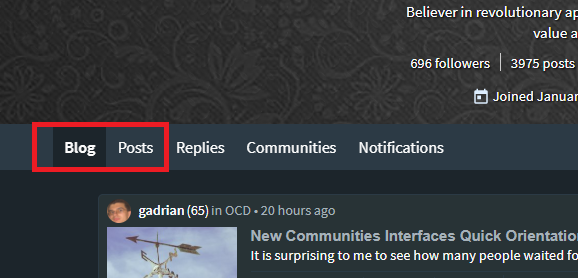 On steempeak.com, the "Blog" menu has the same meaning as on steemit.com, while "All posts" include both posts you wrote inside communities and posts from your personal blog (without resteems).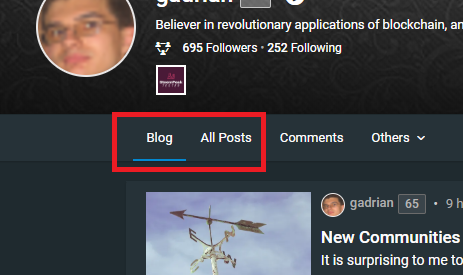 Note that if you resteem your community posts, they will show up to your personal blog as well (see below).
Posting inside community, resteeming on your personal blog as well
I've seen some posts of people complaining there's very little on their feed. Well, two things to say here: first, for them and everyone, start checking out communities feed as well!
Then, there's this tip below.
If you post inside communities and not on your personal blog, on your personal blog will look like you haven't been very "active".
If, for example, you post like me once a day, then if you do nothing else and post inside a community, during the days you post inside a community you will have nothing on your personal blog.
There's a simple trick to avoid this and it's perfectly ok to use it, unless you don't want a certain post on your personal blog.
The trick is to resteem your own community post. Yes, a community post can be resteemed by the author himself, and the result is that the post will show up on the author's personal blog as well.
Cross-posting to other communities
Steempeak introduced its new cross-posting feature and this is currently the only way to cross-post something in two related communities.
This is however subject to rules by communities and possibly moderation, so be careful not to abuse it.
Steempeak is the only interface where currently cross posts are displayed properly.
---
You can always find more guidance on the SteemHelp Community.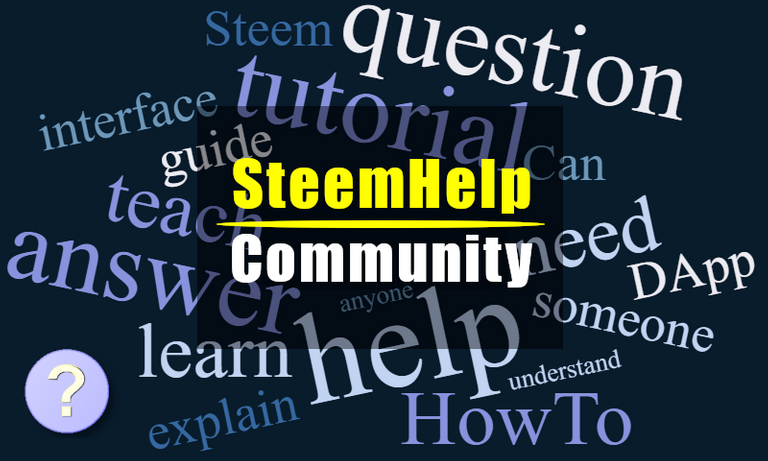 ---
---