Good day, Rising Star fans!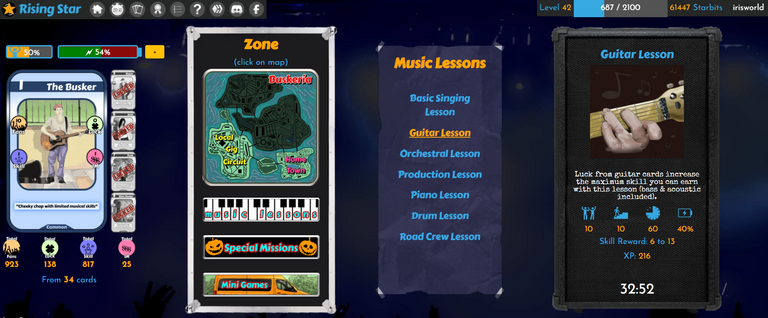 A new day with Rising Star game.
How was your weekend?
Today I mainly play music lessons, because I have some thoughts. I am thinking should I level up or should I earn more starbits? Yesterday, my friend gave me her cards. And I am super thankful to her. It is a great contribution to my game play. However, my ego pumped up to 55%! So now I need to buy skills cards or to play more music lessons to decrease my ego level.
Therefore, I have a dilemma... Should I focus on the level? And play more lessons than missions? I realized that lessons bring more XP than missions. Yes, I am not getting any starbits, but I balancing my ego.
Also, I have a doubt according to my goal... I want to reach 100.000 starbits on my account to buy 10 card packs. And I need around 30.000 starbits more. Therefore, I need to play missions harder...But if my ego will be too high, I will need to play more missions...
How is your gameplay?
Good luck! Have a nice day!
---
If you don't play Rising Star yet, try it now and earn STARBIT tokens.
---
FOLLOW ME HERE