I've managed to jump a double hurdle in Rising Star today. Not only did I increase my Level to 15, but I also finished collecting the Starbits I needed to purchase a slice of Cold Pizza (which will provide me an energy boost every 24 hours). This should help eliminate dead time waiting for energy to refresh between missions.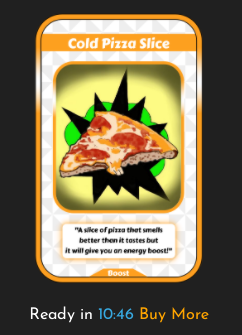 Also, by reaching Level 15, I can now participate in the Saturday Support mission (which I have already completed a couple of times today. I will be starting a third one before I head to bed so it can run while I am sleeping). This means I am in the final stretch of the Home Town zone. Now I just need to reach Level 20, finish the Saturday Headline mission, and own a Mid Range Acoustic guitar (current value = 7,000 to 7,500 Starbits) in order to move on to the Local Gig Circuit. But there is also one more benefit to these accomplishments.

That's right...I'm moving UP the rankings ladder. Longer missions means more Weekly Minutes which, in turn, means more points and a higher ranking. Now that I have my Cold Pizza Slice, I can focus on buying cheap cards so I can increase my number of unique cards. This, too, will contribute to my better ranking. As I get closer to Level 20, I will begin saving for a Mid Range Acoustic guitar.
If you haven't played Rising Star and would like to see what all the fuss is about, it's FREE to join, free to play, and you can earn free cards and free crypto.
I'll see you at my next gig.