It seems I have made a major miscalculation in my ability to progress after my last post about Rising Star. I was doing so well in completing the Saturday Headline mission that I neglected to take into account that I was completing those missions with a boatload of drunk fans. And we all know that drunk fans don't tend to stay that way (drunk OR fans), so now I am in a position that even though I have blown past Level 20 and on into level 21, I cannot proceed to the Local Gig Circuit (or even attempt another Saturday Headline mission) until I get some more fans.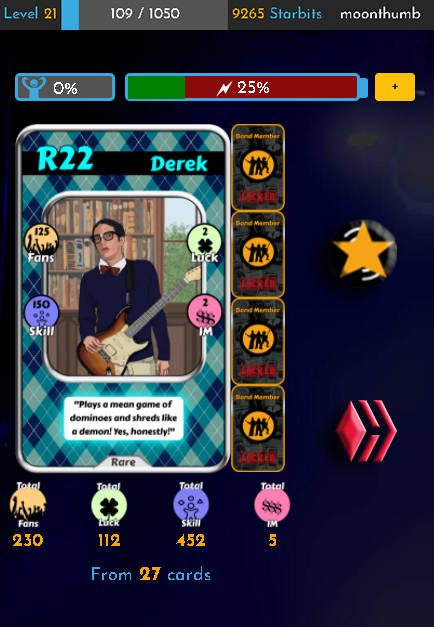 So, if you read my last post, you'll know I was saving my STARBITS in order to purchase a Mid Range Acoustic. I guess I'll have to hold off on my trip to the music store long enough to build up my fan base. I have heard that purchasing a vehicle is a good way to add fans (I think a Range Rover may be in my future), so I will continue to complete the missions I still qualify for so that I can earn the necessary STARBITS and, since I will be increasing my number of fans, I will throw in some music lessons in order to maintain control of my EGO. Who knows how long this little sidetrack is going to set me back (I guess we can have EGO outside of the game, as well).
I Am a LITTLE Better
On the bright side, I participated in this givaway by @musicuniversity and was awarded a SkillBoost1 card. Not only will this help with my EGO, but this is another unique card to add to my collection. Unfortunately, I am unable to pull up my ranking at this time in order to see how it has been effected by this latest bounty. I've come to look for giveaways in several of the games I play and always get a rush when I actually win something. If you would like me to share some of the giveaways I take part in, leave me a comment and I'll keep you in the loop.
Join me
If you are a Rising Star player and want to trade groupie stories, follow me so we can connect. If your NOT yet playing Rising Star and would like to see what all the fuss is about, it's FREE to join, free to play, and you can earn free cards and free crypto. How can you lose?