Rising Star Angels: Buy Sell and Stake Music NFTs [🇬🇧EN/ES 🇪🇸] Risng Star Angels: Compra, vende y apuesta (stake) Audio NFTs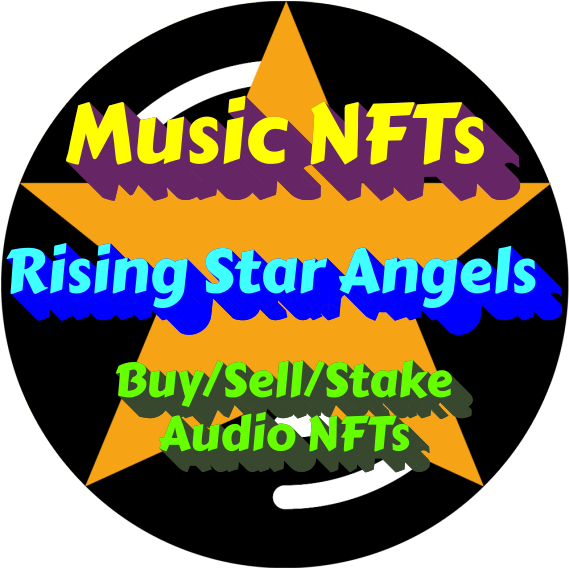 🇬🇧 ENGLISH
Hello everybody
Rising Star has done it again, this month of April is full of news, a few days ago we were seeing how Music Promoter works and today we are going to talk about Rising Star Angels or "Records" in the "Your Collection" tab. Before explaining how it works, I would like to tell you first, that although it seems that it is something very obvious, until now minting (mint) audio NFTs was not easy, since NFT Showroom (Hive Blockchain) does not allow it, so we had to resort to other blockchains. Those that use ethereum have exaggerated commissions that sometimes border on the ridiculous, and those that finally support audio like Ghostmarket, are practically unknown to most, since even using Ethereum you cannot access with Metamask and you will be forced to install Ecto or Poltergeist which are the Phantasma chain wallets.
So with that being said, I think it is a great milestone and a great achievement for Rising Star Game to be the first to allow the creation of audio NFTs on the Hive blockchain with audio preview, downloadable HQ audio and also with the possibility to stake on any of them. let's see how it works:
When we go to "Your Collection" and click on the "Records" tab we will see that the NFTs that we can buy and Stake appear.

As you can see, they have a "Play" button to preview the song and the possibility of downloading it in high quality if we have bought the NFT, the ones that are in black and white and without a download link are the ones that we don't have yet.
When we click on them we will see this: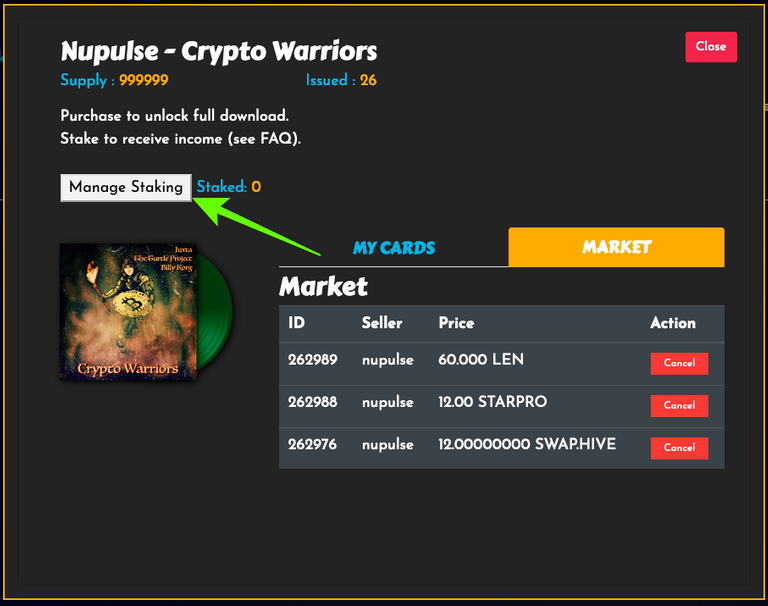 As you can see, basically, we have the same as with any other card, except for the stake button "Manage Staking". There we can add Starbits and we will receive a payment every time a Music NFT is transferred or sold.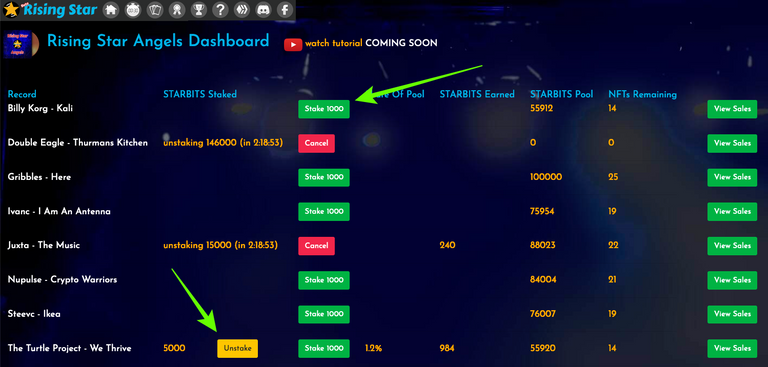 If you are a musician and you are interested in having your songs appear in the game as NFTs on the Hive blockchain, now you can do it with Rising Star Game. Follow the steps that you will see in the image below, then you must contact @juxtamusic (@Jux) through discord https://discord.gg/QAHQnHz4 to send him the necessary audio files and the cover of the song.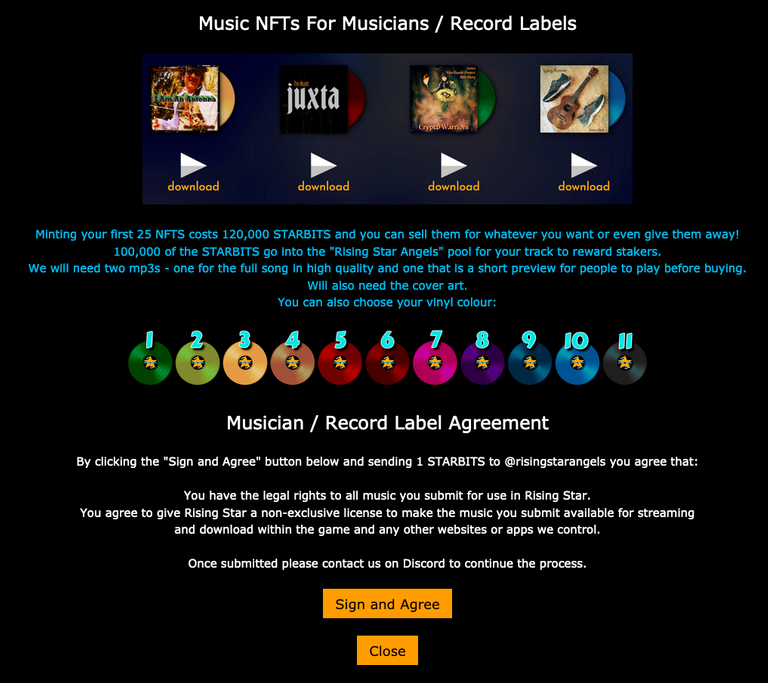 Greetings to all and I remind you that playing Rising Star is free. Click on the banner below to start playing!
---
ESPAÑOL 🇪🇸
Hola a todos
Rising Star lo ha vuelto a hacer, este mes de abril está lleno de novedades, hace unos día estuvimos viendo como funciona Music Promoter y hoy vamos a hablar de Rising Star Angels o "Records" en la pesataña "Your Collection". Antes de explicar cómo funciona me gustaria antes contaros, que aunque parece que es algo muy obvio, hasta ahora acuñar (mint) NFTs de audio no era fácil, ya que NFT Showroom (Hive Blockchain) no lo permite, por lo que debiamos recurrir a otras cadenas de bloques. Las que usan ethereum tienen una comisiones exageradas que a veces rayan el ridiculo, y las que finalmente soportan audio como Ghostmarket, son prácticamente desconocidas para la mayoría, ya que aun usando Ethereum no puedes acceder con Metamask y te verás obligado a instalarte Ecto o Poltergeist que son los monederos de Phantasma chain.
Así pues, dicho esto, creo que es un gran hito y un gran logro para Rising Star Game ser el primero en permitir crear NFTs de audio en la cadena de bloques de Hive con pre-escucha de audio, audio HQ descargable y además con la posibilidad de hacer stake sobre cualquiera de ellos. vamos a ver como funciona:
Cuando vamos a "Your Collection" y pinchamos en la pestaña "Records" veremos que aparecen los NFTs que podemos comprar y hacer Stake.

como véis tienen un botón "Play" para pre-escuchar el tema y la posibilidad de descargarlo en alta calidad si hemos comprado el NFT, los que están en blanco y negro y sin enlace de descarga son los que aún no tenemos.
Cuando pinchamos sobre ellos veremos esto: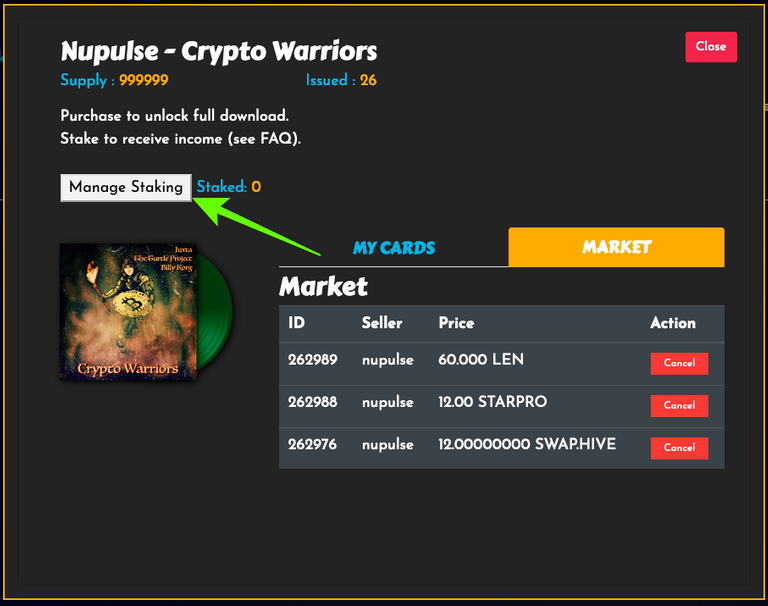 Como véis, basicamente, tenemos lo mismo que con cualquier otra carta, salvo por el botón de stake "Manage Staking". Ahí podemos añadir Starbits y recibiremos un pago cada vez que se transfiera o venda un NFT de Música.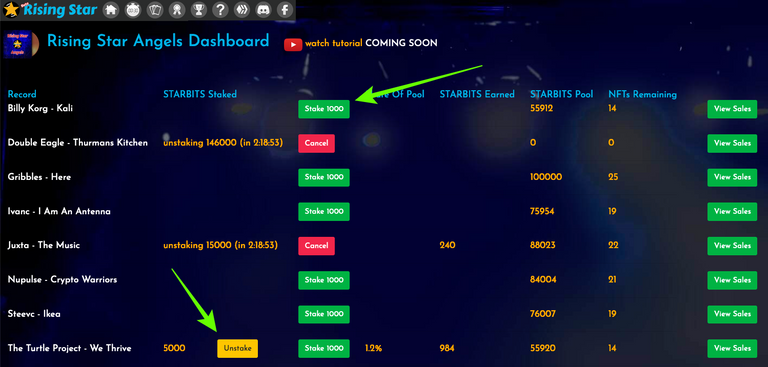 Si eres músico y estás interesado en que tus temas aparezcan en el juego como NFTs en la cadena de bloques de Hive, ahora puedes hacerlo con Rising Star Game. Sigue los pasos que verás en la imagen de abajo, luego deberéis contactar con @juxtamusic (@Jux) a través de discord https://discord.gg/QAHQnHz4 para enviarle los archivos de audio necesarios y la carátula de la canción.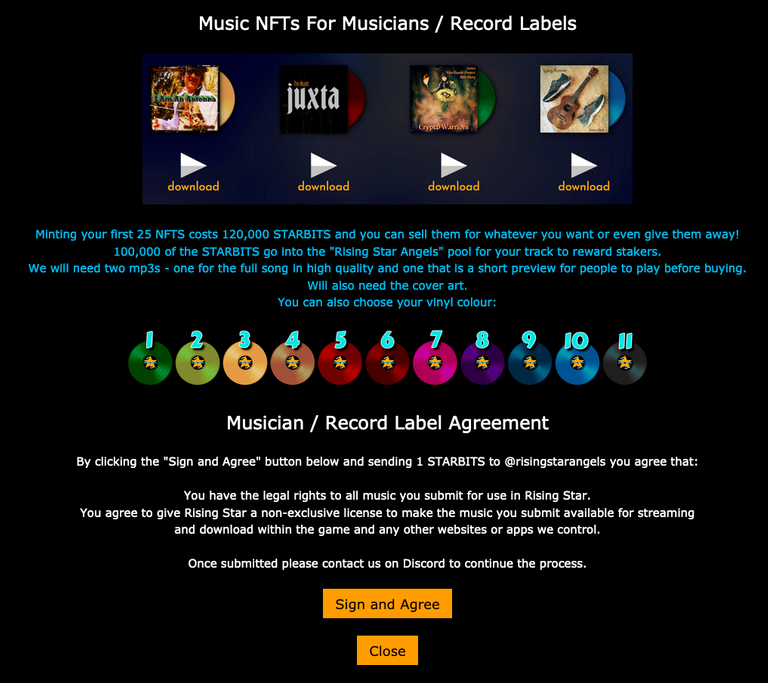 Un saludo a todos y os recuerdo que jugar a Rising Star es gratis, Pincha en el banner de debajo para empezara jugar!
---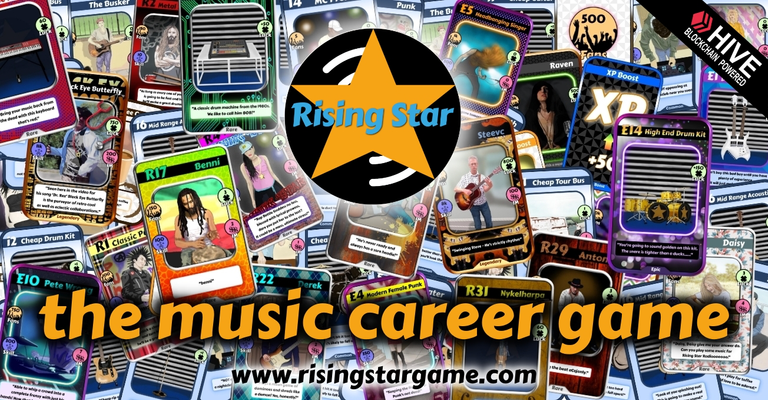 ---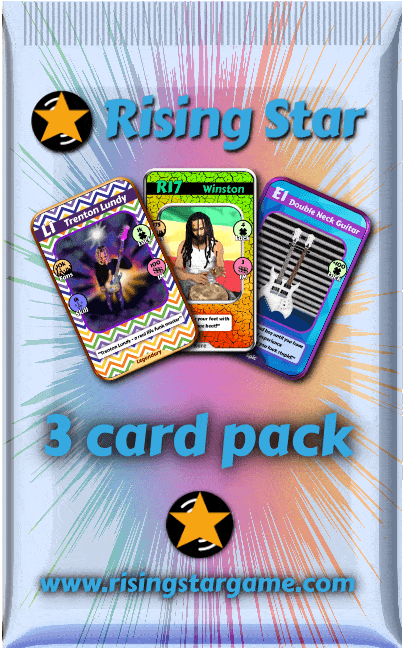 ---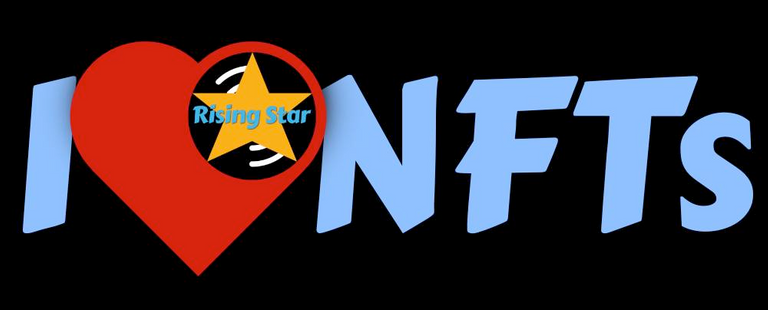 ---
---