Busy week in for the LEO branch account, and lots going on around our key investments so i'll dive right in.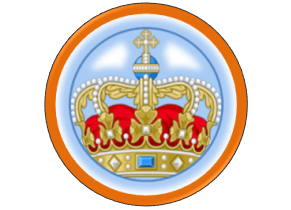 Income.
Great week for income - over 220 STEEM value of gross income, and 120 NET after expenses (buying SPI rewards) Yup, 120 (nearly) NET INCOME for the week! LEO price recovery, an solid increase in LEO earned,and a second big week from JAHM are the main drivers. After just 2 weeks of earnings, JAHM holdings have become our second biggest asset!
Intrepreneur tribe.
Spinvest is sponsoring a writing contest in the Intrepreneur tribe. The contest post is an extremely well written and researched post, and I'd love to see the tribe and the contest gain some support. 50 SPI has been put up for grabs with this contest, so please feel free to join in and have a go at winning the prize. For SPI shills it is a topic that lends itself to people spruiking SPI and our Get Rich Slow investment style. While organising the contest with one of the co-founders, I found them to be very professional and good to work with. INT has been added to the @spinvest-leo holdings list and I am adding content creators in that tribe to our ever growing list of authors we support. Our SteemAuto fanbase is up to 172 different content creators across 8 different tribes now.
Holybread.
I have started playing the new Holybread game from the @spinvest-leo account. I sent some Breadcrumbs on Sunday to the buyback and earned 1.5 STEEM for the account. If you haven't yet joined in, please consider using the @spinvest-leo referral link below to help the program out if you end up putting money into the game. So far I haven't spent any money ingame, I have just been free playing while I learn the game.
LEOShop.
The SteemLeo shop has arrived. LEO is obviously our number 1 key investment, and the continued growth and development of the tribe has been fantastic. Check it out for yourself here. The consistent progress from the LEO brand is awesome to see and gives me great confidence that the stake we are building in LEO will continue to perform well.
Jahmfest
The Reggaesteem tribe is another making great progress, and pushing beyond the STEEM Echo-chamber out into the real world - aiming for mass adoption in their home country Jamaica. I think most here know I am a huge supporter of Reggaesteem, and hold a big stake personally of JAHM tokens. The Jahmfest conference announced this week looks like it will be so much fun, I desperately wish Australia wasn't so far away from Jamaica and I could attend. I'd love to see a SPINVEST representation at JAHMFEST.
Back in the top 10.
Last weeks top LEO earners report had some skewed results caused by the start of Auto-claiming of tribe tokens. Back to normal this week, and we are solidly back to 7th place. You can see the very well compiled @Leo.stats weekly report here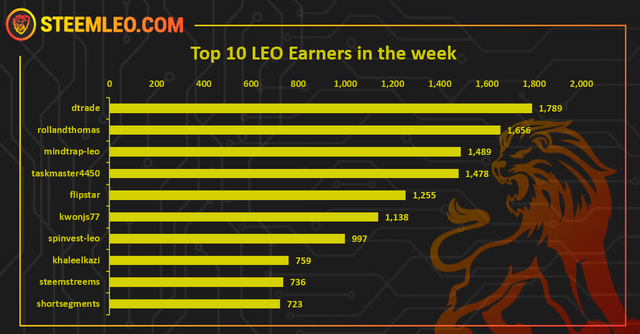 On to the number:
This weeks highlights:
Earned over 1000 LEO tokens for the first time ever, Sold 600 to pay for SPI rewards.
Major price recovery from LEO - from 0.11 last week to 0.17 this week.
Week 2 of JAHM earnings are over 30 STEEM value.
Added the Intrepreneur tribe token INT in to the tally
CTP price correction - back to where it was a couple weeks ago, the only downside.
Big increase in overall account value to 1454 STEEM thanks to LEO.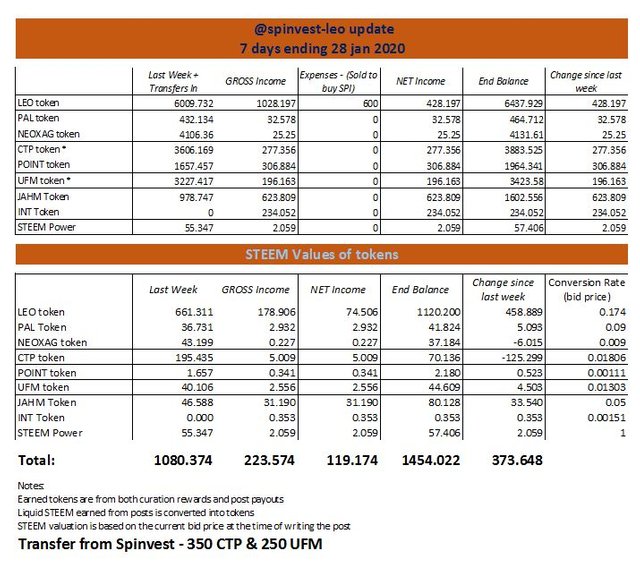 Delegator rewards: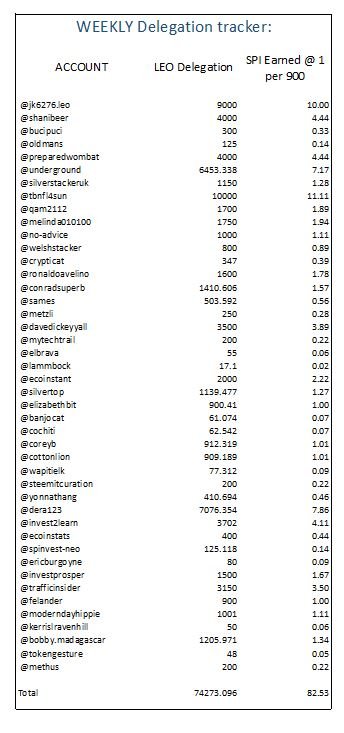 ---
If you have not heard of @spinvest-leo before, what we do is accept delegations of LEO power, and pay a weekly passive return with SPI (spinvest) tokens. The return is calculated on 1 SPI per 900 LEO delegated per week. Any amount over 9 LEO can be delegated, for a weekly payout. The main @spinvest account transfers it's LEO earnings to us for now to assist the growth of this account. The asset base we are building here from surplus earnings above the mining payouts are added to the Spinvest asset base, increasing the value of the tokens you earn.
Thanks to everyone supporting this program, especially the delegators. Don't forget, when making a delegation, please DO NOT put the @ sign in, it could cause the price of STEEM to tank to 1c. (or at least the delegation doesn't work). ;-)
New delegations, or increased delegations always welcomed. You can delegate any amount, however 9 LEO would be the minimum to receive a weekly payout. If these are you first SPI tokens, feel free to ask any questions and check out @spinvest for more information.
Supporting the following accounts will support the Spinvest tokens growth:
@spinvest - the main account.
@spinvest-leo - this account.
@spinvest-votes - separate account to coordinate club member votes on a regular basis.
@spinvest-neo - Account for NEOXAG delegations.
Cheers,
JK - aka @jk6276, @jk6276.leo and other similarly named accounts :)
Posted via Steemleo