Hello and welcome to this SPinvest post
SPinvest is a tokenized investment fund/club for all users of the STEEM blockchain. Everyone is welcome! The concept of SPinvest is to get rich slowly by using time tested methods of earning, saving and compounding long term. We encourage long term investing on and off the STEEM blockchain. We hope someday everyone will HODL some SPI tokens that can be bought directly from @spinvest are through the steem-engine are dex.steemleo exchanges.*
.
SPinvest are SPI tokens are not to confused with SBI shares. It's like comparing chalk with cheese. SBI is a complex untokenized upvoting bot. SPinvest is a different beast altogether. We power up every STEEM we get from SPI token sales and use that STEEM POWER to produce earnings of up to 20%. As all SPI tokens are backed 100% with STEEM POWER there is no risk to investors capital and cashing out can be done instantly using our 99.99% buyback wall. STEEM earned the @spinvest STEEM POWER balance is used to invest off-platform which provides SPinvest with a balanced portfolio of safe time tested investments currently including bitcoin, precious metals, stock funds, and more. Full details about SPinvest can be found here
.
100% BuyBack Liquidity offered
Buy and sell back SPI tokens on the Steem-engine are Dex.steemleo exchange's
---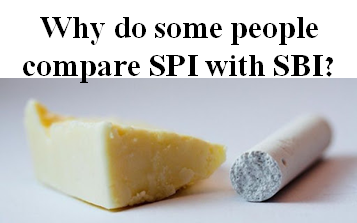 Hello everybody, after almost 8 months of operation SPinvest is still be compared to SBI shares and today we can look at why they are completely different. We at SPinvest have no problem are beef with SBI as it's a great project for those that require it but i don't like being compared to something that's basically a fancy upvoting bot when SPinvest does not even upvote it's members are token holders. Apart from SPI and SBI sounding the same, SPinvest is much more complex and really in a league of it's own as there is nothing else to compare it with at the minute.
STEEM Basic Income - SBI shares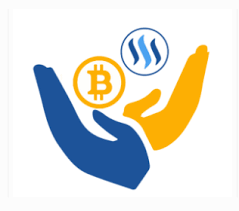 Steem Basic Income is a social experiment that provides upvotes to all users that own SBI shares, delegate STEEM POWER are won them in contests. SBI Shares are unredeemable and have no monetary value but they will provide you with an upvote for life on posts and comments. If you hold SBI shares, what are your shares worth? Nothing if you stop posting, right?. The project is a few years old with many committed supporters and as a whole, the project is a beast and makes SPinvest's 100k STEEM holding look small. I do envy there SP balances :)
You get upvotes by buying shares. Send 1 STEEM to SBI for each share you would like. When buying shares, you enter in the memo section the username of a friend are contest winner and they receive a share as well. This is the genius of SBI and why there are so many shares out there. SBI shares are most giveaway thing on Steemit because all sales are a BOGOF. It's a great project but it's basically an upvoting service that rewards active users. I have no idea if SBI is a profit are non-profit, income i assume comes from SBI share sales, curation and post payouts.
SPinvest - SPI tokens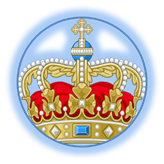 SPinvest is a tokenized investment club that uses 100% SP backed tradeable SE tokens. SPinvest does not provide any sort of upvoting service but it does provide a minimum of 20% ROI per year to token holders with earnings made using its SP balance, tribe accounts and post payouts. SPinvest is a non-profit and all incomes and holdings are added to the SPI token value.
SPinvest also holds thousands of STEEM's worth of off-platform investment's including BTC, silver, fiat and more. We offer mining services to Leo and Neo tokens holders, we offer a beneficiary service and you are not required to be active on the STEEM blockchain by making posts are commenting. SPinvest and SBI could not be much more different.
3 Main differences between SPinvest and SBI
It's a very crude table but it serves its purpose.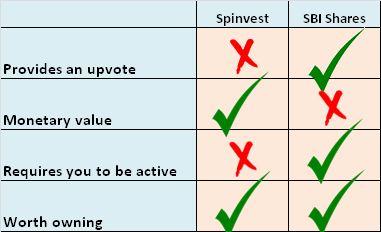 Can people stop comparing SPinvest with SBI now
Maybe i should have written a post like this a long time ago. It's not really much of a problem, just something i have been noticing more lately. Again, there is nothing wrong with Steem Basic Income, i own a bunch on my personal account but comparing SBI shares to SPI tokens is like comparing an upvoting service to an investment club, literally like that. Your granny is not your uncle.
---

Buy SPI tokens directly from @spinvest. Each token is currently priced at 1.00 STEEM and you can send any amount directly to @spinvest and i will issue you SPI tokens to 2 decimal places for the value of STEEM to send. All tokens bought directly will be sent to investors SE wallets within 24 hours but most likely much sooner.


---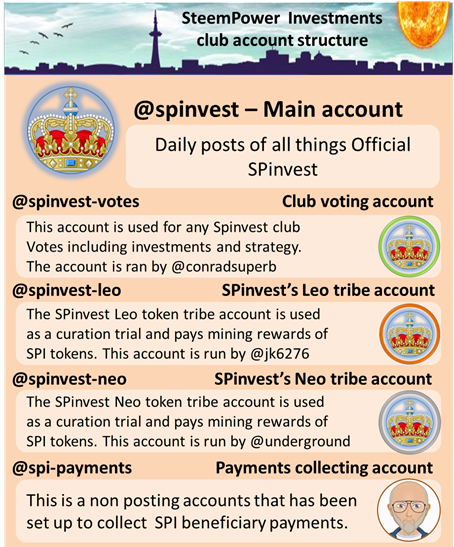 Important Information
| Information | URL Link |
| --- | --- |
| SteemPower Investments Introduction Post | Click HERE |
| SteemPower Investments Club Partnership Agreement | Click HERE |
| How to become a club member | Click HERE |
| How to convert SE tokens into SPI tokens | Click HERE |
| Join the SPI club Discord server | Click HERE |
| Join the SPI curation trail | Click HERE |
| What's best for the SPI Club? Centralized vs Decentralized | Click HERE |
| SPI tokens 95% buyback guarantee | Click HERE |
| SPI Club monthly Fiat to SPI token group buy | Click HERE |
| | |
| | |
All questions are welcome, please ask in the comments below


CLICK here for full details about SPI beneficiaries
Show support to SteemPower Investments through it's Patreon Page
Click here to join the SPinvest community over at beta.steemit.com (Steemit Communities)

Posted via Steemleo