SHARE YOUR BATTLE Weekly Challenge! WAVE RUNNER #1
#1 Weekly Challenge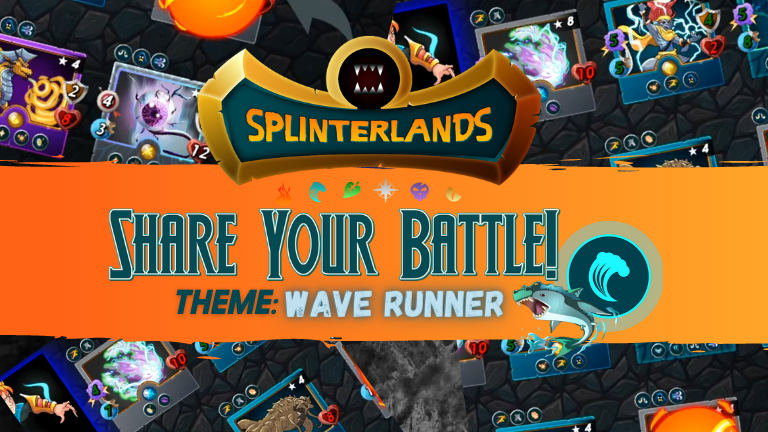 THEME: WAVE RUNNER
Edition: REWARD
Rarity: COMMON
Element: WATER
ATTACK: MELEE
ABILITIES: Reach at level 1; Knock Out at level 5; Snare at level 9
Why should you consider using "WAVE RUNNER"?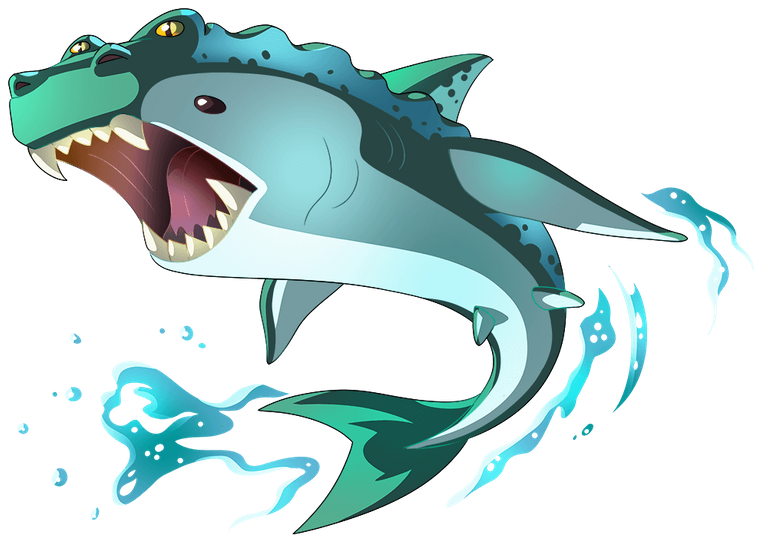 Simple Reason = 5 mana with 4 melee damage with reach skill
Strategic Reason
~ Using WAVE RUNNER as the position 2, you can have different flexible tactics, you can partner up a monster with stun since wave runner have knock out and you also counter flying tanks with its snare. It is also a very mana cheap source of damage with just 5 mana it yields 4 melee damage.
ENTER BATTLE :
Also a glimpse of what I am thinking and not thinking when picking my lineup
Here are the Rules for the Battle

Mana : 50 (High Mana battle, good for a complete team)
Spreading Fury : All monsters have the enrage ability
Stampede : The Trample ability can be triggered multiple times if the trampled monster is killed
Lineup Positions :
Summoner : ALRIC STORMBRINGER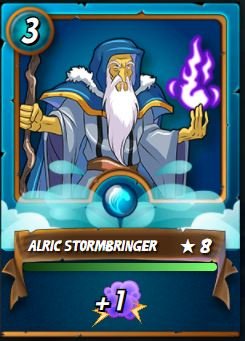 Added Magic damage is always a good thing if you have 2 or more magic damage monsters.
1 = THE KRAKEN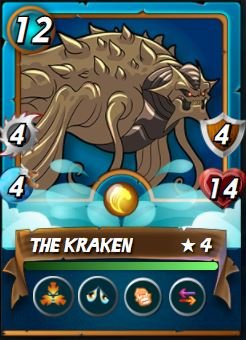 In high mana battle, there is a high chance that enemy would have high damage monsters. The taunt skill is a very useful skill to lessen the threat of snipe, sneak and opportunity skills on your own high damage monsters with low hp. Demoralize and retaliate is also a very useful skill vs enemy melee tank.
2 = WAVE RUNNER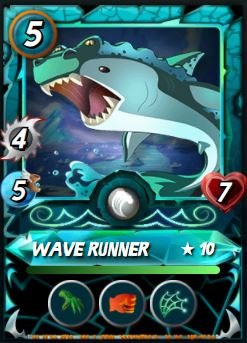 Using the very cheap WAVE RUNNER for added decent damage. A high mana battle with water and earth element available, and since the kraken is not a very fast monster without enrage activated, there is the threat of enemy might use Nectar queen which the snare of WAVE RUNNER would be very useful. And if enrage is activated he can deal way more damage.
3 = PRISMATIC ENERGY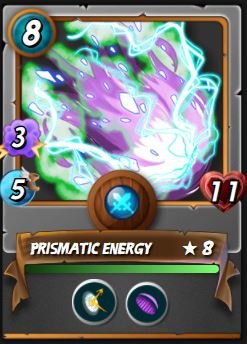 Since the kraken dont have damage reduction skills, a back up tank which is a counter for magic damage monster would be very useful. Plus Prismatic energy would benefit from Alric Stormbringer plus magic damage.
4 = CAPTIAN'S GHOST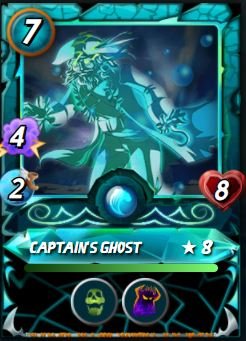 Using monster with Oppress in case the enemy placed a tank with no attack. Additionally Captain's ghost have affliction which is also a counter for healers to bring down tanks faster. Also benefit from Alric Stormbringer.
5 = RULER OF THE SEAS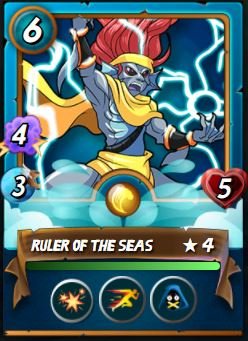 A good balance monster with great offensive ability blast, support for the team using the swiftness buff and enemy magic damage debuff. Good synergy with Alric Stormbringer
6 = POSEIDON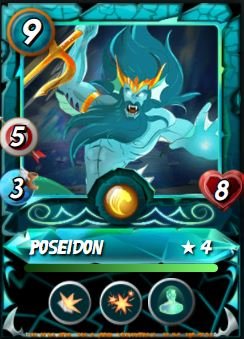 Range monster with shield in case the kraken have fallen and the enemy team still have monsters with sneak. Poseidon blast ability also have good synergy with Ruler of the seas. The two of them can bring down the position 1 & 2 monsters quickly.
COMMENCE BATTLE
ROUND 1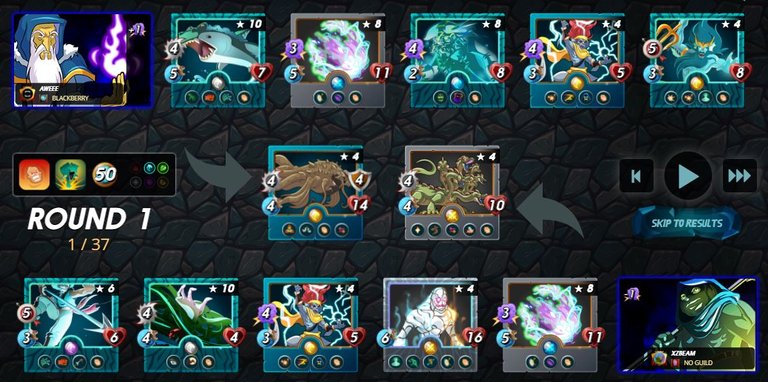 Click image above to watch Replay
Enemy also have a well balance team. At this point it is not clear which have better chance of winning
ROUND 2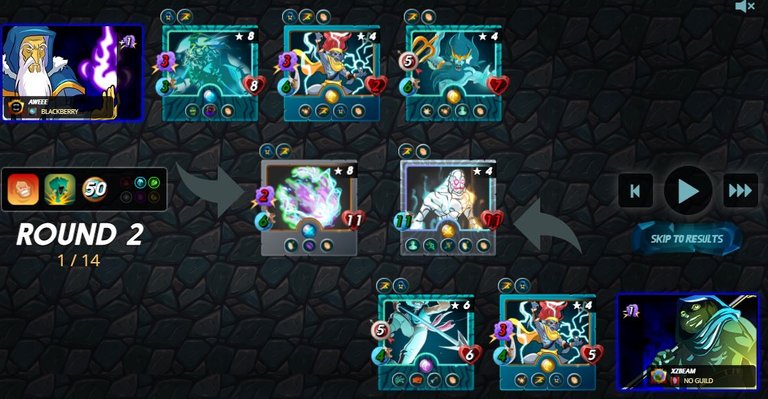 A lot have happened in round 1 which lead to both teams having 2 or 3 dead monsters. Preparation of a 2nd tank Prismatic energy is a very good idea. But the enemy team prepared 3 tanks and the tank left is Almo Cambio which is a very annoying tank if you are using Range and Magic monsters because of its reflects. It even got 11 speed because of enrage 😅
ROUND 3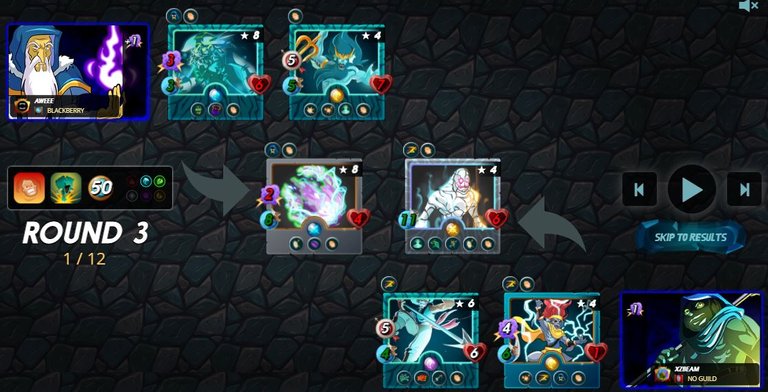 Speed of Almo Cambio got the better of most my damage dealers and most of them missed. Luckily enough Poseidon's attack connected and even damage the enemy Ruler of the seas.
ROUND 4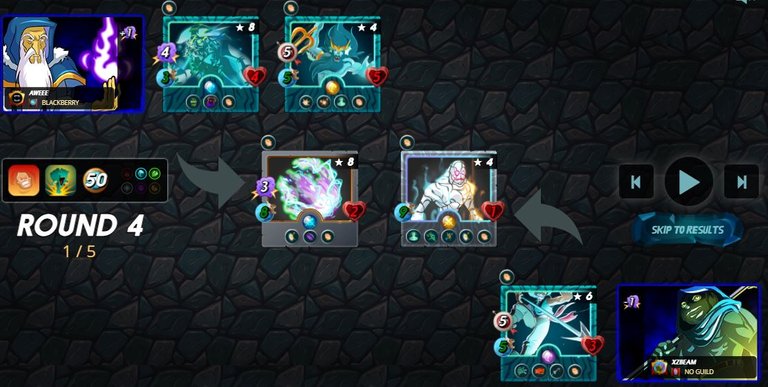 Due to Prismatic energy magic reflect, Ruler of the seas died. Almo Cambio is still annoying until the end but the enemy only have 1 damage dealer and I can say I have better chances of winning.
RESULT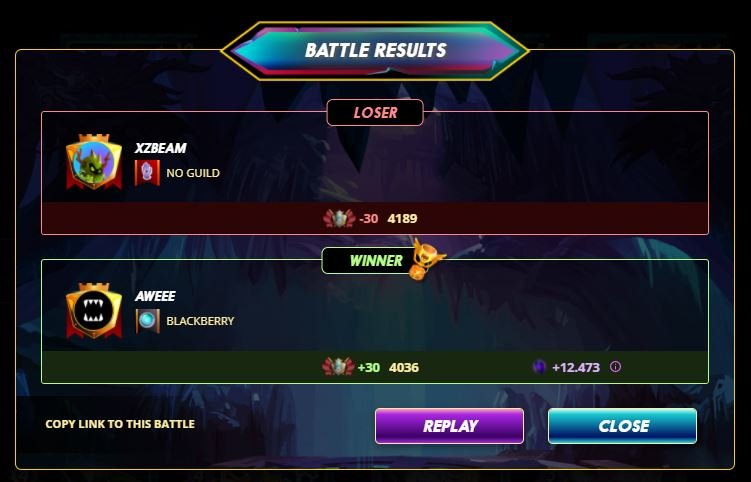 Great feeling winning a battle you are not sure about winning right from the start.
~
~
WAVE RUNNER prove its very mana cheap worth of damage is very useful, even though WAVE RUNNER did 1 attack in this battle, I think that is the turning point which got me the winning edge in this match. It tank some damage, did 1 attack but that is with 4 damage worth of victory for me.
~
~
***Interested in playing and earning? Click my referral link below and after you have purchase your summoner's spellbook, I'll give you back $0.50 in DEC.
https://splinterlands.com?ref=aweee
---
---