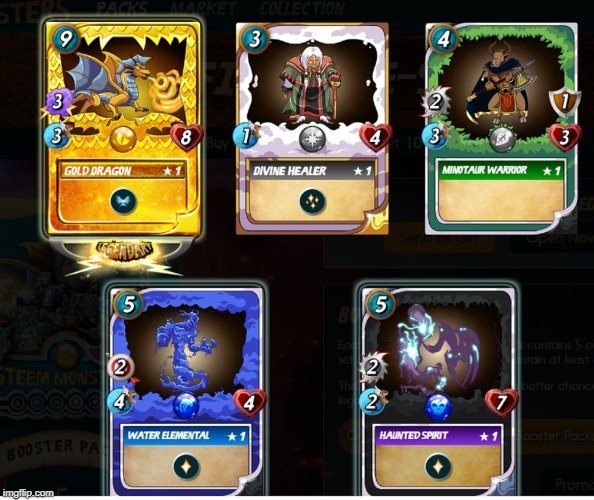 Many moons ago I ventured to a site that is now named Splinterlands.
---
Splinterlands (also known as Steemmonsters) is a digital card game created by @aggroed and @yabapmatt. Early game release has launched and prizes are already up for grabs. You can start playing or investing in Splinterlands today by clicking here.
---
At that time I had no clue how involved I would get in this game. After-all I'm a gambler at heart in which most my gaming consisted of gambling via games like Poker and BlackJack. The chances of me liking a card game with mystic creatures battling each other is highly unlikely. I had never played any other card trading game such as Pokemon or Digimon so the chances of me enjoying this was slim right, RIGHT?
Well I never of could been more wrong. Here I am..... What most crypto blockchain game players would call a normie, playing a card game with mystic creatures in it and enjoying every minute of it. The best part for me isn't the game itself (as awesome as the game is), for me its watching the game grow from its infancy stages that has me most intrigued.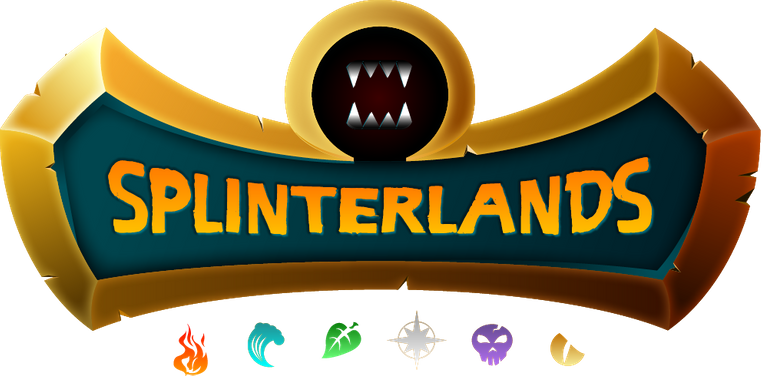 Today I will share the moment with you that made me the Monster Maniac I am today. As you likely have noticed, I shared a screenshot of a Alpha Booster pack opening. That's just not some random screenshot, what you're seeing is the very first Booster that I had bought. That's right, I flipped a Gold Foil Legendary Dragon in my first ever paid for booster. Not only did I flip it in my first ever paid for booster it was under the first freaking card, UNBELIEVABLE.
At the time of me opening that pack I had no clue how rare that card was. At first I thought my computer froze with the odd noise and momentarily freeze the card had before flipping but it eventually did its thing and flipped over and then turned gold. "Cool a gold one", I thought to myself.
I later did a little digging and found out how lucky I was to hit that in my first paid for pack. At the time of me flipping that GFL Gold Dragon there was only 21 in existence and the price range on the market to purchase just one was $1190 - $1337 ...... And that was the moment I became a Monster Maniac and have purchased many more Booster packs since.
I have held onto that card for dear life and have said on multiple occasions that someone would have to pry it from my virtual cold dead hands before I would part with it.
To Read My Original Topic Detailing My Opening Click Here
Splinterlands Total Market Cap Report:
$4,692,479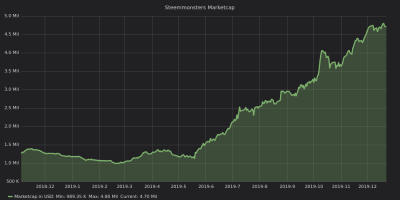 With roughly only a week and half left of 2019 my prediction that Splinterlands hits a $5 Million dollar market cap before 2020 is starting to look like a tall order to fill. If we were to go by Peakmonsters market cap Splinterlands would have already exceeded my predicted amount as it displays $ 5,291,956.66 as the highest market cap amount.
PeakMonsters Market Cap Numbers

---
Posted via Steemleo | A Decentralized Community for Investors