Splinterlands - Fire's Efreet Elder? (Weekly Post)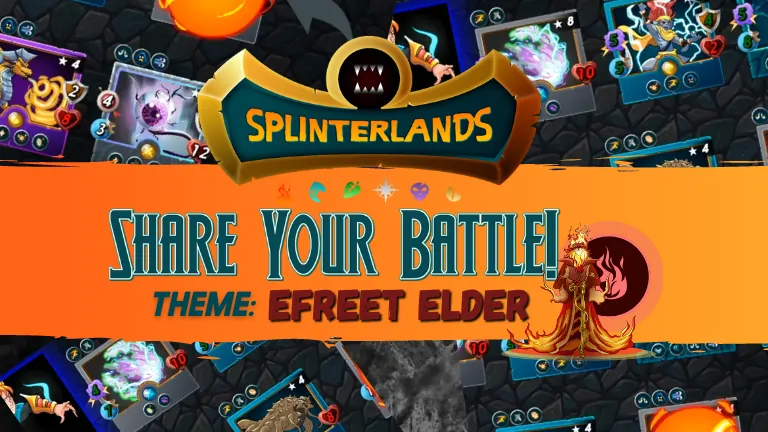 When it comes to fire splinter I rarely think about magic monsters. That is because I prefer to go with death or water when it comes to magic. However looking carefully with fire and which monsters have magic it is a bit surprising that some of the ones I do use often in fire splinters are plentiful.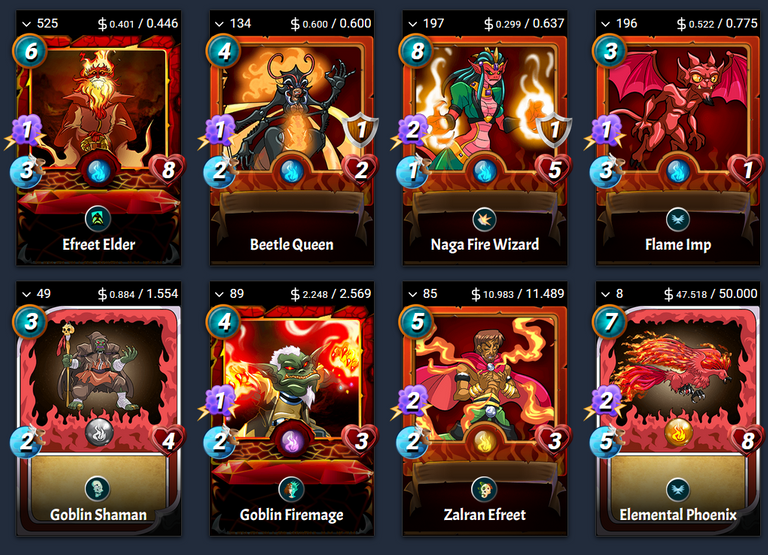 I often go with Goblin Shaman, Beetle Queen, and sometimes Elemental Phoenix. Clearly I have overlooked magic with the fire splinter and today I will like to look at a battle I have using Efreet Elder.
Battle Using Efreet Elder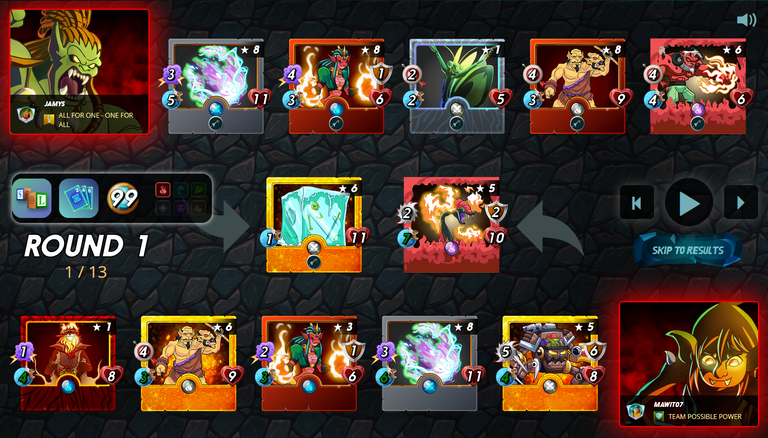 When a battle has only fire splinter as the option of splinter there is not much more I can decide to use in splinters. With a 99 mana battle I would have lean towards dragon and fire but with dragon not allowed I of course the next best thing. I went heavily with monsters that had 8 or more mana to take advantage of the max mana.
Formations
I started off with Serpent of the Flame follow by Goblin Mech, Prismatic Energy, Naga Fire Wizard, Ettin Spearman, and end with Efreet Elder. The key was to have decent tank monsters while the back end of the formation have long range attack monsters.
Round 1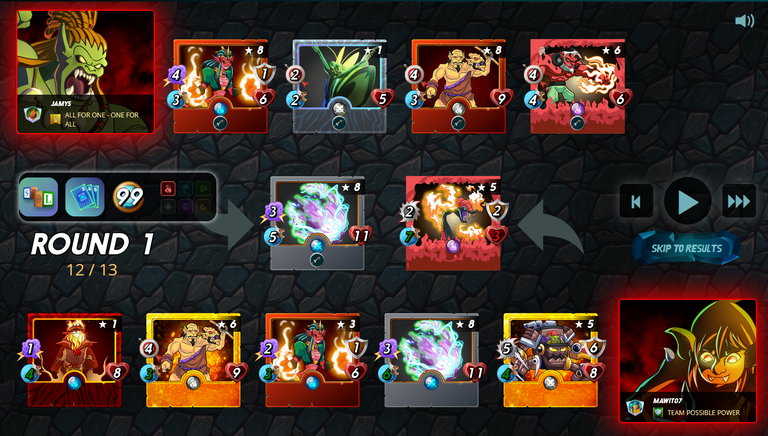 My formation was strong enough to knock out my opponent's tanker Cube. This gave me confidence that I would dominate the match. Looking forward to the next rounds to complete this total dominance in the match.
Round 2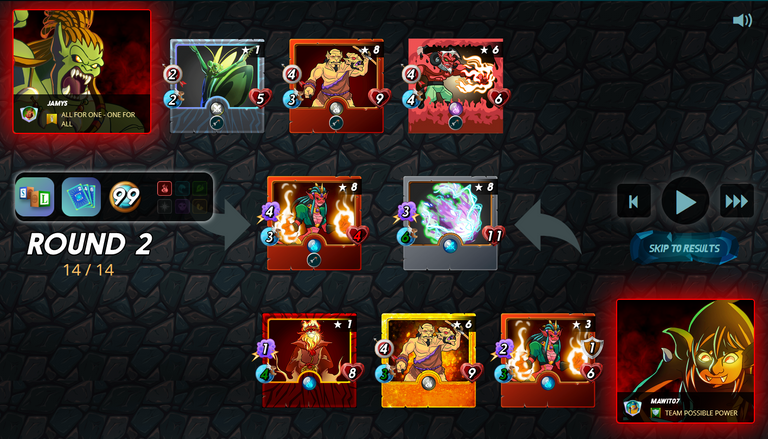 By end of round two I came back to the realization that this was a dog fight between two decent formations. I was able to knock out my opponent's Prismatic Energy but in return I lost both my Serpent and Mech Goblin. Only in two rounds my top two melee monsters gone! It all came down to range and magic left for me.
Round 3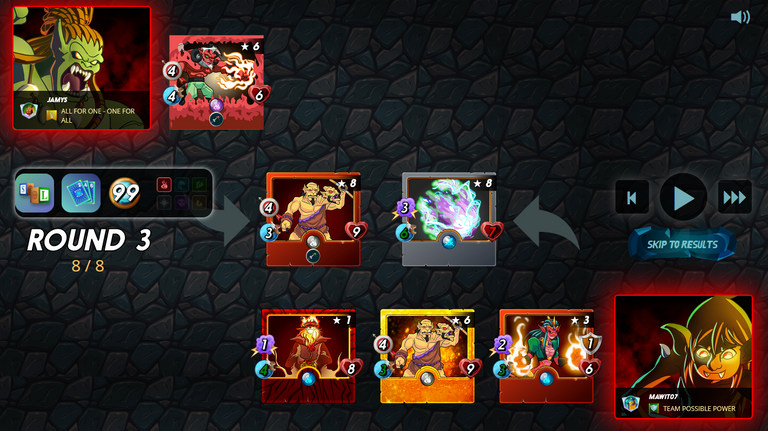 The match is turned back into my favor as my opponent only has two monsters left and both are range attack. This basically means four against one.
Round 4 and 5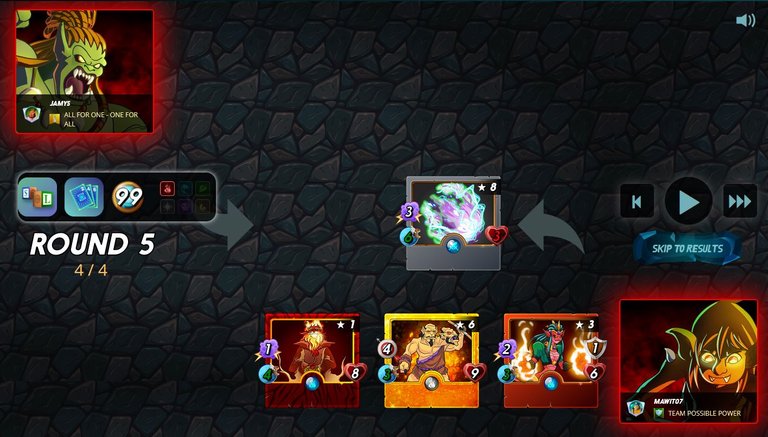 In the final rounds it was basically clean up and I took the win pretty decisively. I did not lose any more monsters with that close.
Conclusions
The long range attack was what help me defeat my opponent. I could have went without Efreet Elder and done better maybe with Beetle Queen or some other range attack monster, however it still was sufficient enough for me to win. Efreet did not have to be last resort which made it almost a nullified monster in battle. Still I would take this as a win and on to the next battle.
If you are interesting in watching the battle here is a link.
Until next time thanks for reading!!!
I have plenty of other cards for rent! Just go on peakmonsters and check out the market place and if you are curious what I offer here is a link:
If You have yet to take part in playing this great game called Splinterlands please click on my referral link. It is free but in order to earn real assets such as cards and token you would have to invest in a starter deck or purchase game cards. Join the discord to learn more. Good luck!

THANKS FOR READING! CONTINUE TO PLAY SPLINTERLANDS!

---
---