My Participation in SPUD 9

Hi, Steemians!
As some of you know, the first of every month is known as Steem Power Up Day, or SPUD for short.
Steemians are encouraged to power up their Steem on that day. Having more Steem powered up is good for the platform in general. It allows you to have more influence on the platform as well.
I usually just buy Steem whenever I can and I power it up right after I buy it. But this time it happened to line up with SPUD 9, so I thought I'd make a post about it.
There is a contest held by @streetstyle on each SPUD to encourage Steemians to power up their Steem. I don't qualify for the contest since my Steem Power is above the range permitted for entering the contest. The contest is meant to encourage smaller accounts to power up. I still wanted to let everyone know about the contest in case anyone wants to participate in SPUD and enter the contest.
It will probably be too late to enter the contest for this round since it's very late here while I'm making this post, but now that you know about it, you might be able to catch the next round on the 1st of next month.
Today I powered up 2200 Steem here on my main account. I also powered up 200 Steem on my alt account, @actisam, where I post mostly Actifit reports and things like that. If you do Actifit, you can follow me on that account and add me as a friend on Actifit.io.
Here's the screenshot of me powering up my main account on Steempeak.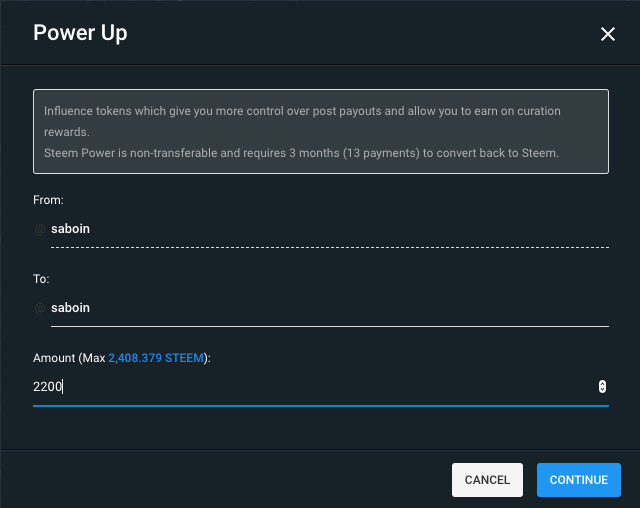 And here are the transaction receipts for my two powerups.

Now that I've powered up, I'll be able to dish out bigger down… I mean upvotes. 😁
I'm also buying some tribe tokens, which I will power up as well. I have a decent stake of PHOTO tokens since I do a lot of voting on photography posts. I also stake PAL, NEOXAG, and CCC.
I encourage anyone to buy some Steem and power it up. Especially while the price of Steem is still low.
---
Buying Crypto in Canada
Since I'm talking about buying crypto, I might as well plug my new favourite way to buy crypto in Canada.
For the longest time, I was buying crypto at crypto ATMs because I'm not very comfortable with sending pictures of my driver's licence et cetera to exchanges.
Buying crypto at an ATM is very expensive, but I was willing to pay the extra fee for my privacy and to also avoid the chance that my photo ID could be leaked in a data breach or something of the sort.
A few months ago, I discovered an app called Shakepay, and it's now my favourite way to buy crypto.
It allows you to buy either Bitcoin or Ethereum by sending an Interac e-transfer from you bank account. It's quick, the money is there practically instantly, and there aren't any fees.
I've done the math, and from sending the money to having the Bitcoin or Ethereum in my wallet, I lose less than 1% altogether, and that includes the blockchain transaction fees and all.
If you're in Canada and you want to try it out, use my referral link: https://shakepay.me/r/QXTDW4D, and we will both get $10 added in our accounts when you buy at least $100 worth of crypto.
---
That's it from me for today.
Until next time, I wish you all a good one and a Happy New Year 2020!
---
P.S.: I'm using the #cc tag on this post, so users who comment on this post will receive 1 Comment Coin token for each meaningful comment.
---
---