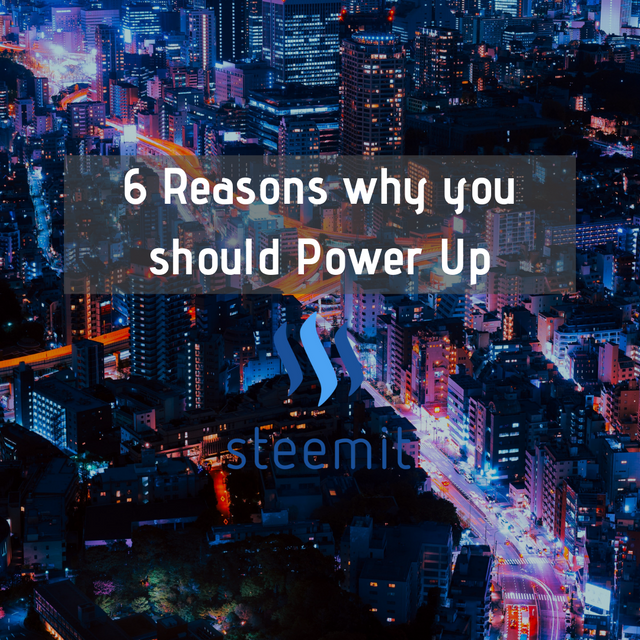 For people who are new on the Steem ecosystem, it is difficult to understand how everything works. It's quite a complicated world and it takes a lot of time to master most of it. One aspect of Steem is in my eyes more important than anything else. It's the process called to "POWER UP".
"Powering Up" means that you stake your Steem and transform it into Steem Power. With bigger Steem power you increase your RC and also your voting power. Meaning that you will have less limits to post stuff and also your upvotes will have more economical value.
When you power up, you bind the Steem for 3 months and you need to power down to get it back in liquid Steem. So by powering up you are putting your Steem in a kind of box for a certain time and you can't sell it or buy other things with it.
With Steem prices that are lower than ever it can be a tough decision to take but I will tell you why you should power up. Now more than ever !
1) Powering up means more RC and more Voting power
This is the most obvious reason to power up. With more Steem Power your upvote will be more valuable. Giving these upvotes doesn't cost you anything and you can spread value around you. You will also be less limited in terms of RC. You can post and comment more often.
2) When powering up you participate in increasing the value of Steem
I believe that for everybody on this platform, the price of Steem matters. In order to let the price of Steem increase we all need to power up.
When we power up, we block Steem. We actually take this Steem out of circulation for a certain amount of time. The supply from the reward pool is fixed and the number of Steem that is distributed is finite. So each time we power up, we take away a part of this reward pool and we stake it. If the rate of staking increases, the liquid amount of Steem available will diminish over time. There will be simply less Steem available to buy. This will help to stabilize the price of Steem.
3) More Steem Power makes you more important in the Steem world
When you have a lot of Steem Power you have a higher upvote. We saw that already. This means also that people are attracted to these upvotes.
Let's say you write a post and have 25 SP. Your upvote value is 0 $. Why would I leave a comment to your post? The best I can expect is your upvote and if your upvote is worth nothing, it is sad to say that I have nothing to gain. This seems a bit hard but it is the truth. If I have 1000 SP and I write a post, there will be much more people commenting my posts and hoping to get my upvotes. At the same time they will feel obliged to give an upvote themselves.
Who would you follow the guy with 25 SP or the guy with 1000 SP?
4) With Steem Power you have a say as to how the Steem from the rewards pool is allocated
This is a point that a lot of people do not realize. The reward pool is distributed according to the upvotes of the stake holders. The more Steem Power you have, the more your upvotes influence how the reward pool is distributed. If you have no Steem Power, you have no weight and you delegate the reward distributions to the others that have staked Steem.
5) High Steem power brings high curation rewards
If you have less than 100 SP, you probably haven't had the chance to get real curation rewards. I can tell you that when you have several thousand SP, curation rewards are becoming really interesting. For every upvote that you give, you get curation rewards back. At the moment 25% of the value of a post is distributed to the people who have upvoted it. Starting in September with HF 21 however, this curation reward will go up to 50%. This means that half of the payout of a post goes to the people who upvoted it. The higher your Steem Power, the higher your curation income is going to be.
6) It has never been so cheap to become a whale
When I started with Steem a year ago, the price for Steem was much higher than today. I struggled a lot to collect my first Steem. Today it is still difficult to collect Steem but it has become so much cheaper to buy it! I see the price of Steem as a big opportunity to become powerful on the Steem ecosystem for relatively little money.
I can't say how the price of Steem is going to evolve and I wouldn't suggest that you buy Steem with money that you might need somewhere else. What I suggest is that you use the Steem that you earn and power up your account. It's what I have been doing since I started here. Your profits are multiple and high Steem Power will give you much more that the few cents that you might gain now by exchanging your Steem into fiat or other cryptos.
---
My projects:
@help.venezuela : a program that supports steem users from Venezuela.
HVOTE : A token that is underlined with a real steem account. With the sales of tokens, the Steem Power of the account is increased. The votes are sold on smartsteem and together with curation rewards, the account produces real economical value. Big token holders get upvotes from the account.