About two months ago, I wrote a a post about the decrease of posts and authors on the steem blockchain. I'm always interested in how the life on the blockchain evolves and I checked out the metrics again. It was very interesting to notice that the number of posts and also the number of authors posting has stabilized lately (see graph 1 below).
Steem is consolidating
It's comforting to realize that the tendency has been broken and that there is a kind of consolidation of posts and authors. At the same time I believe that the overall quality of posts on the blockchain has increased mainly thanks to #newsteem. Even though there were some harsh aspects about these changes, like the downvote battles, overall the change was really for the better.
I believe that this consolidation was necessary and maybe it will be soon time to start growing on this new basis. So here comes my question. How can steem evolve in the near future?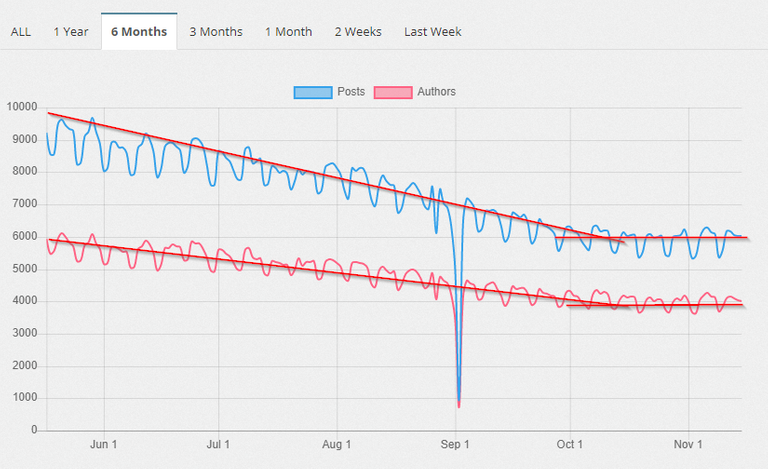 Graph 1: Evolution of posts and number of Authors over 6 months, source: https://tool.steem.world/Post/Stat
What are the weak points at the moment?
I'm just one of the many users of this blockchain and maybe I see it totally wrong, but I believe that there are several problems that should be adressed:
Onboarding doesn't work
Even if this seems to sound like a broken record. Everybody speaks about onboarding but it hardly works. What can steem offer to new users at the moment? A lot of complexity and hardly a way to make some coins.
Small user frustration
Let's say you joined steem and you are not put off by the complexity of the whole thing. You post something and realize that the payout is really meaningless if you don't post a very good quality article that curators detect. Your upvote is worth 0.000 Steem and you don't even have enough RC to write all the comments that you want. People don't give upvotes to comments anymore and well you are just stuck and what reasons do you have not to give up?
The way to some weight is very long
If you want to grow organically on steem and start with zero, well good night. It will take you ages just to see your upvote being worth 0.01 Usd. If you join steem and you see how much steem power you need to have at least a little influence and also some curation rewards, then you need to invest first and you rather have to invest some significant amount of money that most users simply can't afford.
Is there a solution?
All the efforts being put in onboarding new users is actually wothless if there are no measures taken to keep them on steem and to provide a way for them to grow organically. There should be another way for users to be able to earn steem that doesn't necessarily involve authoring or curating articles. What are your suggestions? What do you think?
By @achim03
-***-
---