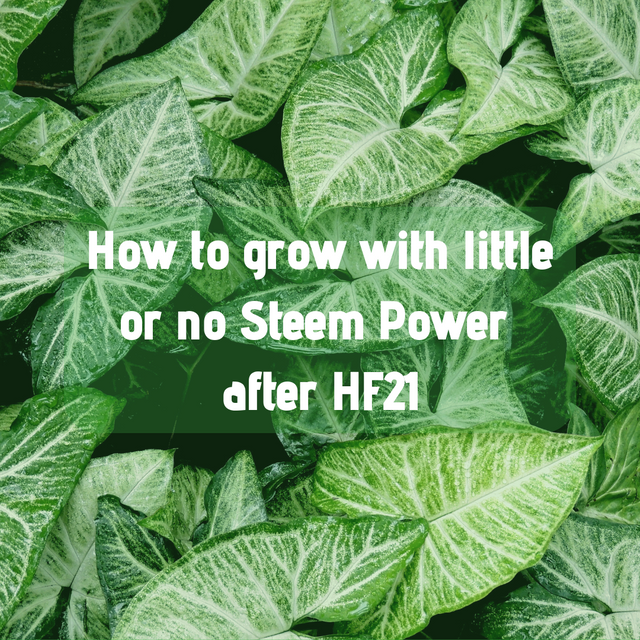 The negative effects on small accounts
The changes that came with Hard Fork 21 made life of accounts with little or no steem power much more difficult.
Smaller author rewards
There are several effects that lower the income of authors, especially small ones. Because of the reward curve small upvotes are less valuable and a post needs a lot of value to get to the same payout when compared to how it was before the hard fork. In addition to that the new split between curation rewards and author rewards reduce the income by a big margin.
Little income from commenting
A good strategy for small accounts prior to the hard fork was to comment a lot and get upvotes of more powerful people. Again because of the reward curve, these upvotes have much less value and it discourages people to give them.
No curation rewards for small accounts
Even with the 50/50 split between curation and author rewards, this doesn't profit the curation rewards of small accounts. When you have less than 100 Steem Power, you won't even see any curation rewards because they are lower than 0.001 Steem.
Fear of downvotes
Let's say you once manage to write a quality post. Now the curators of bid bot accounts discover your post and upvote it quite interestingly. People see this post and they only see that a bid bot gave it value. So they believe that you bought the upvote. You then run the risk to get downvoted. Quite the nightmare...
So is all hope lost for the small fishes to grow on steem?
No there is hope: A blueprint how small accounts can grow on steem in spite of HF 21

Steem is much more than just Steem
It may be difficult to grow in steem power but there are ways to grow in spite of HF 21. The solution is an indirect path through steem-engine tribes.
According to scot.today there are more than 40 steem-engine tribes at the moment. These tribes have a lot of potential for small accounts. First of all, most of these tribes are small. This means that the already distributed stake is limited and there are also a limited number of authors that write in these tribes. The people who hold stake in these tribes need content to upvote, to grow their stake. The tribes are a much smaller ecosystem than steem and it is easier to connect with like minded people. In addition in these tribes the distribution and the reward curve is often different than with steem. Upvotes can even have more value than in steem.
1) Choose your tribes
Unfortunately a lot of authors write posts with many tags of tribes because they believe that they will earn manifold from a single post. Don't do that! Choose only one or two tribes that you want to grow in. These tribes should center around your own interests. What do you write about? Find the tribe where this content is looked for.
2) Analyze the tribes that you have chosen
Before you become an author in these tribes, you should find out who are the influencers in these tribes and who holds the stakes. You can do this over scot.today. Check out who owns big stakes in this community. ¨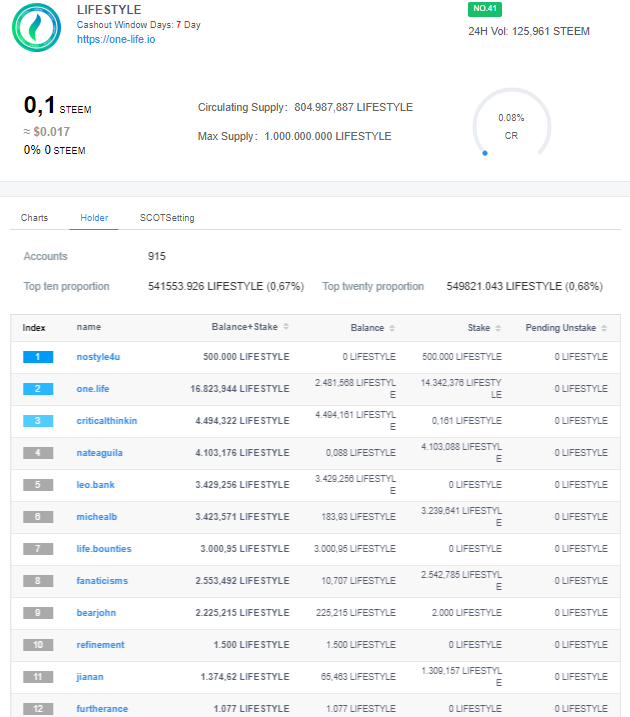 source: scot.today - example: the stakeholders of the Lifestyle community
Check out these accounts on the condenser of the tribe. Watch how often they post, how they react to comments, do they give upvotes? What you need is powerful people who have stake, who write posts and even better who interact with the comments to their posts. Follow the accounts that fulfill this profile and comment their posts regularly. Try to follow 10 to 20 accounts.
3) Become a well know figure in your tribe and start posting
If you give quality comments and you uvpote regularly the posts of others, you will soon become a well know person in this community. Only then write your first posts. Make sure that they are about the subject of the tribe. Research your posts well and make sure to respect a minimal quality standard: Link to the sources of the images that you use, use titles, subtitles, quotes and make it look nice. Most important of all, don't forget to use the tag of your tribe!
Since you will be well known already, your post will attract upvotes and comments. Be ready to answer all comments and to upvote them. This will strengthen your position further. Don't post too often. Quality goes over quantity.
4) Power up your tribe tokens
The big error that people make is to cash the coins they earn out immediately. Stake all the coins that you get to become more powerful. This will allow you to strengthen your role in the tribe and you might soon become an influencer of this tribe even without steem power!
5) Grow in steem without realizing it
With your posts you will earn the token of your tribe but each of the upvotes that you get is also linked to steem and little by little some income in steem will trickle in.
6) Use the tokens to buy steem
Once you have a certain stake in your tribe token you can start to use a percentage of your income in these tokens and sell them for steem. Use this steem to power up your steem account. This will allow you to avoid being limited with RC and also your posts will pay out more and your curation rewards in steem will slowly become visible and increase.
It's not an easy path but probably one of the most promising for somebody with a small account
To be successful on steem you need time, dedication and patience. However the most important ingredients are the other users on steem. Building relationships should always be your first priority.
---
My projects:
@help.venezuela : a program that supports steem users from Venezuela.
HVOTE : A token that is underlined with a real steem account. With the sales of tokens, the Steem Power of the account is increased. The votes are sold on smartsteem and together with curation rewards, the account produces real economical value. Big token holders get upvotes from the account.