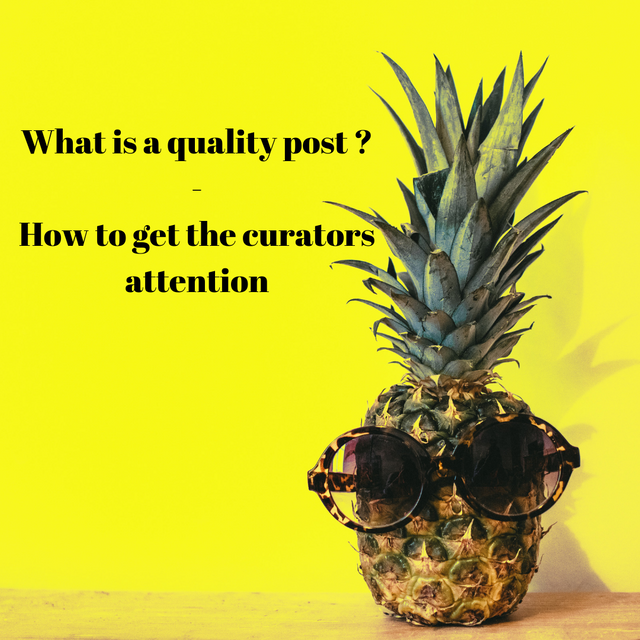 After the recent hard fork, curating has become much more important on steem and big accounts have started to discover and curate quality posts. It means that they filter the freshly published posts and upvote them before anybody else does, most of the time 5 minutes after publication.
I have been reading the post of @therealwolf about his curation efforts for smartsteem and I thought that it would be funny to try it out myself.
So I went to steempeak and filtered the posts according to the creation date. Then I went through them to find the good content. I first filtered according to tags but couldn't find anything. So I broadened the search and ended up going through all the posts published on steem at the moment... I couldn't find anything useful! I was totally amazed at the quantity of posts that are published that lack in quality.
Curators need quality and authors need to know what quality means
So what is a quality post? Don't forget that the curator has only 5 minutes to go over the feed and see your post. So first of all, you need a good picture to illustrate your post and also a good title. If your title and your picture do not manage to grasp the curators attention, well you won't get their upvotes.
Your title is the most important feature of your post. It should make people curious and invite them to learn more.
You need more than 44 words and a picture to have a quality post
When you open a post over steempeak you can see at the top right how many words there are and how long it takes to read the text. Be assured that the curator will not read your whole post, he won't have time to do that but he will look how much effort you put in your work.
Did you know that the big majority of the posts are shorter than 200 words? This takes you less than 2 minutes to read. I'm sorry to say but length matters. It's not necessary to write 1000 words, but 500 words should be a minimum.
Put some effort in how your post looks like
As I said before, a curator won't have the time to read your entire post. So you need to help him grasp your content with subtitles. It's very easy to create subtitles. Simply use hashtags before the title:
## Subtitle H2
### Subtitle H3
#### Subtitle H4
When you read a newspaper, you do the same than the curator, you read the subtitles first and you read the small print under the subtitle that interests you. Using subtitles, really helps to make your text more readable and interesting.
What is quality content?
It's quite difficult to define some quality standards regarding the content. Not everything is interesting to everybody.
I believe quality content could be defined as a useful knowledge that you discovered and that you transmit to others through your post. If they read your post, this additional knowledge might help them on their way.
When actors on steem begin to agree on quality standards, the positive effects of HF 21 will be visible. Good content will be rewarded.
I was utterly astonished to find so many lower quality posts on steem when I started to actively discover and curate. I was used to read the well researched posts of the people that are supported by @help.venezuela, the people from @project.hope and the people I follow, but the reality is: There are few quality posts on steem
Even if we don't have to agree on what a quality post is, it is easy to define what is not a quality post. Unfortunately, the majority of the posts go in to the later category. We all on steem need more quality and less quantity.
I believe that in the future, it will be worth to write good posts because there will be more and more people curating and searching these pearls and giving them the deserved rewards...
picture source: https://www.canva.com/
---
My projects:
@help.venezuela : a program that supports steem users from Venezuela.
HVOTE : A token that is underlined with a real steem account. With the sales of tokens, the Steem Power of the account is increased. The votes are sold on smartsteem and together with curation rewards, the account produces real economical value. Big token holders get upvotes from the account.