I have been using Crypto.com for a while now, and two days ago, I finally connected a Portuguese bank account to my wallet... Once I did that, suddenly my card shipment process activated 😱
It's a mobile multi-wallet app for iOS and Android with many features (probably the most feature-rich one I know). And it's also the most professional one in my opinion.

There are others around, like Crypterium if you fancy Mastercard for example, or if you wish to check other options. Although recently there was a step-back with the card orders, because they changed bank provider. Once I get news from that, I will post about it.
For extra details about Crypto.com (that I am not going to cover here) you might want to check an extensive review I did a while ago... although much has changed already (for better in my view).
Currently, all US residents can order the card, and soon Europe will also (if not already) be on the same situation.
📬 Updates
These are mainly the latest updates on top of what I already shared. Keep in mind that because of my living location, some things might not be exactly as I show (depends on where you live). I am supposedly on the same situation as most people, which is, No CARD yet, but you can do almost everything else within the app.
🏦 Europe SEPA Transfers
As I was saying, I have given a try to the recent ability to transfer €'s to and from a European Bank from within the wallet, via SEPA (or SWIFT) protocol/agreement.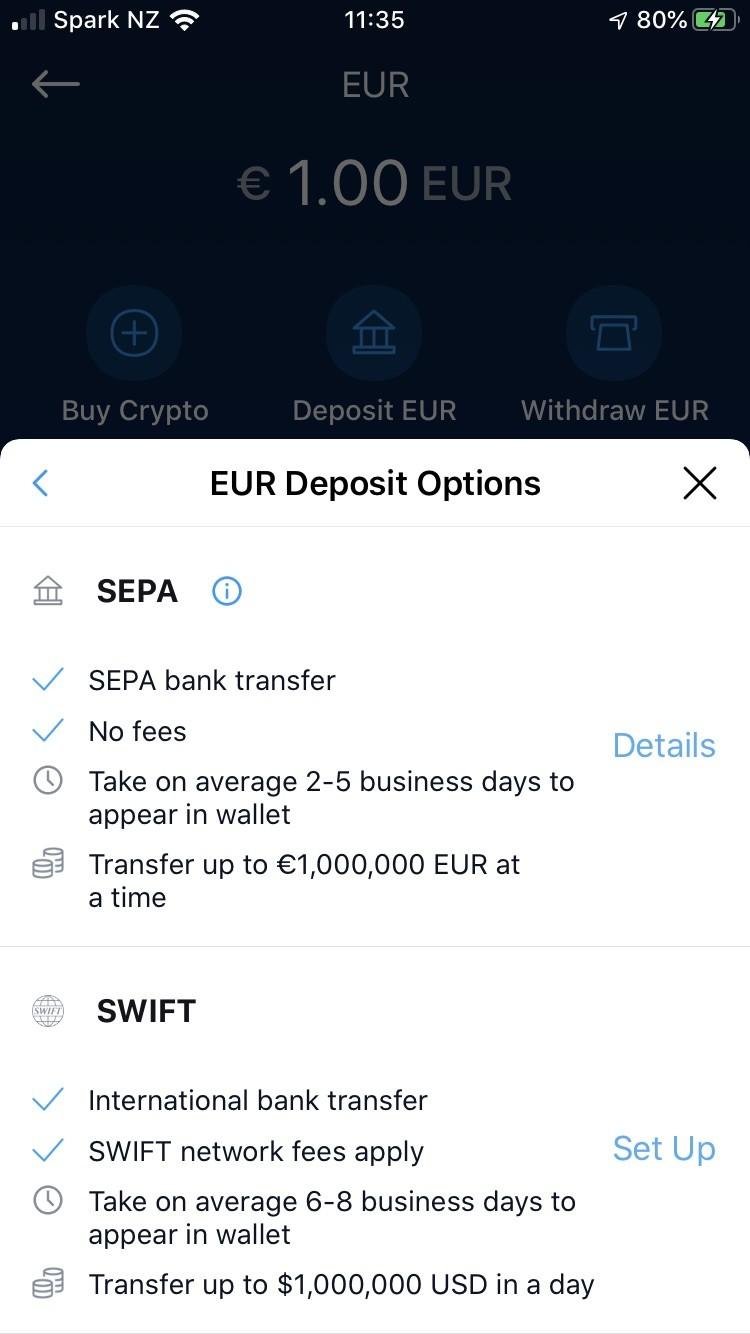 You first need to transfer "any" quantity to your wallet from a Bank account where your name matches the name of the Crypto.com account (when you did KYC). Then after the usual time (for me it took 2 business days) inter European SEPA transfers take, you get an update on your wallet and then, your withdrawals are activated.
The gotcha is... there is a minimum of $100 USD for withdrawals, which sucks a bit. But on the other hand, I understand why the limit. Later in the game, this might be removed, when there is enough cash flow on their systems to pay for small bank transactions.
There you go, this is a way to directly convert Crypto to/from your European bank account. For US residents this was already enabled (and will probably roll out through all the countries where the card becomes available, I am guessing).
💳 Card shipping process activated
Not sure if this is a bug because I received an email (with the process activation) at the same time I got confirmation that my European bank account deposit was confirmed.
I am tempted to say, that this could be a way to hack the waiting list on the card, but as I have given proof of my KYC via another country... I am not sure. Now is just waiting to see if I can receive the card somewhere else in the world.
Could this mean New Zealand card shipping has started?
Not sure, but I would be thrilled if so.
I have been waiting for this moment for almost 2 years now, so, it will be a sort of dream come true.
Followed by sending some proof of address that is still pending confirmation for more than 24 hours (not sure if normal or not), I had also selected the name I wish to see on the card.
You can write whatever you want, but the last call is on their side, to effectively agree with it. I think you can probably play a bit with something like, within parenthesis if you are very well known in the world, but aside from that, it might not be possible to go with things like, "The mighty Crab!", sort of things.
Who knows... maybe it is 😅
If you are within Europe and you followed the same steps as me here, can I ask you to let me know if you got the same behaviour for the card activation? Will appreciate that.
Crypto 📈 Investments
If you were one of those that checked the post I did some time ago, where I showed up the left (bellow) picture, you might have been unbelieving the results by then. But now with a wider analysis timeframe, you can have a better view (picture on the right). I have withdrawn some, but it is still incredible (and real) to see such high APR...
This is on cryptocurrency people! And also, be aware that I can withdraw any amount at any time.
If by the end of the year there is not much market recovery in the crypto world, I am probably going to reinforce my position here, as I am really liking the results.
I have other "test" funds, on competition apps and Crypto.com is leading in performance against many of them.
These changed as well. Before they used to give XXX USD on the card (depending on the amount of MCO you staked), but because no one was yet getting the cards, the motivation was really down the pipe to try their products.
So, they changed the game...
...and now, you will instead get credited MCO (valued in $50 USD) immediately in your wallet upon your referrals staking a minimum of 50 MCO (~$211 USD worth right now) using your referral.
I am not sure if the previous rules still apply to all these new referrals, but for the ones that you referred before these changes, you are still eligible to get a % of their transactions fees.
The difference now is that...
you don't need to wait for the card to win $50 USD (worth in MCO)
and start playing with the App. All you need to do, is stake 50 MCO using the app. The MCO you receive will not be locked and you can immediately convert it to whatever other cryptos/fiat you desire.
Feedback and Questions?
Let me know what's your experience, if you have tried it out already. And if you are struggling with something, let everyone know in the comments below.
Many people are after ways of bringing crypto directly into their financial activities, so, here you go. This is one work... even without a card.

info@esteem.app
eSteem.app | GitHub | YouTube
✍ Telegram | Discord