It's not a surprise to me that two of the businesses growing fast on Steem (Steem-Engine & SteemLeo) are led by people who understand business.
Steem needs more sinks and they are providing them. At the same time, they don't forget they are running businesses and they need income.
The reward pool has been used as a source of income through beneficiary rewards or curation rewards for small projects for a long time and it still is. Sometimes tokens were used the same way. But these methods of generating income is limited in time and declining at best, or only based on pump and dump at worse.
To be sustainable, businesses need to rise to a different level and search other income sources, as they and Steem mature. Or they will never make it in the future as businesses.
So business owners on Steem should either learn more about this field, or partner with someone who understands it. In my opinion, of course.
---
Focusing on SteemLeo, I have to say, I continue to be surprised by the number of sub-projects and features they've released and the speed at which they do it.
And it's not only that, but you can easily see they treat SteemLeo as a business.
On LeoDex V3, they added the Services page, which will be a collection of services they provide at a cost. So far "Token Airdrop" is their first added service. They already provided this service ever since creating new tribes were weekly, if not daily happenings sometimes, but only now they added it to the new DEX interface.
What I couldn't test was how Leo Swap works (and what are the benefits for SteemLeo for providing the convenience of swapping), it may be because of Steem-Engine, neither LeoDex nor Steem-Engine were able to load market page for DEC when I tried.
But yesterday SteemLeo launched another business-oriented project called LeoShop which tries to fill another need in the Steem ecosystem: a functional marketplace. The number of categories of products and services which can be sold and purchased on the market has already grown since yesterday, when I read their introduction post.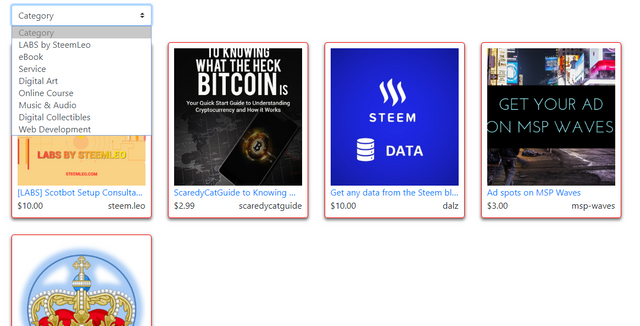 For those who wonder about the sales fees, here's the quote that interests you:
The only fee charged by Leoshop is a 1% fee of completed sales. When a sale is made, the seller receieves 99% of the proceeds and Leoshop retains 1%, which is used to burn LEO (permanently remove the tokens from the total supply).
If it's a small market 1% is low, but if it grows, 1% may be enough to support an online business operation costs, but not too much to have sellers upset for paying it, like on other platforms.
They have thought of many aspects regarding the particulars of an online marketplace: reviews, disputes, escrow. All about that in LeoShop documentation.
A working marketplace for STEEM, SBD or LEO (and maybe more in the future) could be the nudge we need to start growing a functional economy on Steem.
Maybe that will reduce the selling pressure, if more stuff that can now be bought only with fiat will be purchased with our tokens instead.
For the same reason I also want to shout out to @jongolson and CTPTalk and what they do in this direction with Fire-Pay, their payment integration solution.