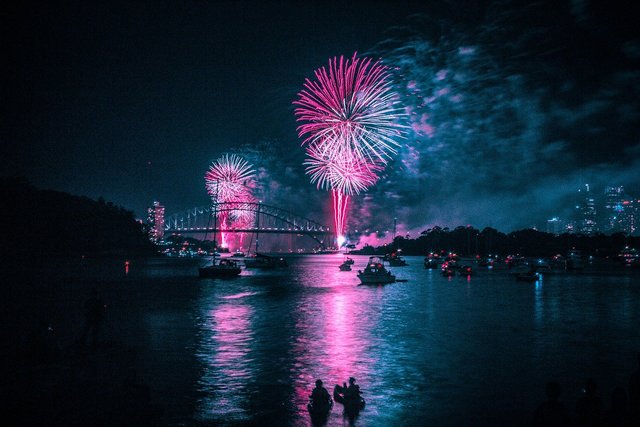 The new year is quickly approaching and with it, a new decade. A fresh start for many and a continuation of great things for many others.
Over the past year, a lot has happened. In my life, on the Steem blockchain, in the broader crypto space.. in the world.
In the past year, I have had a lot of good and a lot of bad. There's always a mix of the two and it's an important mix to experience. Reflecting on the bad and learning from past mistakes is one of the greatest sources of knowledge that we can tap into.
One of the worst things that happened to me was breaking my back. Dealing with it over the past 12 months has been filled with pain and little hope of recovery. Recently, I've gotten a few consultations about possible surgeries to fix me up and we'll have to wait and see if those are possible for me to access and if they are likely to work.
One of the best things that happened to me this year was the creation of Steemleo. When I originally thought up the idea of a LEO token, it was nothing close to what Steemleo is now. I knew that I wanted to do something that could impact the long-term use of the Steem blockchain, but my original idea wasn't quite as well-formed as what Steemleo has become.
Steemleo has become a vibrant community. A core group of people working on a lot of interesting projects and the results speak for themselves. The community continues to grow and the number of hardcore leo's expands rapidly.
Three of the primary goals of Steemleo is to have a token economy that works, an onboarding process that actually brings in new steemians, and an overarching three-pronged approach to bringing value to our content creators this platform.
The three-pronged approach of Steemleo is:
https://steemleo.com —> condenser interface
https://dex.steemleo.com —> a way to manage/trade Steem-based tokens
https://shop.steemleo.com (still in final testing — coming soon) —> a way for businesses, content creators and digital freelancers to exchange value using the LEO token
As we move into this new year and new decade, these goals will be pushed further and further. It will take time, patience and a lot of willpower from the community as it is no easy task.
Syndication has recently sparked some interest. Both on Steem and off Steem. We just made contact with the second author and handed over the keys to his account yesterday.
If you don't know about our syndication strategy, then I highly recommend checking it out. We are creating escrow accounts for some of the top financial authors across the web, building up a base of assets in the form of STEEM/LEO and then messaging these authors on social platforms and telling them to claim their free Steem account and the money that is in it.
I always knew that Syndicating content would be a long-term strategy. The whole process of onboarding someone who's new to crypto (let alone Steem) and teaching them about all the nuances of our favorite blockchain is daunting. I have built up several pages of onboarding material just from the conversations with these past two authors.. and this is just the easy stuff like how to log into Steem, what your private keys are, how to use Steem Keychain to make it all easier, creating a post, etc….
The need for a large-scale set of documentation that intuitively covers all of this information and the deeper nuances of Steem is more important than ever. The Steemleo community is tackling this daunting task as well. @taskmaster4450 came up with a fantastic name that gets the point across — > leopedia. glossary
This too will take time, but it will be worth it in the long-trun. I can see a large-scale database of knowledge and resources about Steem that is easily accessible in one place. I can also see this database expanding outside of Steem and into the broader crypto universe… teaching people about Bitcoin, blockchain and other cryptocurrencies. While we're at it, why not tackle equities, bonds, real estate investing and more?
When it's all said and done and I close the chapter on 2019 and this past decade, one of the most important lessons I have learned is this:
Thanks to the power of a growing community, anything is possible. When you take a group of passionate individuals who enjoy a common goal, the mission becomes more rewarding than anything else.
Happy new year,
Khal
---
Posted via Steemleo | A Decentralized Community for Investors