Having a goal for the year.
At the start of this year I had set a goal of reaching 10,000SP. I put monthly goals in place and aspired to turn up every day and keep growing.
To build any profile or network it's vital to show up every day and put in the work. When I started here first, I couldn't get noticed and it took months of posting and commenting to build up connections on the blockchain.


People can complain about not getting votes but the reality of the situation is that no matter what type of club, business, social media or activity that you join into you will need to introduce yourself. You would have to go around the group and say hello to everybody. Tell them who you are and what you like. STEEM is no different. People won't necessarily go and find you, you will need to go and find them. Search out people with similar interests as yourself and get yourself seen.


This has been shown to be true here on STEEM and we can see that the people doing the best right now are the ones who have been showing up consistently every week regardless of the token price. People posting day in and day out, replying to the comments and producing interesting content for the other users on the site.
STEEM itself is going through a lot of changes this year and hopefully we come out the other side of it in a better place for 2020 ready to on board more people and market the shit out of the benefits here.
After hitting my target of 10k I have to admit that I have slowed down a bit myself with my activity and the effort that I have been putting into posting, commenting and being part of the community. It's easy to hit that slump but the important thing is to refocus and re apply yourself to the task and get that rhythm back.
This month has been particularly poor as I have been mostly just doing my @actifit and haven't produced much content apart from that. I've been re-investing a lot of my @steemmonsters earnings back into the game rather than powering up which hasn't helped either.
2019 SP Growth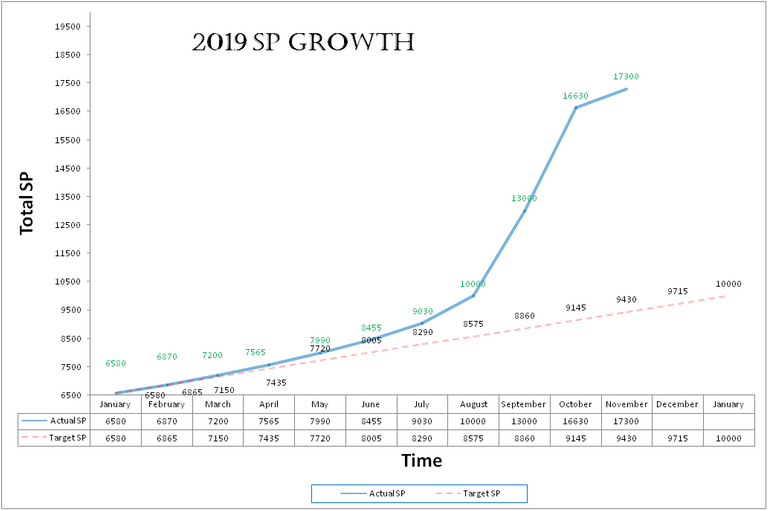 Compared to the past couple of months you can see the drop of in earnings combined with not buying any STEEM this time around. With that said I still managed to power up 670SP from the limited activity that I have managed. Some of that was down the manual curation going around as I did get hit up a couple of times and
@actifit
is still a great way to stay active and earning while things are quiet.
I remember when the price was $2 and people said that it would be impossible to ever earn a lot of STEEM naturally like when the site started off. That those early adopters were so lucky to be there at the right time and get ahead of the game yet they don't seem to realize that we have been given that same opportunity right now.
Why complain when you can improve the situation?
It took me about 9 months to earn the same amount of STEEM that I have managed this month and that involved a lot more effort. While the price has been dropping we all know that development hasn't. In fact it's been increasing of late with more projects and more plans going into the next year.
I for one want to be here next year when the newbie's are all complaining that the people here now were so lucky to earn all this STEEM and it would be impossible for them to do it. To be able to hand out decent upvotes and influence the content creators on the chain. The chance is right now so I will be refocusing for the winter and setting new goals for next year as we continue to grow for the people here now.
The simple one for the moment is to hit 20k before 2020. It's not going to be easy but I will be getting back into the swing of things over the next 2 months and start powering up that STEEM. Break past 18.5k for november and a big push for the Xmas to get there by 01/01/20.
Let the games begin.