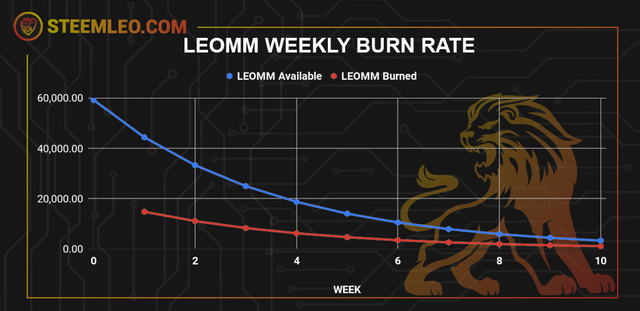 After talking to several community members, we've decided to burn the remaining LEO Mega Miner (LEOMM) supply.
Why Burn the LEOMM Supply?
You may wonder what the point of burning mining tokens could be. The point is to burn the remaining supply so that the open market can go to work. As of right now, there is a huge sell wall that caps the price.
Removing this sell wall over time will create two things:
Scarcity of Mining Tokens on the Open Market
More Mining Rewards for Current and Future LEOMM and LEOM token hodlers
By having less staked miners (and less potential staked miners, as the mining token supply will decrease significantly) it creates an "easier" flow of tokens based on mining power. You can learn more about these effects on our @learn.leo mining post which describes the calculation for mining power rewards.
How Exactly Will LEOMM Be Burned?
We will burn 25% of the LEOMM sell wall each week until there are no more LEOMM's in the sell wall.
It will look something like this chart below (also depicted in the above line chart):

(note: we are currently on week 1 of the burn -- so if you go to the LEOMM trading page you'll see that the supply in the sell wall has already dropped to 44,421.38)
Next week on August 9th (exactly 7 days from today) the week 2 burn will take effect and the sell wall will sit at or below 33,316.04.
Another important thing to note is that sales of LEOMM from this sell wall will still continue. If, for example, 1000 LEOMM sell this week, then the sell wall will reduce by 25% of the remaining amount listed.
When LEOMM Are Sold Out, Will All Mining Tokens Be Sold?
While LEOMM are being burned from the sell wall, LEOM will still remain the same. For the forseeable future, we will leave LEOM be and won't be burning those tokens as they allow anyone to get into mining at any point in the future.
---
You can easily track the progress (and amount of LEOMM staked) on the https://SteemLeo.com sidebar: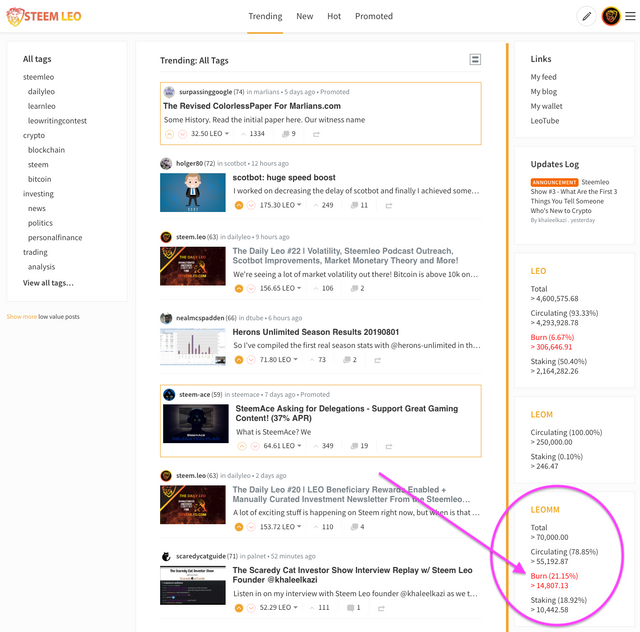 ---
Overall, this is a positive change for anyone who is currently staking LEOMM (or who may stake it in the future). If you have any questions about this, drop a comment down below.

Trade LEOMM On Steem-Engine
#steemleo - A Tokenized Community for Investors


Steemleo -- Blogging Platform
LeoTube -- Video Platform
LeoPeak -- All-In-One Interface
Join us On Discord --> Steemleo Discord