Summary
Corporate credit has been rallying strongly for the past several weeks.
Investment grade corporate bond spreads are near the tightest level in 20 years.
The labor market is flashing a yellow light.
Investment grade corporate bonds make sense in a balanced portfolio.
Given the worsening employment data and the historically tight credit spreads, an overweight position in corporate credit carries heightened risks.
Looking for a helping hand in the market? Members of EPB Macro Research get exclusive ideas and guidance to navigate any climate. Get started today »
What To Do With Credit When Employment Has A Yellow Light
Investment-grade corporate bonds had a stellar year, rising more than 17% throughout 2019, based on the total return of Corporate Bond ETF (LQD). Investment-grade corporate bonds certainly have a spot in a balanced portfolio, in addition to less risky Treasury bonds.
Historically, when economic growth is decelerating, corporate bond spreads generally rise or "widen." Conversely, when economic growth is accelerating, corporate bond spreads fall or compress.
As such, when economic growth is decelerating, it is prudent to have an underweight exposure or no exposure to investment-grade bonds as most of the return will come with less risk by owning Treasury bonds. When economic growth is accelerating, tightening corporate bond spreads can offset the expected increase in bond yields that comes with stronger rates of growth.
Based on a continued deceleration in the rate of economic growth, the remaining economic cycle risks (specifically employment), and with credit spreads already at historically tight levels, an overweight position in corporate credit seems less than prudent.
Corporate Bonds: Is The Reward Worth The Risk?
As we analyze corporate bonds and ETF LQD, we must look at two components, the Treasury yield, and the corporate bond spread.
Secondly, the following analysis takes into consideration a multi-quarter view rather than a short-term trading opportunity and does not discuss hedging interest rate exposure. We are looking at the total return.
Let's rewind the clock two years to the most recent inflection in global economic growth.
In early 2018, leading indicators of economic growth had started to decelerate, but coincident economic data was roaring, and global stock markets made new highs in unison. Investment-grade credit spreads made a fresh cyclical low at the end of January before risk assets tumbled in February.
At the end of Q1 2018, it was abundantly clear based on a variety of leading indicators that US economic growth was going to decelerate. Corporate bond spreads responded by widening through Q4 of 2018, saved by a sharp pivot in monetary policy.
Since January 2019, in addition to Treasury yields falling, corporate spreads have been compressing, a double dose of fuel for investment-grade corporate bonds.
US Corporate BBB Option-Adjusted Spread: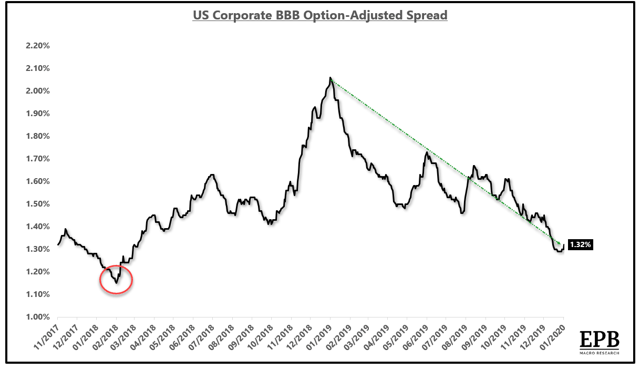 Source: Bloomberg, EPB Macro Research
The investment-grade corporate bond "Quality Spread," or the difference between A-rated spreads and BBB-rated spreads, shows a similar story. Since the inflection in growth, the quality spread has generally been in a trend of widening, respecting the deceleration in economic growth.
Over the past several months, the past several weeks more specifically, spreads have compressed notably, without a corresponding improvement in economic data.
---
Author Bio:

Steem Account: @ericbasmajian
Twitter: @EPBresearch
Seeking Alpha Account: Eric Basmajian

Steem Account Status: Unclaimed
Are you Eric Basmajian? If so, you have a Steem account that is unclaimed with pending cryptocurrency rewards sitting in it from your content. Your account was reserved by the Steemleo team and is receiving the rewards of all posts syndicated from your content on other sites.
If you want to claim this account and the rewards that it has been collecting, please contact the Steemleo team via twitter or discord to claim the account. You can also view the rewards currently sitting in the account by visiting the wallet page for this account.
What is Steemleo Content Syndication?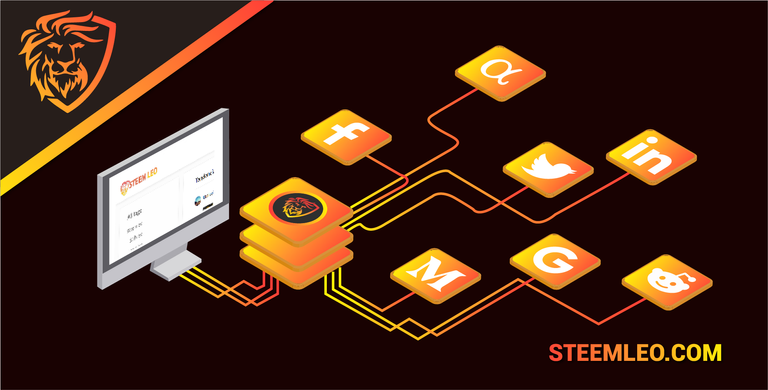 The Steemleo community is syndicating high-quality financial content from across the internet. We're also creating free Steem accounts for the authors of that content who have not yet discovered the Steem blockchain as a means to monetizing their content and we're listing those accounts as the 100% beneficiaries to all the rewards. If you want to learn more about Steemleo's content syndication strategy, click here.
---
Posted via Steemleo | A Decentralized Community for Investors