Summary
More than $5 billion has poured into US real estate ETFs this year.
"Goldilocks" economic conditions of low interest rates and steady, domestic-led economic growth have been an ideal backdrop for commercial and residential real estate equities.
Innovation in the real estate ETF space has enabled investors to customize their portfolios more specifically to their needs, objectives, and existing exposures.
Looking for a portfolio of ideas like this one? Members of iREIT on Alpha get exclusive access to our model portfolio. Get started today »
This article was co-produced with Hoya Capital Real Estate.
In 2018 I wrote an article titled "Why Not Just Buy VNQ and be Done With It" in which I explained that "I am not advocating that investors should steer clear of VNQ or any other REIT ETFs. It's just important to recognize there's a difference between index underperformance and underperformance from asset allocation.
At iREIT on Alpha we pay close attention to REIT ETFs, recognizing that certain investors prefer simplified investment alternatives like ETFs to get broad exposure to the sector. For that reason, we provide members with ETF tracking analysis that also serves as benchmarks for our core investment portfolios.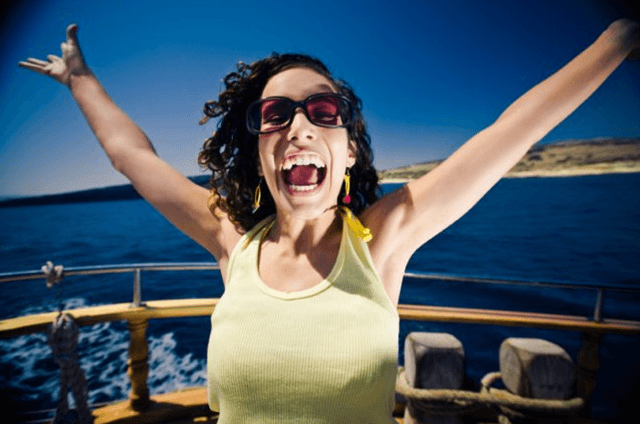 Photo Source
While the real estate sector has taken its foot off the gas pedal a bit over the last few months, 2019 will likely still go down as banner year for the US real estate sector as the "Goldilocks" economic conditions of low interest rates and steady, domestic-led economic growth have been an ideal backdrop for commercial and residential real estate equities. More than $5 billion has poured in to the 11 core US real estate ETFs this year, the best year for inflows since 2016, coming after $2.6 billion in outflows last year.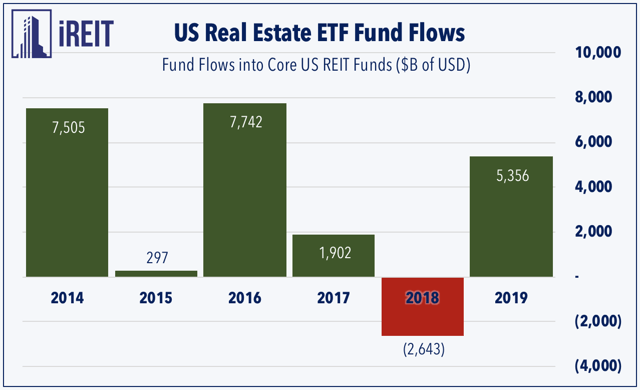 Wwe track more than 70 real estate ETFs across eight categories, but the majority of sector's assets reside in 11 "core" REIT ETFs. The Vanguard Real Estate ETF (VNQ) was the winner this year with more than $2 billion in inflows, followed by the relatively new JPMorgan BetaBuilder REIT ETF (BBRE) which saw an impressive $1 billion in inflows, presumably from existing JPMorgan Asset Management clients that were reallocated to the in-house fund from other ETFs or mutual funds. The only core US REIT ETF seeing outflows this year was the SPDR Dow Jones REIT ETF (RWR).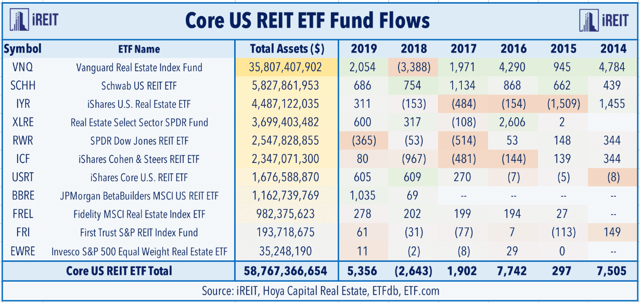 Most of the Core US REIT ETFs set record highs earlier in 2019, but have given back a chunk of this year's gains since peaking in October. Among these ETFs, performance this year ranges from 18-25% which is well above the trailing five-year average of 7.3% per year.
While these funds offer similar diversified exposure across the major REIT sectors, there are some notable differences that explain the variance in performance within the group. Most significantly, the ETFs that exclude some non-core sectors like cell towers were toward the bottom of the group in terms of performance.
---
Author Bio:

Steem Account: @bradthomas
Twitter Account: rbradthomas
Steem Account Status: Unclaimed
Are you Brad Thomas? If so, you have a Steem account that is unclaimed with pending cryptocurrency rewards sitting in it from your content. Your account was reserved by the Steemleo team and is receiving the rewards of all posts syndicated from your content on other sites.
If you want to claim this account and the rewards that it has been collecting, please contact the Steemleo team via twitter or discord to claim the account. You can also view the rewards currently sitting in the account by visiting the wallet page for this account.
What is Steemleo Content Syndication?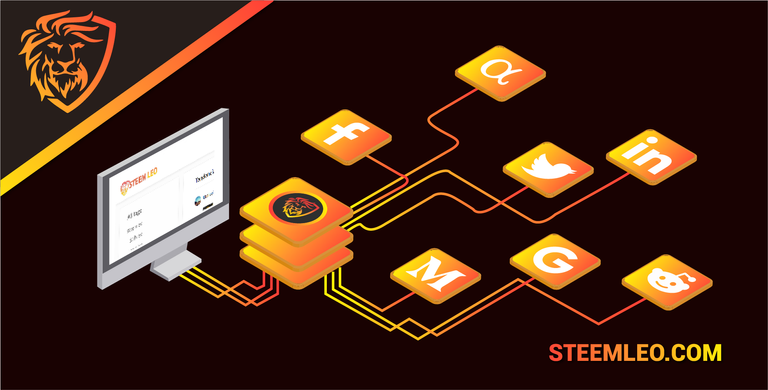 The Steemleo community is syndicating high-quality financial content from across the internet. We're also creating free Steem accounts for the authors of that content who have not yet discovered the Steem blockchain as a means to monetizing their content and we're listing those accounts as the 100% beneficiaries to all the rewards. If you want to learn more about Steemleo's content syndication strategy, click here.