A Week to Remember by Michael Creadon
Buildings are being burned in Quito, the capital of Ecuador. The people, or at least some of them, aren't happy. The government, according to reports, has fled.
Protests have gone on for eons, and on every continent. In a sense, there's nothing new here. Except the fact we're at an inflection point in human history, and the concept of money, and banks, is changing.
Governments rule with 3 things: a constitution, a military and money. In rare cases, you only really need the second 2. But what if people opt out of a currency that keeps them down & choose an alternative form of payment. Even the most stable economies in the world are intoxicated with debt and the infinite printing of money. That may not end well here; Ecuador's GDP is $100 billion a year. How long do you think they can operate & function with a magic wand?
So they take to the streets in Quito because, quite frankly, the man, woman & child on the street isn't benefiting from Trickle Down, or Keynesian, or QE Infinity or any other highfalutin strategy. They're hungry; poor and dispirited. And they need jobs and savings, and the local currency is a lost cause, and that's why they're burning those darn buildings in the first place. You know what they say in Quito: donde esta el bombero? And who will put out the fire?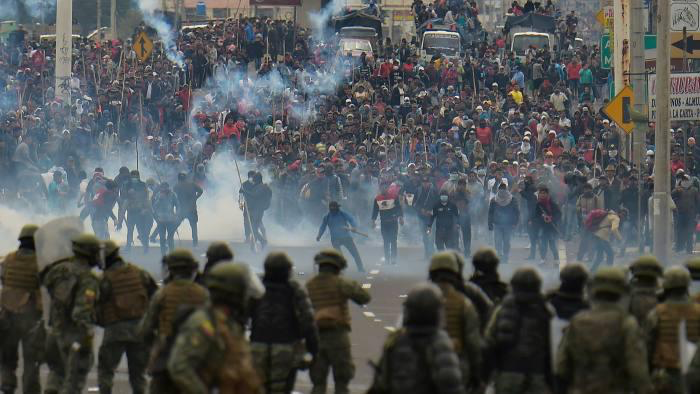 A tepid rally in digital assets this weekend from Chicago where streets are snarled and marathoners exhausted as race day comes to a close.
It's been two successive years of failed bull rallies that transpired into brutal bear markets in bitcoin. Much of the first monster rally, of course, came in late 2017, but eventually we witnessed an epic, biblical re-tracement from $20k to $3k - an 85% turnaround. And you thought Jameis Winston's six turnovers in London this morning were bad. This year we've seen a microcosm of the last disappointment; a near quadrupling in price from $3k to almost $14k - actually that was practically a 5x - but then almost a 50% pullback. (Think Baker Mayfield in San Francisco last Monday night.)
A couple points: in a healthy, vibrant market rallies hold. Stocks are at all-time highs. They've gone straight up for ten years; for decades, they've been the best investment you can find; though real estate and private equity haven't been bad, either.
Non-correlated? Check. Exhibiting tremendous volatility and significant upside potential? Check. A store of value over time? Who remembers Brett Favre's seven interception game which he declared at his post-game press conference was: "My worst game ever....and right now I can't remember the other two."
---
In other news, bitcoin survived for now the Telegram ICO shut down. I read a story the SEC turned this into a federal case after not receiving a full response from the project to their inquiry. No idea if that's the situation or not. But as a general rule when the SEC calls to ask about your ICO raise, pick up.
There was a spate of news from Washington ranging from neutral to not-very-good on digital assets this week, and yet the market yawned. A year ago, any whisper of SEC action sent tremors through the overall market, and that doesn't seem to be the case at present.
The SEC stopped the Telegram ICO with a court order, arguing the project raised capital in violation of securities laws. Earlier in the week, a BTC ETF got rejected by the leading securities regulator here. Separately, the IRS gave tax guidance, and FINCEN et al gave currency instructions.
I guess the takeaway is pretty simple: yes, there will be digital assets in our country; and yes, there will be enforceable rules as well.
Speaking of which, there are more high level defections out of Libra, as the temperature is proving to be too hot for some ahead of Zuck's impending Congressional testimony. Decentralization is a great concept but has natural limits, and those are being tested. From my perspective, the main pillars of digital assets are foreign countries and youths. It's not here. It's not in suburban, middle class, middle age America. It's a 29-year-old teacher in Jakarta; or high school student in San Diego, Philadelphia, Austin. Until & unless those groups throw in the towel, this will all still be here tomorrow.
---
The CFTC is making it abundantly clear they're open for business in digital assets, and this is wonderful. A flurry of statements recently reinforced this notion. To recap: Ethereum is not a security & futures contracts on ETH will likely be traded in the US soon, and most important: the CFTC wants America to play a leading role in fintech innovation. Hooray and hallelujah.
I could care less if BTC ETFs are ever approved. Who cares. With futures on BTC & ETH there is plenty for professional traders to do. I'll give an example. A spread trader who likes Chainlink (market cap: $1billion) might go long LINK & sell ETH (market cap $20 billion ) as a hedge. This could be done on a 1:1 ratio or 5:1 ratio or any ratio.
Cynics will tell you this is already feasible by VPNing into some random Asian exchange - in broad violation of federal laws. And that's not a very satisfactory explanation at all - because pros don't cheat.
The SEC & CFTC have decades of cooperation working together to protect investors & provide clear guidance so US markets are the most efficient, vital & well-capitalized markets in the world, and I suspect the same will happen with digital assets as they develop. Laying out precisely which rules are to be enforced by which agency is crucial, as this all unfolds.
---
Nevertheless, I had drinks recently with a prominent ex-SEC official and it was illuminating. This person still believes there's a pathway to a BTC ETF approval - despite the fact another one got turned down this week.
As a side-note, when you turn in homework to the principal's office, make sure it's legible; respectfully written; accurate. These ETF proposals keep getting rejected because, in part, the presentations themselves are sophomoric, I'm told. As a general rule, when you're trying to make the big leagues: show up.
---
Author Bio:

Steem Account: @michaelcreadon
LinkedIn Account: Michael Creadon (32,000+ Followers)
Steem Account Status: Claimed
@shanghaipreneur contacted Michael Creadon on LinkedIn before we started syndicating his content. He is interested in Steem and the Steemleo platform and has graciously given us the green light to cross-post his content on his behalf as he learns more about Steem/Steemleo.
What is Steemleo Content Syndication?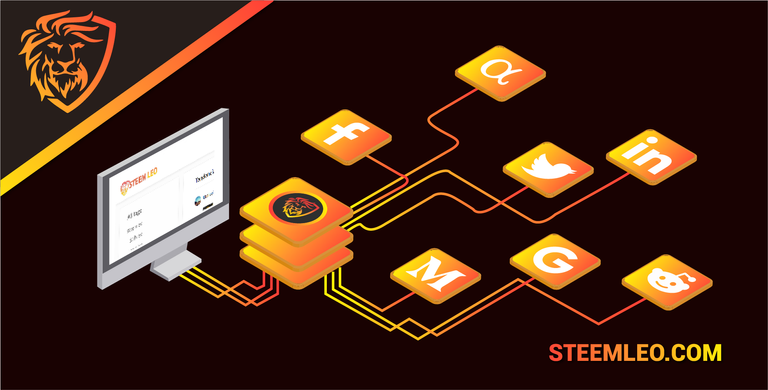 The Steemleo community is syndicating high-quality financial content from across the internet. We're also creating free Steem accounts for the authors of that content who have not yet discovered the Steem blockchain as a means to monetizing their content and we're listing those accounts as the 100% beneficiaries to all the rewards. If you want to learn more about Steemleo's content syndication strategy, click here.
---
---