Summary
US employment growth continues to decline toward population growth, increasing the probability of a rise in the unemployment rate.
Aggregate earnings growth continues to decline, putting a lid on aggregate consumption growth.
Leading indicators of employment do not suggest a sustained increase in cyclical employment growth is around the corner yet.
As long as employment growth continues to decline, we cannot remove the risk of a recession in 2020.
If GDP growth does not increase and recession risk remains on the table, interest rates will not be able to rise, keeping the bond bears at bay for another year.
I do much more than just articles at EPB Macro Research: Members get access to model portfolios, regular updates, a chat room, and more. Get started today »
Last Friday, the Employment Situation report was released for December 2019. While the data for 2019 will be revised, both through standard monthly revisions as well as benchmark revisions, the preliminary results show the US economy added roughly 2.1 million jobs in 2019.
The Employment Situation report holds both good and bad news. Leading with good news, the economy continues to add jobs, avoiding a necessary condition for a recession. The unemployment rate declined further in 2019, and the spread between those underemployed and unemployed continues to narrow.
On a more sour note, the growth rate in employment continues to fall. As employment growth declines and moves closer to population growth, the unemployment rate starts to trend higher.
Furthermore, slower employment growth is correlated with slower GDP growth as trend economic output is comprised of employment growth and productivity growth.
An excessive level of debt across all four critical sectors of the economy is the primary factor working to constrain productivity growth and reduce the velocity of money.
As the velocity of money declines, now sitting near a 50-year low, increases in money supply growth are less impactful to aggregate output.
While short-term increases may occur, productivity growth and the velocity of money will be under constant secular pressure. Under these conditions, employment growth needs to continue rising for GDP growth to materially increase. Over the past 20 years, the year-over-year difference in employment growth moved with a 90% correlation to the year-over-year difference in Real GDP growth.
In 2020, due to the residual downside from the 2019 global economic downturn, employment gains will likely to continue to slow. Weakening rates of jobs growth will prevent GDP growth from increasing materially. A rise in Treasury rates can only be sustained if it's accompanied by an increase in GDP growth or inflation expectations. A lack of employment growth in 2020 will keep recession risk on the table and push the Federal Reserve to begrudgingly err toward lowering the Fed Funds rate. After delivering 10%-15% gains across the belly of the curve in 2019, Treasury bonds remain an attractive part of a balanced portfolio in 2020, with employment risks still tilted to the downside.
Employment Situation
Preliminary results show the US economy added roughly 2.1 million jobs in 2019, the weakest addition since 2011.
Non-farm Payrolls: Annual Change (Thousands)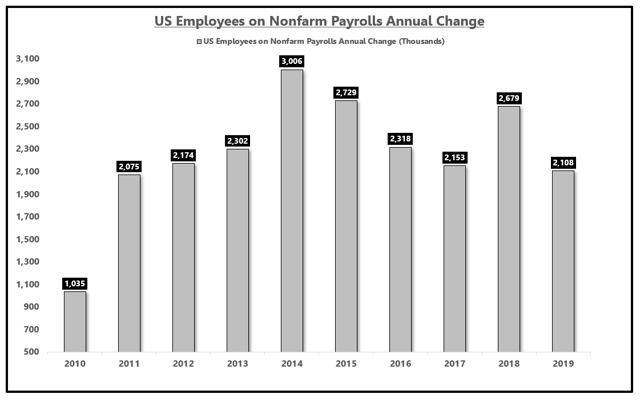 Source: Bloomberg, EPB Macro Research
The headline U-3 unemployment rate averaged 3.7% in 2019, just 0.2% lower than the 2018 average.
---
Author Bio:

Steem Account: @ericbasmajian
Twitter: @EPBresearch
Seeking Alpha Account: Eric Basmajian

Steem Account Status: Unclaimed
Are you Eric Basmajian? If so, you have a Steem account that is unclaimed with pending cryptocurrency rewards sitting in it from your content. Your account was reserved by the Steemleo team and is receiving the rewards of all posts syndicated from your content on other sites.
If you want to claim this account and the rewards that it has been collecting, please contact the Steemleo team via twitter or discord to claim the account. You can also view the rewards currently sitting in the account by visiting the wallet page for this account.
What is Steemleo Content Syndication?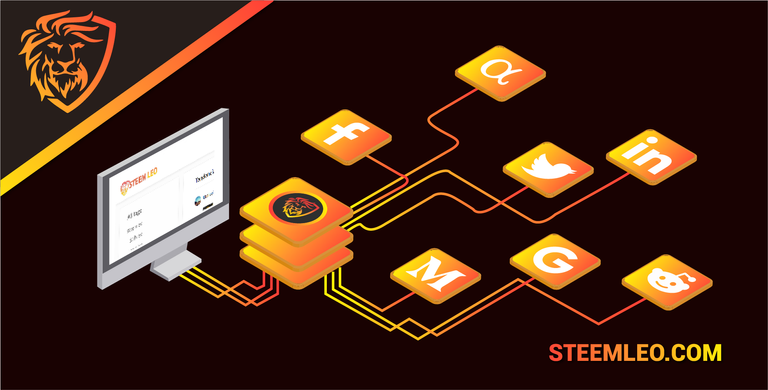 The Steemleo community is syndicating high-quality financial content from across the internet. We're also creating free Steem accounts for the authors of that content who have not yet discovered the Steem blockchain as a means to monetizing their content and we're listing those accounts as the 100% beneficiaries to all the rewards. If you want to learn more about Steemleo's content syndication strategy, click here.
---
Posted via Steemleo | A Decentralized Community for Investors