Exploring the life of the beloved children's author, Dr. Seuss


on left, Image Source Wikimedia / on right, Image Source Flickr - Denis Krebs
I've spent some time with Dr. Seuss in the last week or so. Well, not him, his words. Dr. Seuss left us in 1991, it would be quite a feat to have spent time with him recently.
In case you're one of those rare people who haven't heard of Dr. Seuss, he was one of the most well known and popular children's authors of all time. Every year on March 2nd, Read Across America events are held to promote literacy in his honour. He never had children but is reported to have said, "You have em, I'll entertain em."
I always loved his play on words and the characters he conjured up. There was lilt and flow to his word choices that grabbed your attention, no matter our age. The made up words, they were pretty neat as well.
"You wont see the Onceler
Don't knock at his door.
He stays in his Lerkim on top of his store.
He lurks in his Lerkim, cold under the roof,
where he makes his own clothes
out of miff-muffered moof."
— The Lorax
I enjoyed reading his stories to my sister when she was little and later her children. His words held their attention even without the drawings he did for his books. Dr. Seuss is one of those authors who come to mind and is familiar as a comfortable sweater. Yet, I'd never thought to look up his biographical information. Let's have a look.
His Early Years
He was born Theodore Seuss Geisel in Springfield, Massachusetts on March 2, 1904. His father often took him to the local zoo where Ted, as he was called, would sketch the animals. Later he'd draw caricatures of them on his bedroom walls.
He attended Dartmouth College and later Oxford intending to earn a Doctor of Philosophy and become an English teacher.
During his time at Dartmouth he became the editor-in-chief of the humour magazine "Dartmouth Jack-O-Lantern". He was caught along with others drinking in his room. This was during Prohibition which made drinking illegal. The Dean made him resign his role at the magazine.
To get around his punishment he started using "Seuss" as his pen name. His father always wanted him to be a medical doctor but he became a writer. He added "Dr." to his pen name as a nod to his father.
At Oxford he met his future wife, Helen. After exploring his notebooks and the wonderful characters he had created in them, she influenced him to drop his studies and pursue drawing as a career. Helen was a children's author.
Pursuing His Creative Career
After he returned to the States without a degree, he worked for several publications as a writer and illustrator. His work gained some recognition which led to him appearing in publications like "Life" and "Vanity Fair". He also was offered and accepted advertising work. He was managing to make a decent income with his talents.
In 1926, Geisel and his wife were returning from Europe when the rhythm of the ship's engines inspired the poem that would become his first book.
After 27 rejections, "And to Think That I Saw it on Mulberry Street", was published in 1937. Just a few years before my dad landed in Italy in WW2. It's a tribute to the timeless beauty of his creativity to realize over eighty years later Seuss is still a popular author.
He would write four more books before the US entered the war in 1942. They were:
The 500 Hats of Bartholomew Cubbins, 1938
The King's Stilts, 1939
The Seven Lady Godivas (adult), 1939
Horton Hatches the Egg, 1940
His WW2 Contributions
In the early years of WW2 he took up drawing political cartoons, over 400 in two years. They were later published in "Dr Seuss Goes to War" by Richard H. Minear. His cartoons denounced Hitler and Mussolini, were critical of those pushing to keep the US out of the war like Charles Lindbergh.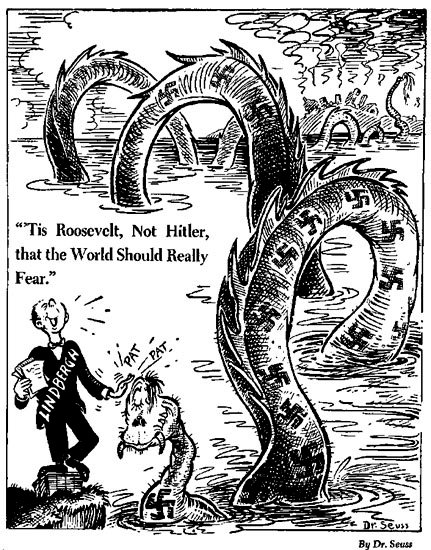 In 1943 he joined the Army where he was made commander of the Animation Department of the First Motion Picture Unit. There he wrote films like Private Snafu, a series of animated adult training films.
Moving to California to Continue Writing & Illustrating
After the war, Geisel and his wife, Helen moved to La Jolla, California where he returned to writing children's books. Three of my favourites: "Horton Hears a Who", "The Cat in the Hat" and "How the Grinch Stole Christmas" were written before I was born.
In 1954 "Life" magazine published a report about illiteracy among school children. It came to the conclusion kids weren't reading because their books were boring.
Geisel's editor compiled a list of 348 words considered important for first graders to know. He asked Geisel to cut the list to 250 words and challenged him to "bring back a book a children can't put down". He wrote "Cat in the Hat" using 236 of the words.
The more simplified language books became beginner books while his more elaborate style were for the slightly older children. He wrote over sixty books as Dr. Seuss, selling over 600 million copies and translated into more than 20 languages by the time he died.
A later bet that he couldn't write a book with only 50 words resulted in the publication of "Green Egs and Ham".
Some of His Stories Have Social and Political Undertones
"The Lorax" is about the importance of conservation and using natural resources wisely:
It's publication upset the Forest industry enough they wrote a book in rebuttal called "Truax":
The main character in "Yertle the Turtle" was a parody of Hitler:
The "Butter Battle Book"'s underlying references to the Cold War led to it being pulled from the shelves:
Honours Received
He won three Academy Awards:1946 Best Documentary Short Subject "Hitler Lives", 1947 Best Documentary Feature: "Design for Death", and 1951 Animated Cartoon: "Gerald Mc Boing-Boing
In 1956 his alma matter, Dartmouth awarded him an honourary doctorate. He now could legitimately use "Dr" in his name.
His first Primetime Emmy award was won in 1978 for Outstanding Children's Special, "Halloween is Grinch Night"
Whittier College in California awarded him an honourary Doctor of Humane Letters (LHD) in 1980.
He also received the Laura Ingalls Wilder Medal in 1980 recognizing his "substantial and lasting contributions to children's literature".
His second Primetime Emmy win was in 1982 for Outstanding Animated Program, "The Grinch Grinches the Cat in the Hat"
In 1984 he received a special Pulitzer Prize for "contribution over nearly half a century to the education and enjoyment of America's children and their parents"
Theodore Giesel died of cancer on September 24, 1991 at the age of 87. He continued to be recognized even after his death.
1995 — University of California, San Diego's University Library Building renamed Geisel Library
2002 — Dr. Seuss National Memorial Sculpture Garden opened in Springfield, Massachusetts. The garden features sculptures of Geisel and many of his characters.
2004 — US children's librarians established the annual Theodore Seuss Geisel Award to "the most distinguished American book for beginning readers published in English in the United States during the preceding year"
2004 — star on the Hollywood Walk of Fame
2008 — inducted into California Hall of Fame
2012 — Dartmouth Medical School renamed Audrey and Theodore Geisel School of Medicine
In 2010 "Life Books" published "100 People Who Changed the World". The names included in the book came from philosophy, politics, science and culture. Geisel was the only children's author included. He was named as a cultural icon alongside names like: Michelangelo, Shakespeare, Beethoven, Dickens, Chaplin and Elvis Presley.
*Life said of him, "Geisel entertained America's young with his rollicking rhymes, nutty narratives, and playful but artful pictures." However, he did "even more than entertain. His intricately crafted reader, The Cat in the Hat, was a fanciful adventure that educates even as it enthralls." *
My Conclusions
For me, I just really enjoyed reading his books, watching the animations and sharing them with my sister and her kids. I've never tried eating green eggs and ham. Maybe some day when my cats wear hats.
Sources:
IMDB
The Art of Dr Seuss
Seussville
Wikipedia

Shadowspub is a writer from Ontario, Canada. She writes on a variety of subjects as she pursues her passion for learning. She also writes on other platforms.

She created Prompt A Day to share with others. You can subscribe to Prompt A Day for a set of ideas in your inbox every day.