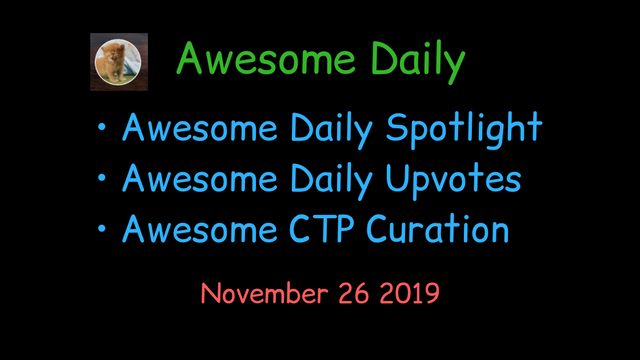 Made in Canva
This is the Awesome Daily Spotlight and the Awesome Daily Upvotes and the Awesome CTP Curation of November 26 2019, from @thisisawesome.
Awesome Daily Spotlight
The Awesome Daily Spotlight is the upvoting and resteeming of 1 awesome post per day (100% upvote), and that post will also be promoted on Twitter, plus included in this Awesome Daily report, and featured in the Awesome Weekly Spotlight that is posted on Sundays.
The Awesome Daily Spotlight can be a DTube video, a great article, amazing art, or anything that has that bit of extra awesome quality.
This Is Todays Awesome Daily Spotlight
It's Crypto Mondays - Oh Boy.....It's Time! - by @jongolson, and this video is the recording of a liveshow he made with @blainjones, and here they talk about some really great news with CTPtalk and ClickTrackProfit, the CTP token IPN/API is finally here and it's even better than was originally thought, the CTP token can now be used to accept payments for products and services by everyone automagically, and support for Steem is also coming, plus they also have a Black Friday Name Your Price offer on everything in ClickTrackProfit, and they also talked about the sad attack on SBI, check it out.
Shared On Twitter
Do check it out, it's awesome.
Awesome Daily Upvotes
The Awesome Daily Upvotes is upvoting of 4 additional posts of awesome quality (100% upvote each), and they will also be included in this Awesome Daily report, and they come from 4 different categories that support mainly new Steemians.
This Is Todays Awesome Daily Upvotes Per Category
CTPtalk
Black Friday Offers Everywhere! - by @ph1102, and in this post he talks about all the great discounts to get on Black Friday, from a new phone he wants to buy, to cryptocurrencies and the Name Your Price Black Friday in ClickTrackProfit.
Actifit
Cleanplanet
Freewrite
Awesome CTP Curation
The Awesome CTP Curation is additional upvotes on Awesome Content in the CTPtalk tribe with 3 upvotes of 60% each for a total of 180% of our Voting Power.
Daily Suggestions
You can suggest posts to be included in the Awesome Daily Spotlight and the Awesome Daily Upvotes or the Awesome CTP Curation, by linking to a recent post or video of awesome quality that you or someone else has done in the comments below, or in our Discord in the Awesome Suggestions channel.
Rewards On Delegations - Plus Voting & Curation
Delegators are rewarded with upvotes of a combined 300% of our Voting Power, each delegator gets 1 daily upvote in accordance with their delegation level, and leased SP does not count, plus all votes that would go over 100% are adjusted and that VP is split between all other delegators.
Plus we also give @steemauto a daily 15% upvote for their service delivering these votes to our delegators, and we give meaningful comments an upvote of 0.5% for the sake of visibility, and reserve a total of 5% daily for that.
Leased SP is paid for by @flaxz, and our total Steem Power, including all delegations and our own SP, is now 2025 SP.
| Category | Daily Upvotes |
| --- | --- |
| Awesome Daily Spotlight | 100% |
| Awesome Daily Upvotes | 400% |
| Awesome CTP Curation | 180% |
| @steemauto | 15% |
| Comments | 5% |
| Delegators | 300% |
| Total | 1000% |
(1000% = 10x100% votes)
For a full breakdown of all these calculations check this spreadsheet in Google Drive, it will be continuously updated as delegations are changing, and that is done manually once per day.
Apart from receiving upvotes delegators also get paid in SBI Units using 100% of all liquid earnings in Steem and SBD coming into this account, they are paid out every Sunday, and you can read all details and the latest payouts in the last Awesome Weekly Spotlight, plus they are also rewarded with payouts in CTP tokens amounting to 50% of our earnings in CTP, the other 50% will be staked to grow our stake and Voting Power in CTP, and we currently have 4765 CTP staked.
Delegate to this project using Steem Bot Tracker.
Thank You!
Thank you very much for reading this report and for supporting this project, it is run by @flaxz, and the goals are to "highlight Awesome Content on the Steem blockchain, and to grow the Steem ecosystem by rewarding it".
Stay Awesome!
Sincerely,
This Is Awesome
---
Join us on Discord: https://discord.gg/SthJJDZ