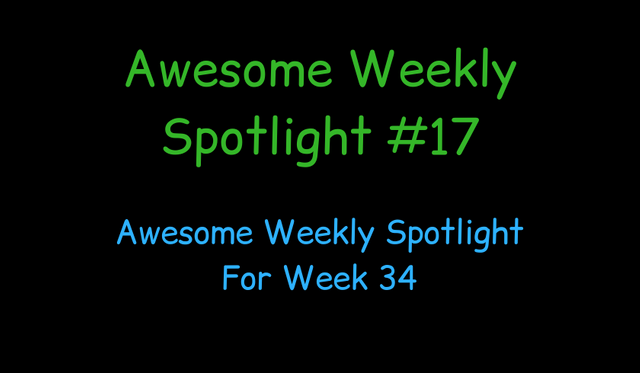 Made in Canva
This Is Awesome
Welcome to Awesome Weekly Spotlight #17, and it will feature the Awesome Daily Spotlight posts of the past week.
Awesome Weekly Spotlight Week 34
So let's start, and they will be presented in the order of Monday to Sunday, depending on the day they got the Awesome Daily Spotlight.
This video was made by @jeronimorubio and here he talks about the many fake gurus online and how they just want your money, and how @jongolson and his ClickTrackProfit and the CTPtalk tribe is very different, they truly want to help you, check it out it's awesome.
In this video @alokkumar121 talks about the great opportunity that lies in the collaboration from Sportstalk and Actifit, and how that can greatly benefit the users, it's awesome check it out.
In this video @iamraincrystal shares her vacation where she goes by boat to the Palaui Island in the Philippines, and the views are really beautiful, just awesome.
This video was made by @cryptospa and it's his Cryptocurrency Market Overview and here he shares where that market is and is likely headed, plus he shares really great news about it, and among those news is updates about the IEO of DTC for Dtube and a really funny Big Mac calculator for your Steemit posts, very awesome.
This video was made by @pixiepost and here our own local Pixie brings us a real life comedy in Monty Python style, she is a true Pixie for sure, this is awesome.
In this video @hungryharish shares some really good advice about creativity, and that we need to focus on what we enjoy doing, get relaxed and listen to advice from others, plus many more, check it out it's awesome.
This video was made by @hafizullah and here he talks about doubt and how it is important that we are not ruled by them, but that we overcome them and become stronger by doing so, it's awesome check it out.
Thank You!
So these where the Awesome Daily Spotlight posts and videos this week, and there is 1 such post or video per day, it gets a 100% upvote and resteem, and it is featured in the Awesome Daily report as well as in this Awesome Weekly Spotlight post, plus it also gets promoted on Twitter.
Thank you very much for reading this post and for supporting this project, it is run by @flaxz, and the goal is to "highlight Awesome Content, and growing the Steem ecosystem by rewarding it".
Rewards On Delegations
In order to attract delegations to this project we reward them with daily upvotes, and you can check the details in our latest Awesome Daily report, and also with payouts in SBI Units, and 100% of all liquid Steem and SBD earnings will go to rewarding delegators this way, leased Steem Power does not count for rewards in SBI Units, and neither does the delegation from @flaxz, since he is the owner of this project.
So on Sundays all SBD will be traded for Steem in the Steemitwallet market, and the Steem that has then been earned that week will be split between delegators according to their delegation status, and it's counted in full week delegations from Sunday to Sunday, plus partial week delegations will be added for every full days delegation they may have.
SBI Units will then be paid out once a delegator has full coverage for that according to their share of the earnings, and any remaining shares will roll over to the next week.
This Is The Rewards For This Weeks Delegations
The standing in our account right now is 2.841 Steem, and we had a rollover from the previous week of 1.078 Steem, and that means the earnings for this week is 1.763 Steem.
| Name | Delegation SP | Delegation % | Ingoing Rollover | Rewards | Total Rewards | Payout | Outgoing Rollover |
| --- | --- | --- | --- | --- | --- | --- | --- |
| @cryptospa | 51 SP | 16.89 % | 0.111 Steem | 0.298 Steem | 0.409 Steem | 0 SBI | 0.409 Steem |
| @alokkumar121 | 51 SP | 16.89 % | 0.28 Steem | 0.298 Steem | 0.578 Steem | 0 SBI | 0.578 Steem |
| @roger5120 | 200 SP | 66.22 % | 0.687 Steem | 1.167 Steem | 1.854 Steem | 1 SBI | 0.854 Steem |
| Total | 302 SP | 100% | 1.078 Steem | 1.763 Steem | 2.841 Steem | 1 SBI | 1.841 Steem |

Screenshot from Steempeak Wallet
Congratulations!
Delegate to this project using Steem Bot Tracker.
Our Tokens
We also have tokens in Steem-engine, and our policy regarding tokens is that we stake all tokens that we get, given that they are stakeable and if not they will be staked once that is available.
If there is any token that you think we should vote with but which we do not currently have, then feel free to delegate some, or gift it if delegation is not available, as stated above all tokens we get will be staked.
Token delegation does not count for any delegation rewards, but we will vote with them if the posts that we vote on include the relevant tags.
These are our current token holdings in Steem-engine, screenshot taken in Steempeak wallet.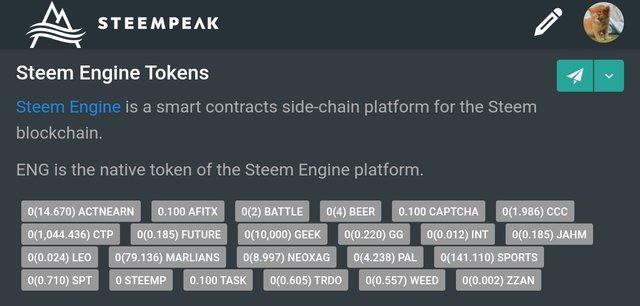 As you can see our staked CTP tokens has gone up to 1044, and as the value of that token right now is $0.01548 then that is quite a large stake, and also very profitable for the posts that we vote on to include, given that they are talking about that subject of course.
Sports and Marlians are also up quite a bit, while our stake in CCC is still very low.
Final Thoughts
So our earnings are up a bit this week from the last one, not much though, but it's moving in the right direction, and that's what matters in the long term.
We also found out that we had a small amount of AFIT tokens, and therefore @flaxz gifted us 0.1 AfitX tokens so that we could get them to Steem-engine and exchange them for Steem, and we have so far exchanged 10 AFIT tokens that way, we have made the settings so that when it reaches 10 AFIT in Actifit then they will be moved to Steem-engine, and there are currently 5 AFIT in Actifit.
Regarding AFIT tokens we will exchange them for Steem since they can not be staked and as they are ERC-20 tokens they will never be able to, and since we for obvious reasons can't make any Actifit reports, then we are exchanging them for Steem.
We also took the decision to exchange our GOD tokens for Steem, that token was not stakeable and it seems abandoned by it's creator, no pun intended, and we felt it important to do that while we could still get anything for them.
And we did have some COCO tokens, Co2 Compensation Coin, which we got by airdrop, and since we want to be ecofriendly we sent them to @co2fund compensating a bit for the energy used to run this project.
That was it for this week, have an awesome new week ahead.
Stay Awesome!
Sincerely,
This Is Awesome
---
Join us on Discord: https://discord.gg/SthJJDZ