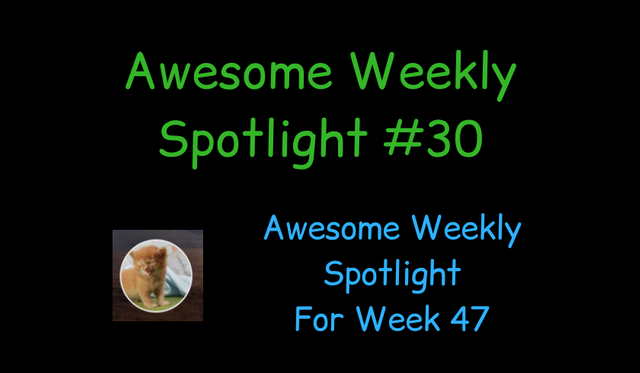 Made in Canva
This Is Awesome
Welcome to Awesome Weekly Spotlight #30, and it will feature the Awesome Daily Spotlight posts of the past week.
Awesome Weekly Spotlight Week 47
So let's start, and they will be presented in the order of Monday to Sunday, depending on the day they got the Awesome Daily Spotlight.
Thank You!
So these where the Awesome Daily Spotlight posts and videos this week, and there is 1 such post or video per day, it gets a 100% upvote and resteem, and it is featured in the Awesome Daily report as well as in this Awesome Weekly Spotlight post, plus it also gets promoted on Twitter.
Thank you very much for reading this post and for supporting this project, it is run by @flaxz, and the goal is to "highlight Awesome Content, and growing the Steem ecosystem by rewarding it".
Rewards On Delegations
In order to attract delegations to this project we reward them with daily upvotes, and you can check the details in our latest Awesome Daily report, and also with payouts in SBI Units, and 100% of all liquid Steem and SBD earnings will go to rewarding delegators this way, leased Steem Power does not count for rewards in SBI Units, and neither does the delegation from @flaxz, since he is the owner of this project.
So on Sundays all SBD will be traded for Steem in the Steemitwallet market, and the Steem that has then been earned that week will be split between delegators according to their delegation status, and it's counted in full week delegations from Sunday to Sunday, plus partial week delegations will be added for every full days delegation they may have.
SBI Units will then be paid out once a delegator has full coverage for that according to their share of the earnings, and any remaining shares will roll over to the next week.
We have also started to give out 50% of our CTP token earnings to SP delegators, the other 50% will be staked, this is a high value token, and giving out 50% makes it more attractive to delegate and as we stake the other 50% we continue to build our stake in that token and our CTP voting value.
This Is The Rewards For This Weeks Delegations
The standing in our account right now is 7.849 Steem, and we had a roll over from last week of 4.212 Steem and that means this weeks earnings is 3.637 Steem, but only 3.634 Steem can be divided, so 0.003 Steem will roll over and be included in next weeks earnings.
We also had earnings of 340 CTP tokens of which 50% will be paid out to our delegators and the other 50% will be staked, and that means 170 CTP tokens to be split between our delegators (see Final Thoughts for why this is not bigger).
@qurator also had a delegation of 500 SP for 3 days, and that means their average delegation for the week is (500x3)/7 = 214.285 = 214 SP.
| Name | Delegation SP | Delegation % | Ingoing Rollover | Rewards | Total Rewards | Payout | Outgoing Rollover | CTP Payout |
| --- | --- | --- | --- | --- | --- | --- | --- | --- |
| @cryptospa | 111 SP | 12.37 % | 0.736 Steem | 0.450 Steem | 1.186 Steem | 1 SBI | 0.186 Steem | 21.037 CTP |
| @alokkumar121 | 100 SP | 11.15 % | 0.860 Steem | 0.405 Steem | 1.265 Steem | 1 SBI | 0.265 Steem | 18.952 CTP |
| @roger5120 | 100 SP | 11.15 % | 0.534 Steem | 0.405 Steem | 0.939 Steem | 0 SBI | 0.939 Steem | 18.952 CTP |
| @fiberfrau | 22 SP | 2.45 % | 0.799 Steem | 0.089 Steem | 0.888 Steem | 0 SBI | 0.888 Steem | 4.170 CTP |
| @certain | 150 SP | 16.72 % | 0.181 Steem | 0.608 Steem | 0.789 Steem | 0 SBI | 0.789 Steem | 28.428 CTP |
| @reeta0119 | 100 SP | 11.15 % | 0.787 Steem | 0.405 Steem | 1.192 Steem | 1 SBI | 0.192 Steem | 18.952 CTP |
| @pjansen | 100 SP | 11.15 % | 0.315 Steem | 0.405 Steem | 0.720 Steem | 0 SBI | 0.720 Steem | 18.952 CTP |
| @qurator | 214 SP | 23.86 % | 0 Steem | 0.867 Steem | 0.867 Steem | 0 SBI | 0.867 Steem | 40.558 CTP |
| Total | 897 SP | 100 % | 4.212 Steem | 3.634 Steem | 7.846 Steem | 3 SBI | 4.846 Steem | 170.001 CTP |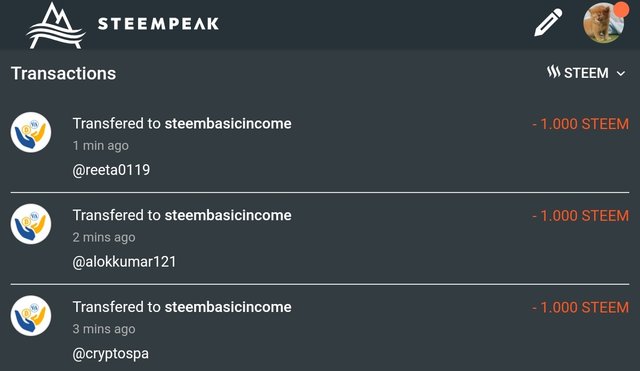 Screenshot from Steempeak wallet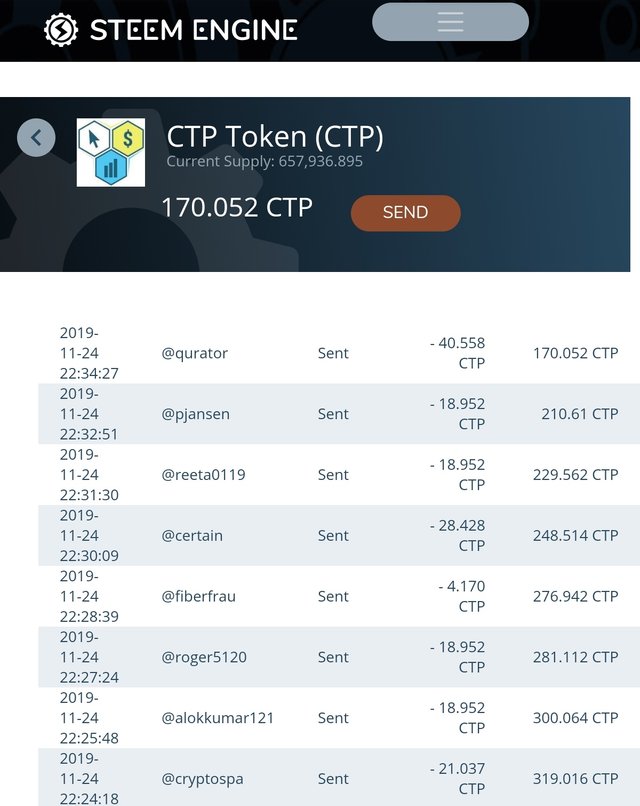 Screenshot from Steem-engine
Congratulations!
Delegate to this project using Steem Bot Tracker.
Our Tokens
We also have tokens in Steem-engine, and our general policy regarding tokens is that we stake all tokens that we get, given that they are stakeable and if not they will be staked once that is available, the exception is CTP tokens since we give out 50% of those earnings to our delegators, but we do stake the other 50%.
If there is any token that you think we should vote with but which we do not currently have, then feel free to delegate some, or gift it if delegation is not available, as stated above all tokens we get will be staked.
Token delegation does not count for any delegation rewards, but we will vote with them if the posts that we vote on include the relevant tags.
These are our current token holdings in Steem-engine, screenshots taken in Steempeak wallet.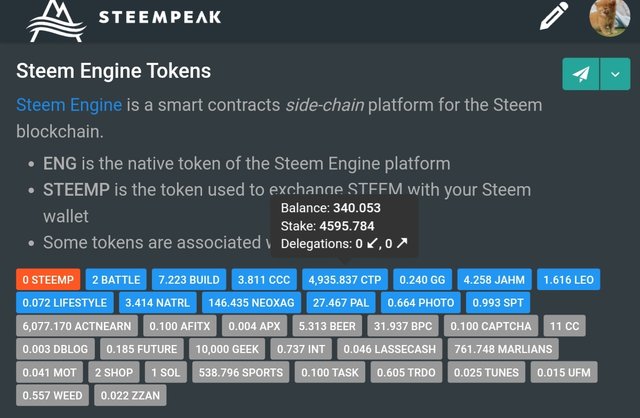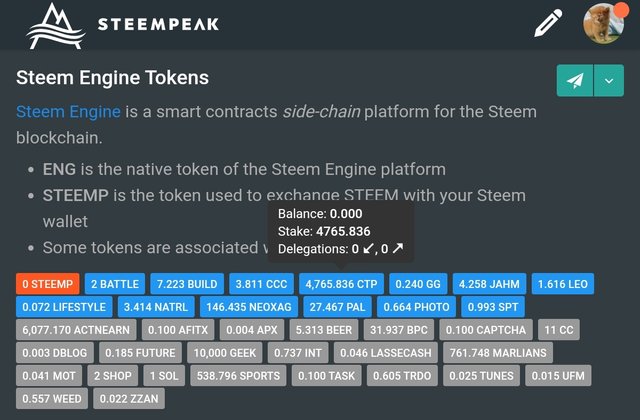 These screenshots where taken before and after payouts and staking of CTP tokens.
As you can see our stake in CTP has grown to 4765, and the other tokens keeps on growing too, especially ACTNEARN.
Final Thoughts
So the big event of this week was that we just got a 500 Steem Power delegation from @qurator, thank you very much for this.
Apart from this we also had organic growth of our Steem Power of 6 SP from last week.
Our earnings in Steem also increased from last week, and the outlook for next week when it comes to Steem is really great, as I am writing this there just arrived a really big reward waiting to be claimed, the payout from last weeks Awesome Spotlight post, plus looking at calculated rewards in Steemworld the coming week should pay out more than we have ever had in payouts before for a single week.
Now onto the bad news and the reason why we had so much lower rewards in CTP tokens, I screwed up, I knew that Actifit reports where taken off the CTPtalk tribe, yet I forgot to remove the Actifit tag from our daily reports, I am using templates in Steempeak to make all reports, that makes it easier and saves me a lot of time.
And I just forgot to remove that tag from the template of the daily report, I should have caught it looking at the calculated rewards in Steempeak, but I didn't, I only caught this yesterday, and not even then did I make the connection to the Actifit tag, I thought it had something to do with the order of the tags, so I moved the CTP tag up to the first five tags, with no result.
I did make the connection last night though, just woke up and there was the answer, so I did not include the Actifit tag in the daily report of today and that worked, I also removed it on all posts that had not yet had a payout, but that had no result.
So this means the coming week will also see smaller rewards in CTP tokens, until all posts that this affects have been paid out.
I am very sorry for this, I should have seen it sooner.
Other than this we continue to work towards our goal of growing the Steem ecosystem by rewarding Awesome Content.
Those where all thoughts for this week, a big thank you to all our delegators for your awesome support, and ...
Stay Awesome!
Sincerely,
This Is Awesome
---
Join us on Discord: https://discord.gg/SthJJDZ