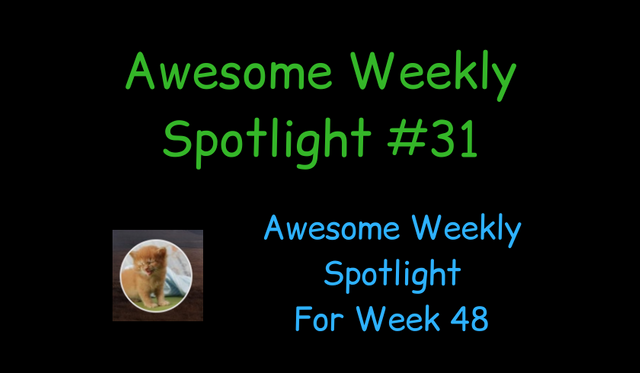 Made in Canva
This Is Awesome
Welcome to Awesome Weekly Spotlight #31, and it will feature the Awesome Daily Spotlight posts of the past week.
Awesome Weekly Spotlight Week 48
So let's start, and they will be presented in the order of Monday to Sunday, depending on the day they got the Awesome Daily Spotlight.
Thank You!
So these where the Awesome Daily Spotlight posts and videos this week, and there is 1 such post or video per day, it gets a 100% upvote and resteem, and it is featured in the Awesome Daily report as well as in this Awesome Weekly Spotlight post, plus it also gets promoted on Twitter.
Thank you very much for reading this post and for supporting this project, it is run by @flaxz, and the goal is to "highlight Awesome Content, and growing the Steem ecosystem by rewarding it".
Rewards On Delegations
In order to attract delegations to this project we reward them with daily upvotes, and you can check the details in our latest Awesome Daily report, and also with payouts in SBI Units, and 100% of all liquid Steem and SBD earnings will go to rewarding delegators this way, leased Steem Power does not count for rewards in SBI Units, and neither does the delegation from @flaxz, since he is the owner of this project.
So on Sundays all SBD will be traded for Steem in the Steemitwallet market, and the Steem that has then been earned that week will be split between delegators according to their delegation status, and it's counted in full week delegations from Sunday to Sunday, plus partial week delegations will be added for every full days delegation they may have.
SBI Units will then be paid out once a delegator has full coverage for that according to their share of the earnings, and any remaining shares will roll over to the next week.
We have also started to give out 50% of our CTP token earnings to SP delegators, the other 50% will be staked, this is a high value token, and giving out 50% makes it more attractive to delegate and as we stake the other 50% we continue to build our stake in that token and our CTP voting value.
This Is The Rewards For This Weeks Delegations
The standing in our account right now is 14.610 Steem, and we had a roll over from last week of 4.846 Steem and that means this weeks earnings is 9.764 Steem, but only 9.760 Steem can be divided, so 0.004 Steem will roll over and be included in next weeks earnings.
We also had earnings of 287 CTP tokens of which 50% will be paid out to our delegators and the other 50% will be staked, and that means 143.5 CTP tokens to be split between our delegators.
@cryptospa also had a delegation of 111 SP for 4 days and 301 SP for 3 days, and that means his average delegation for the week was ((111x4)+(301x3))/7 = 192.428 = 192 SP.
| Name | Delegation SP | Delegation % | Ingoing Rollover | Rewards | Total Rewards | Payout | Outgoing Rollover | CTP Payout |
| --- | --- | --- | --- | --- | --- | --- | --- | --- |
| @cryptospa | 192 SP | 15.19 % | 0.186 Steem | 1.483 Steem | 1.669 Steem | 1 SBI | 0.669 Steem | 21.797 CTP |
| @alokkumar121 | 100 SP | 7.91 % | 0.265 Steem | 0.772 Steem | 1.037 Steem | 1 SBI | 0.037 Steem | 11.353 CTP |
| @roger5120 | 100 SP | 7.91 % | 0.939 Steem | 0.772 Steem | 1.711 Steem | 1 SBI | 0.711 Steem | 11.353 CTP |
| @fiberfrau | 22 SP | 1.74 % | 0.888 Steem | 0.169 Steem | 1.057 Steem | 1 SBI | 0.057 Steem | 2.498 CTP |
| @certain | 150 SP | 11.87 % | 0.789 Steem | 1.158 Steem | 1.947 Steem | 1 SBI | 0.947 Steem | 17.029 CTP |
| @reeta0119 | 100 SP | 7.91 % | 0.192 Steem | 0.772 Steem | 0.964 Steem | 0 SBI | 0.964 Steem | 11.353 CTP |
| @pjansen | 100 SP | 7.91 % | 0.720 Steem | 0.772 Steem | 1.492 Steem | 1 SBI | 0.492 Steem | 11.353 CTP |
| @qurator | 500 SP | 39.56 % | 0.867 Steem | 3.862 Steem | 4.729 Steem | 4 SBI | 0.729 Steem | 56.764 CTP |
| Total | 1264 SP | 100 % | 4.846 Steem | 9.760 Steem | 14.606 Steem | 10 SBI | 4.606 Steem | 143.5 CTP |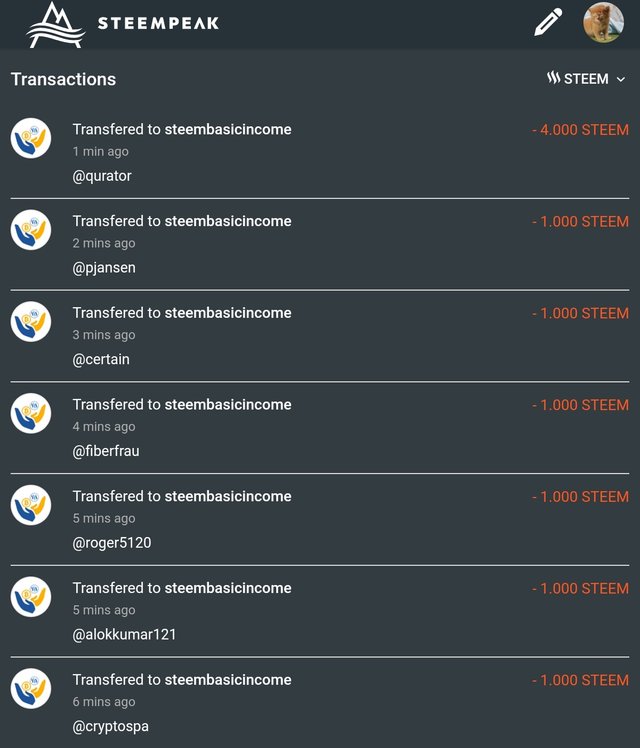 Screenshot from Steempeak wallet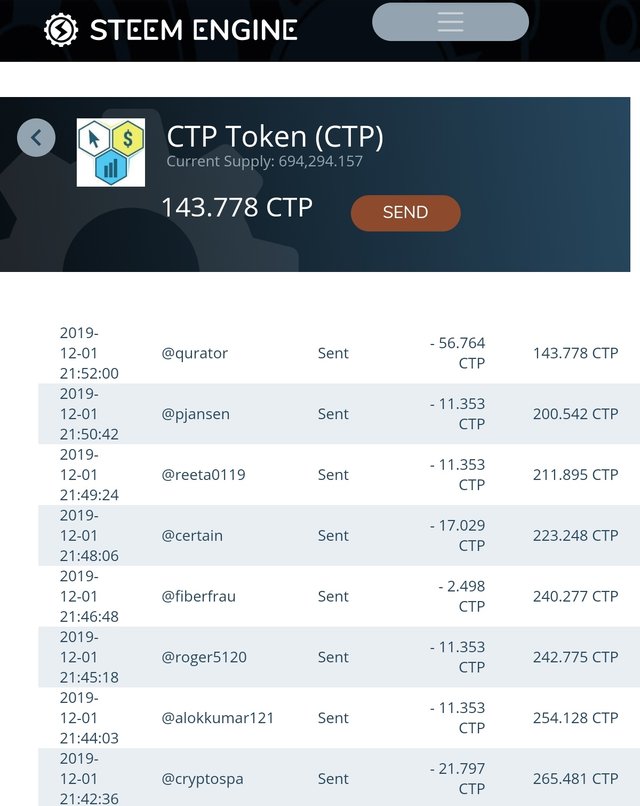 Screenshot from Steem-engine
Congratulations!
Delegate to this project using Steem Bot Tracker.
Our Tokens
We also have tokens in Steem-engine, and our general policy regarding tokens is that we stake all tokens that we get, given that they are stakeable and if not they will be staked once that is available, the exception is CTP tokens since we give out 50% of those earnings to our delegators, but we do stake the other 50%.
If there is any token that you think we should vote with but which we do not currently have, then feel free to delegate some, or gift it if delegation is not available, as stated above all tokens we get will be staked.
Token delegation does not count for any delegation rewards, but we will vote with them if the posts that we vote on include the relevant tags.
These are our current token holdings in Steem-engine, screenshots taken in Steempeak wallet.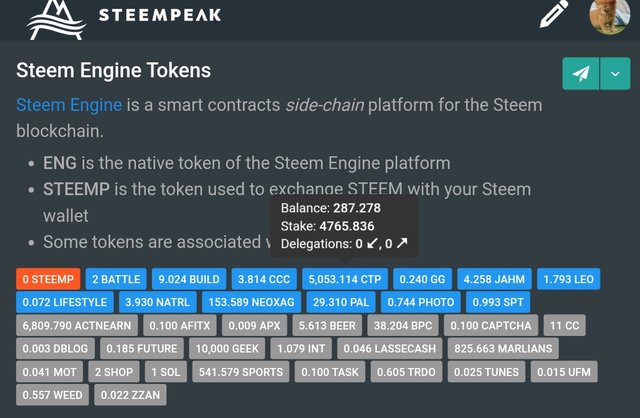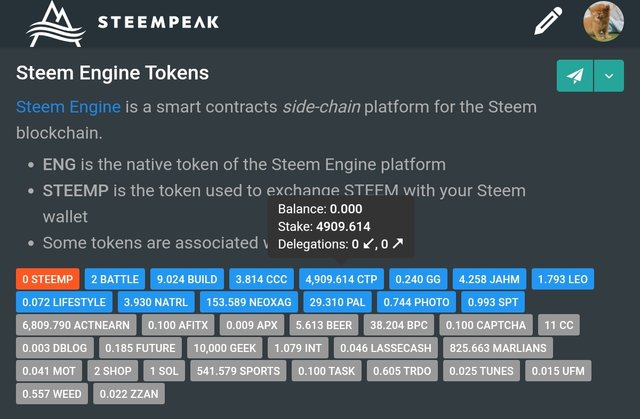 These screenshots where taken before and after payouts and staking of CTP tokens.
As you can see our stake in CTP tokens has now grown to 4909, and the other tokens keeps on growing too, and as before especially ACTNEARN.
Final Thoughts
So this week @cryptospa increased his delegation from 111 SP to 301 SP, thank you very much.
We also had an organic growth of our Steem Power of 13 SP since last week.
As I also mentioned in last weeks weekly report, earnings in CTP tokens was less this week too, but the coming week will be back to normal, since the issue with tags has been fixed.
There has arised another problem during the last week, SBI and Upvotebuilders has been targeted with downvotes, and the latter had to close down because of it.
Upvotebuilders Is Closing Down
We had a delegation to them of 10 SP that has just been undelegated due to this shutdown.
When it comes to SBI these downvotes are delivered across the board, but especially targeted are the ones that increase their delegation, the ones that buy more SBI units and the ones that recieves those units.
And there is more, because they have also made it a goal to downvote any kind of votes as rewards for delegation all over the blockchain.
So far we have only been downvoted because of Upvotebuilders, but we could also be targeted for SBI payouts to our delegators, and for using part of our Voting Power to reward delegators.
I have no idea if they will be successful in taking down SBI, but their SP could be high enough since they have over 160k SP, so they could create a ripple effect by scaring people off, and I have seen a few of those tendencies.
But more worriesome is the risk of a direct target on this project due to the votes we give our delegators, should that happen then we have no way to counteract that.
I have a plan though where all of this changes, and where all delegators gets fully compensated for these changes, and I will make a post about this tomorrow, so look out for that, and when you as a delegator have read it I very much want your feedback on this idea.
Those where all thoughts for this week, a big thank you to all our delegators for your awesome support, and ...
Stay Awesome!
Sincerely,
This Is Awesome
---
Join us on Discord: https://discord.gg/SthJJDZ