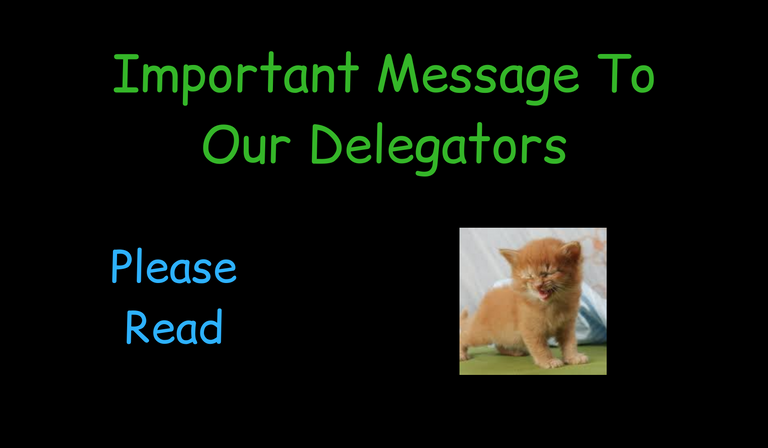 Made in Canva
This Is Important
So as I wrote in the Awesome Weekly Spotlight yesterday in the Final Thoughts, there is an ongoing attack on SBI, and it also includes any form of votes for delegation, and this attack also had it's first victim, Upvotebuilders Is Closing Down.
Therefore we might get targeted for paying our delegators in SBI Units, and for using part of our Voting Power to reward delegators with.
This is the reason why I want to have an actionable plan ready, and I want all delegators to give their feedback and view on this matter so that we can take a decision on this plan on Friday December 6, 2019.
Calling All Delegators
@cryptospa, @alokkumar121, @flaxz, @roger5120, @fiberfrau, @certain, @reeta0119, @pjansen, @qurator
The Plan
So the plan that I have drawn up here is to change the parts that can become a target for this attack, namely the SBI Unit payouts and the automatic voting on delegators.
But I have also thought it out so that all delegators gets fully compensated for all these changes, and to always keep our stated goal in sight to "highlight Awesome Content on the Steem blockchain, and to grow the Steem ecosystem by rewarding it".
Part 1
So the first thing to change is to payout delegators in Steem instead of SBI Units, in the same manner as we payout the CTP tokens.
Part 2
Now as we no longer increase our SBI Units then we don't get the feedback loop created by that with increasing rewards on our posts, which is important because that also builds our Steem Power, and therefore also the effectiveness at which we can reach our stated goal.
So therefore we need to increase our SP, not only with organic delegators, but also with SP leasing, and that means we need funds for that, and the only funds we have for this is our own Steem Power.
This means having weekly payouts from an SP Power Down, and then using those funds to lease Steem Power instead, this creates leverage since we can lease a lot more than we power down, and that in turn means higher curation rewards, and that means another feedback loop instead of SBI.
Part 3
Now since we will also discontinue the automatic voting on our delegators, then we will give them full compensation for this loss by paying them 30% of our Power Down income from part 2.
This also means that in addition to get compensated for the loss of voting they also get fully compensated for the loss of the feedback loop that SBI created for them, since the amount that gets powered down will continue to increase with increasing curation rewards.
Part 4
@flaxz (me) did not get any part in the payouts before, but he was included in the voting on delegators, and that's since he owns the account, but now that the SP will be powered down there is no compensation to him.
So therefore @flaxz will be included in the payouts of Steem (not CTP tokens) to delegators according to his delegation level.
Part 5
So to thank @flaxz for his job on this project he will be included with a 5% Beneficiary reward on our posts and reports.
This not only compensates him, but it also opens up for other people to be able to work on this project in the future with a similar deal as this.
Part 6
As we will no longer vote on our delegators that mans we have 3x full votes to use for something else, and to start with I suggest that we follow the great curation trail of @qurator with 30% weighted votes, they only vote on great content and they are one of our delegators.
Part 7
Since I did mention 5% beneficiary rewards for working on the project, I have the idea that the votes that I mentioned in part 6 can be used to curate the Steemleo tribe in exactly the same manner as we currently do with CTPtalk and to use that Voting Power for that purpose.
But that would mean more work than one person can do, and therefore if someone is interested in taking up that work, then there will be an additional 5% beneficiary reward for them.
End Of Plan
This is the plan that I have thought out so far.
Thank You!
Thank you very much for being an awesome delegator, and please leave your feedback on these thoughts in the comments below, and ...
Stay Awesome!
Sincerely,
This Is Awesome
---
Join us on Discord: https://discord.gg/SthJJDZ