In my opinion, we are currently in the time of the very undervalued price of STEEM and if we look at things in that way, the only logical thing to do is to accumulate coins. Wait for a better price to sell them and payout ourselves. So, if we are looking to accumulate as many coins/tokens at the moment, it would be a good idea to STAKE them and earn more by curating (upvoting) other posts. Let's talk about STAKING.
What is staking? What is Powering Up?
In general, staking is the process of holding funds in a wallet to support the operations of a blockchain network. But, from a STEEM perspective, it is locking funds (POWERING UP) on a certain period of time to get some benefits from the network. The most important benefit is rising the value of your upvote, but also getting more power resources (resource credits) which are used when you create content, comment on the network.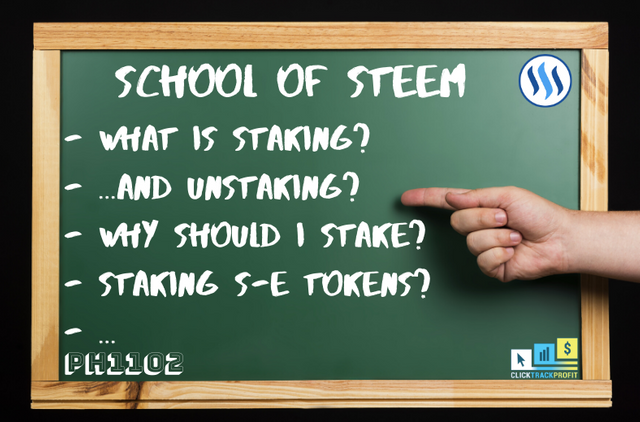 created on canva.com
What is unstaking (powering down)?
It is a process of unlocking staked funds and converting them into liquid STEEM. The process lasts 13 weeks and you will receive an equal weekly portion of powered down funds.
Why should I stake coins/tokens?
Firstly, if you are really serious about the platform you should show your commitment by having staked coins/tokens. By doing that, you are showing your support, but also being active by creating content, commenting and voting, you are using your SP (SteemPower - staked STEEM) and earn more coins. As @jongolson said in his post about Content Creator Survival Kit under the 4. place, if you have a few staked STEEM nobody will take you seriously.
The important thing to say is also the reciprocity of the upvotes... Usually, if you upvote someone on the platform, that person will probably upvote your post also... And if your upvote values more, you will attract others with similar upvote value... This is not a written rule, just an observation...
Powered up STEEM is working for you 365 days and night per year... Just by having staked STEEM, you are earning passive income... Even without upvoting! It's true that it is not too much, but everything counts... Anyway, I suggest you use your SP and upvote content on the platform and earn curation rewards doing that.
Staking Steem-Engine tokens
We were discussing earlier about different types of tribes on STEEM and their pros and cons. Every tribe has it's own token and the majority of them can be staked and used in a similar way as STEEM coin. You can PowerUp tokens, and power down (usually takes less time than STEEM) and you can even delegate staked tokens to others (not possible for all tokens).
Because tribes are in a nutshell smaller (usually niche-oriented) communities, there are a smaller number of stakeholders, which means that you have a chance to be higher ranked on the token rich list.
Again, by doing that you are showing commitment to the tribe and take responsibility for future steps of the whole community. Your upvotes are more valued and your vote counts a lot in every decision in the tribe.
As a major investor in the tribe, you will have the power to keep the token price more stable.
What benefits more do I get with staking STEEM?
More staked STEEM also gives you more influence on approving Steem witnesses (your vote is worth more) and also in voting for SPS proposals. If you want to find more about SPS proposal, check the article about them written by @gadrian.
SPUD is shortened for Steem Power Up Day. It is a day (usually the first day of a month) when Steemians massively power up their STEEM. It is organized by @streetstyle and you can check more about it in his article here.
I would say that staking STEEM and tribe tokens at the moment is a type of long-term investment in your future.
I have probably missed a lot of things, but if you have some questions, please don't hesitate to ask in the comments.
Thank you for your time!
~ph~

.:. .:. .:. .:. .:. .:. .:. .:. .:. .:. .:. .:. .:. .:. .:. .:. .:. .:. .:. .:. .:. .:. .:. .:. .:.

Don't forget to follow, resteem and browse my steempage to stay connected with all the great stuff!

Do you need FREE affiliate marketing lessons? Join ClickTrackProfit

.:. .:. .:. .:. .:. .:. .:. .:. .:. .:. .:. .:. .:. .:. .:. .:. .:. .:. .:. .:. .:. .:. .:. .:. .:.