I am happy to report that I am making progress on my CTP training. So far, the training material has been thorough. The lessons are short. ClickTrackProfit also does not assume that you are already aware of platforms. The videos go through some of the most basic components to ensure that any trainee is on even footing.
Yesterday, I finished a similar program with Jeff Lerner at the ENTRE Institute. Of course, you can expect the upsell. There was no way you would get the training for under $300. The entire package is a bit over $3900, minus the money already put in. It might be a worthwhile expense for some. I am unable to take the deal. I don't have the credit line. I definitely do not want to sell my crypto. Similarly, if you have an existing plan, which is paying off, it would be best to start a new plan than to derail the existing one. For example, it would be in my best interest to save up cash to buy the program rather than tap into resources that are already committed and profiting. Your situation may be different.
Speaking of purchases, I purchased the HitsConnect subscription last night while going through that section of the CTP training. It is becoming clear how it all fits together. Based on an overview from Lerner's program, you can be expect to have multiple services working in concert to support an affiliate marketing campaign. As the CTP training progresses, a marketing system will emerge from all the pieces. What is particularly exciting is that CTPtalk.com and Hive factor in, which is something you would not find anywhere else. It is exciting to be a step ahead of traditional affiliate marketing by utilizing a blockchain community.
Going through the Click.Track.Profit training would be worthwhile for any blogger on Hive. The reason for this is that it lays a foundation for being more deliberate in your content creation. There is a degree of forethought needed to make it work. In addition, it helps you shape your writing so that it is more appealing to the reader. You can simultaneously exercise your creativity and provide value to your audience. Even if you do not become an affiliate marketer, it is worthwhile to at least learn how to improve the return on the time you spend on Hive. You may even make new friends.
Below is my affiliate link for the Click Track Profit program. It is completely free. And, it has a growing community of Hivers who want to take their web presence to the next level.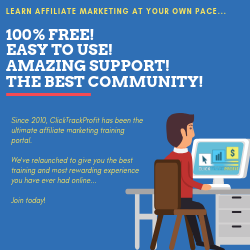 https://www.trker.com/go/142148