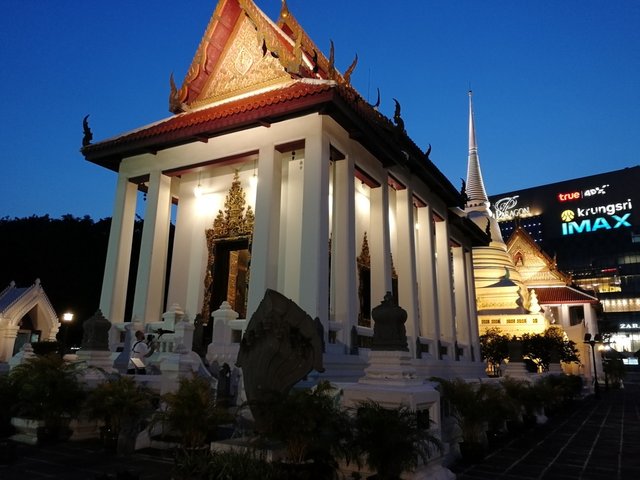 Read " Wat Pathum Wanaram, Bangkok | Steem Fest 4" on TravelFeed.io for the best experience
---
Hello dear Steemians and Travelers!
Just to let you know I attended Steem Fest 4 that took place in Bangkok from November 6 till November 10. Of course, I had a lot of fun with the fellow Steemians and Steem Fest 4 turned out to be an amazing event, but, along with this, I was able to visit some amazing Wats (a type of Buddhist temple and Hindu temple in Thailand), palaces, museums, parks, etc.
---
So, in this post, I will try to share with you my experience of visiting Wat Pathum Wanaram: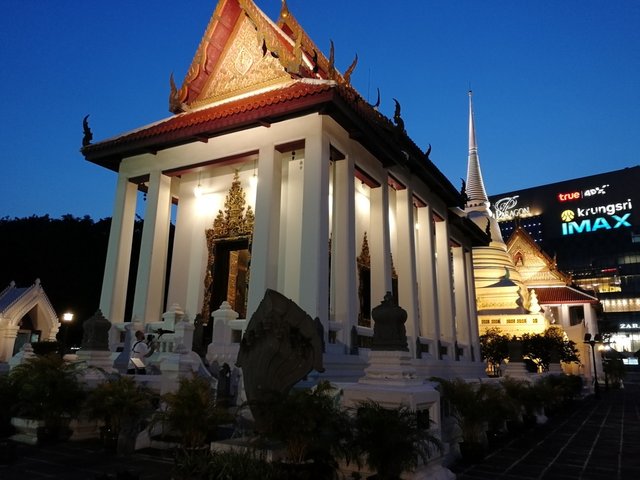 According to Wikipedia, Wat Pathum Wanaram:
The temple was founded in 1857 by King Mongkut (Rama IV) as a place of worship near his Sa Pathum Palace. At the time of its founding the area was still only rice fields, only accessible via the Khlong Saen Saeb. The temple is a third class royal temple of the Thammayut Nikaya order. The full name of the temple is Wat Pathum Wanaram Ratcha Wora Viharn (วัดปทุมวนารามราชวรวิหาร).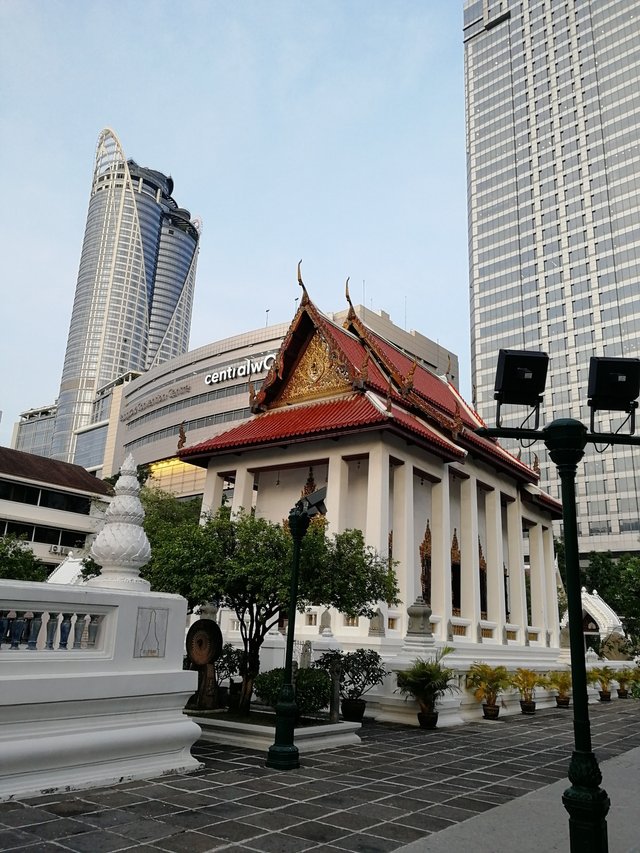 This is the Ubosot of Wat Pathum Wanaram: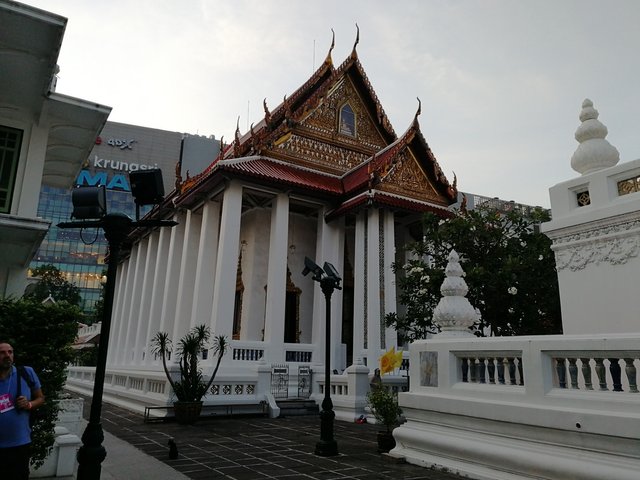 The architecture of the building is just amazing!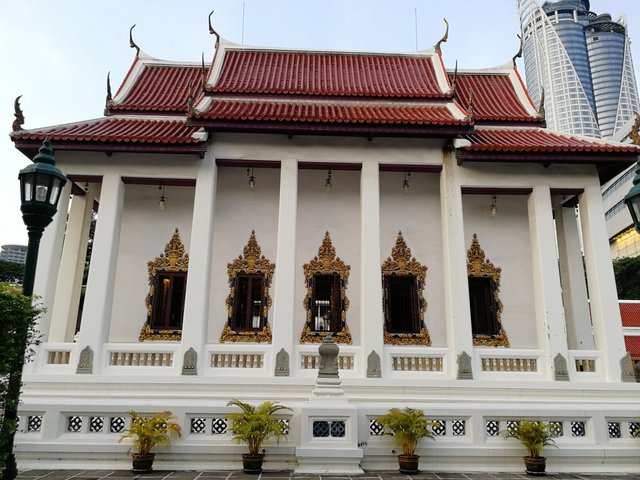 Next to the main building there is a small building, with many golden Buddhas in it. This is one of them: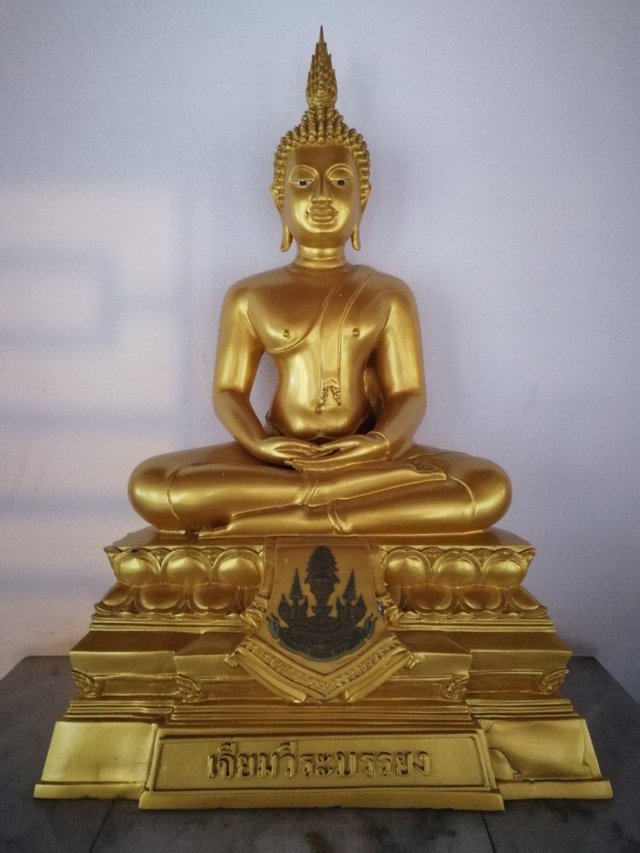 Interesting! Our tour guide explained to us that in these golden Buddhas are the ashes of Thai Royal Family members and other important people who are interred at the temple.
Also I would like to mention that there were many cats (mainly black cats) in the area, among the buildings: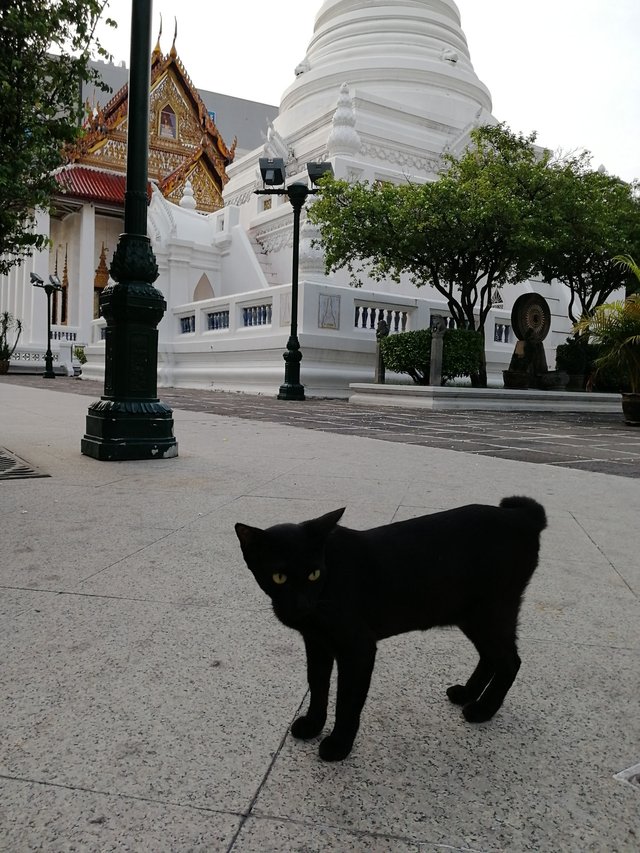 That's a picture of me in front of the Wat: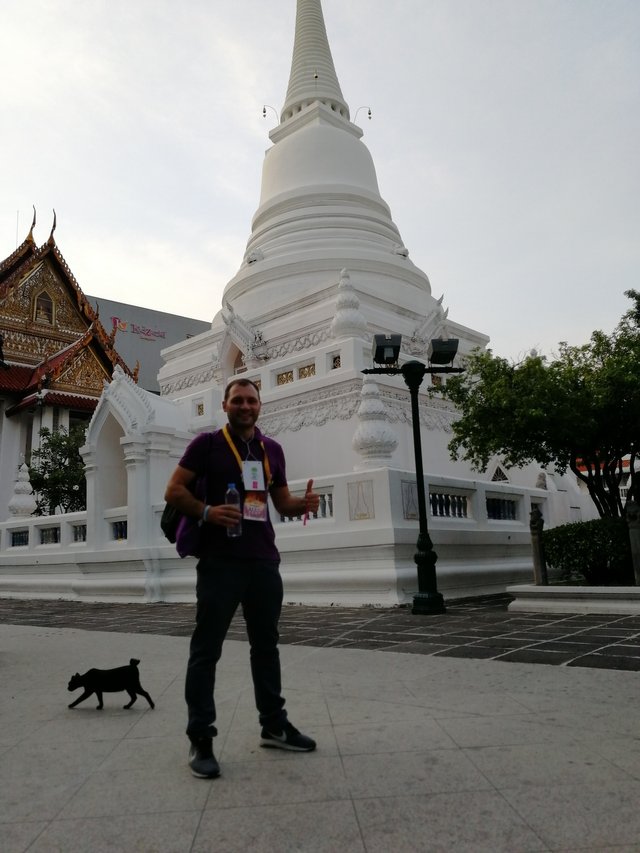 The Wat is just beautiful: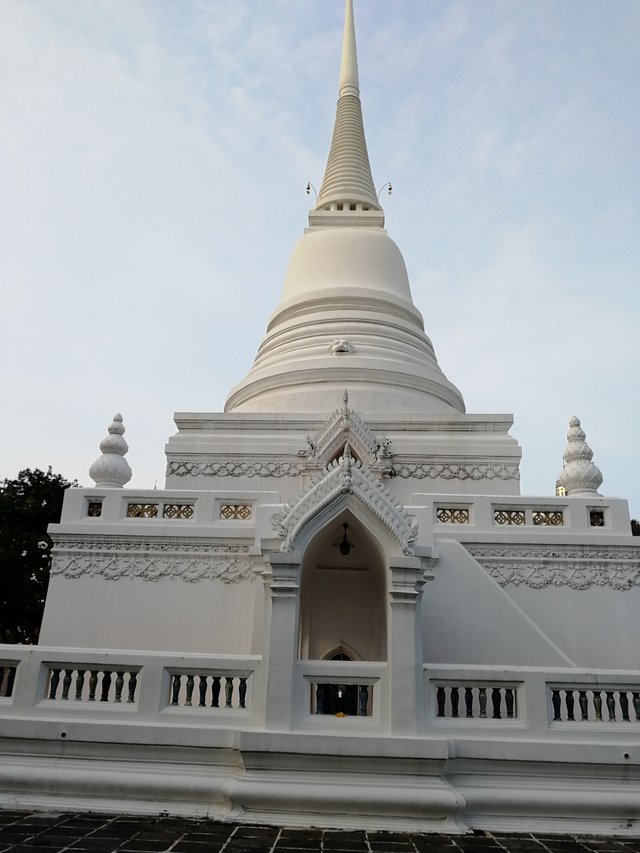 I also got into one of the buildings, where there is a Buddha statue and a special place of worship in front of it, and many interesting Buddhist paintings on the walls: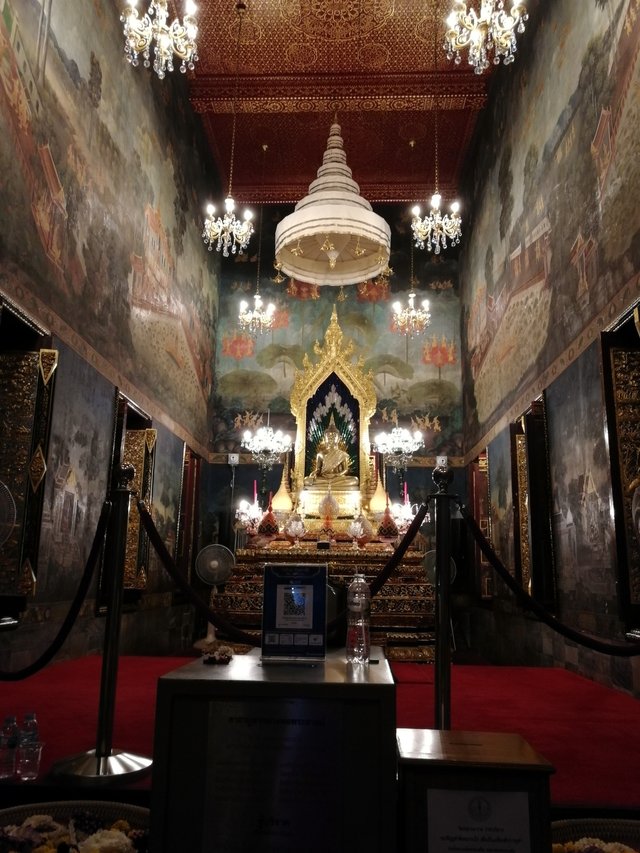 I spent a few minutes at the place of worship. The feeling was just amazing!
And, of course, there was one black cat lying on the ground in front of that special building: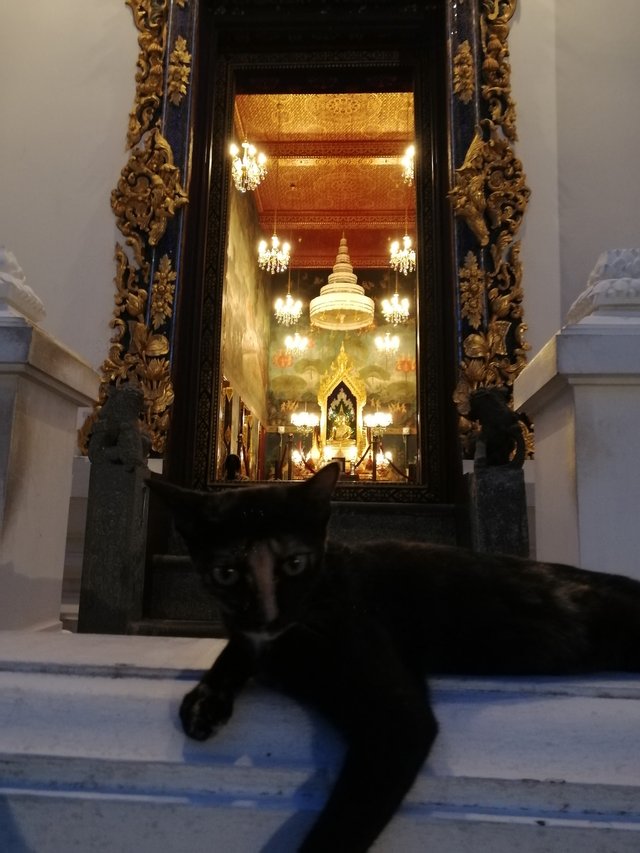 That was another special building with a place of worship in it: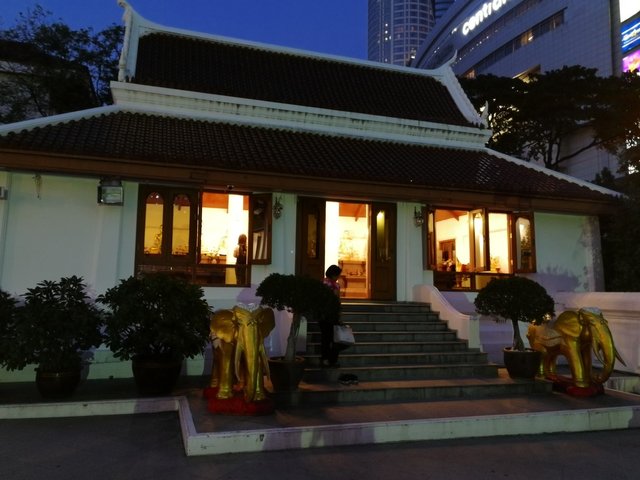 I did like the golden elephants next to the stairs leading into the building.
Yeah, Wat Pathum Wanaram is a small beautiful place (next to metro stop Siam) with rich history, surrounded by many shopping centers and tall office buildings: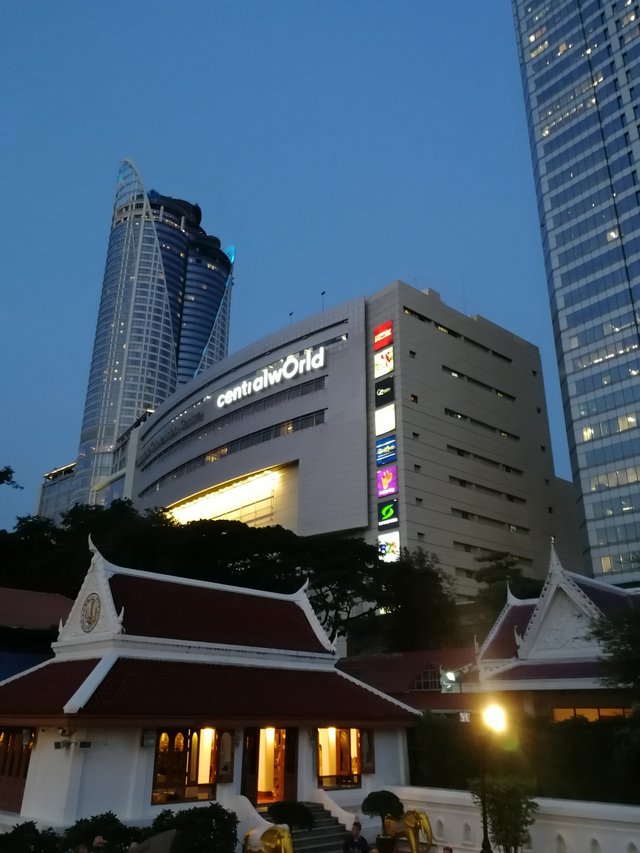 At Wat Pathum Wanaram I was feeling like being in some kind of oasis, surrounded by modern buildings!
---
I would like to say 'BIG Thank you!' to @roelandp for including the visit of Wat Pathum Wanaram into the schedule of Steem Fest 4 at the end of Conference Day 1!
---
Wat Pathum Wanaram was just an amazing place to visit! I was so excited! So, if you will be in Bangkok, Wat Pathum Wanaram is definetely a must-visit!
p.s. keep in mind that in order to get into the Wats in Bangkok, you should wear pants/jeans (no shorts). Also you will have to take off your shoes if you want to get into the buildings.
---
View this post on TravelFeed for the best experience.