Only a few months ago tribes didn't exist at all and nobody thought that it is even possible to create them without SMTs, but they happened. Today, we can't imagine STEEM without tribes... They are present and the future of our blockchain.
What are the tribes?
Tribes are communities of people gathered around similar interests. Usually, they are organized around specific "niche", but we can also find some "general" topic tribes. It's important to say that tribes played a very important role before the last HARD FORK when rewards were split 50%-50% (authors - curators). Before the HF, the split was 75-25 and when tribes started to pop-out, the majority of them implemented 50-50 split and literally prepared people for the future hard fork.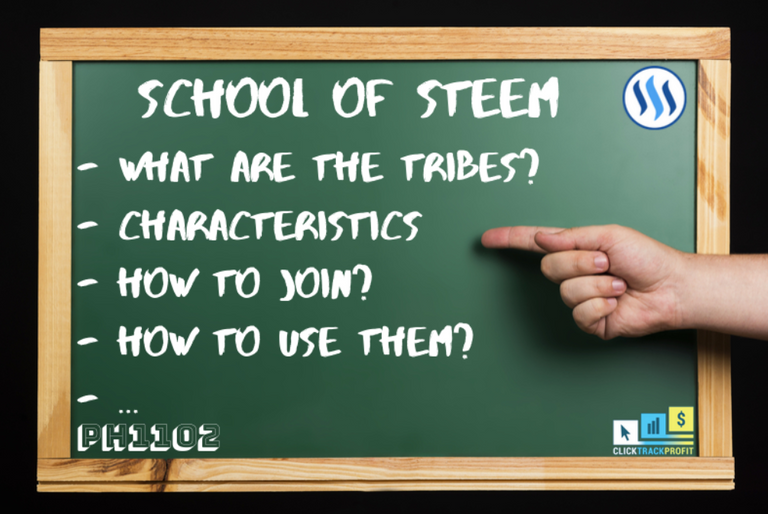 created on canva.com
What are the main characteristics of a tribe?
Every tribe has it's a website, token (with specific rules as rewards split, the possibility of mining, payment period, etc...) and official tags. As they are mostly niche-oriented your post will be more targeted and probably more visible due to the lower number of users in the community.
If you look at the tribes, you can imagine them as "small STEEM" communities with similar characteristics. Every tribe has it's own token, TokenPower (similar to Steem Power), can be staked and posts are curated. Voting on posts published in a certain tribe (or creating posts), you will be rewarded with STEEM and the token from that tribe (or more tokens if it's published in more tribes)...
How can I join some tribe?
You don't have to open a new account to be able to join the tribe. Just login with your STEEM credentials and you are ready to go. If you want to post in some tribe, you can write the post directly on the tribe's website, or you can create content on any other STEEM frontend and add the official tag of the tribe.
What kind of tribes exist out there?
It's important to say that the number of tribes is not limited on the STEEM. I will go through only a few most popular tribes at the moment and if I miss some, you can add a few lines about it in the comments of the post and I will add them to the list (but do it in the same format as I have done).
.: CTPTalk.com :.
tags: ctp
admin: @jongolson
CTP talk is a community built for affiliate marketing people, but it accepts posts about everything connected with the business, personal growth, etc...
.: SteemLEO.com :.
tags: steemleo, investing, bitcoin
admin: @khaleelkazi
SteemLEO is all about investing, money, finance... After the CTP Tribe, SteemLEO is one of my favorite... They have a lot of addons at their website and slowly they are turning out into leaders of all current tribes...
.: SplinterTalk.io :.
tags: splintertalk, spt
admin: @splinterlands
If you want to write about the best game on the blockchain, Splinterlands (former SteemMonsters), this is their official tribe where you can post everything related to the game...
.: Reggaesteem.io :.
tags: jahm
admin: @reggaesteem @dmilliz
As its name said, it's about reggae music/culture, events, albums, artists...
.: Triplea.reviews :.
tags: aaa
admin: @triplea.reviews @jayplayco
In this community, you can find everything related to movies, TV shows and filmography in general...
.: SportsTalkSocial.com :.
tags: sportstalk
admin: @sportstalksocial
The name said it all... Everything about sports goes here!
.: Palnet.io :.
tags: palnet
admin: @minnowsupport
General topic community, one of the largest tribes on the chain and actually the first one...
.: Neoxian.city :.
tags: neoxian
admin: @neoxiantoken
Another general topic community.
How to properly use tags and don't abuse them?
From my personal experience, I have found some unwritten rules about the tags. Firstly, it would be good that you enter 2-3 "ordinary" tags that describe your post and after that add tribe tags where your post will suit the most.
For example, if you are writing about Formula1, you would use firstly tags like motorsport, f1, auto... and after that, you can use tribe tags like sportstalk, palnet, neoxian...
Pros and cons of tribes?
Pros:
your post will be more visible and you will probably receive more upvotes
A smaller community usually means a stronger connection between people and it leads to healthier surroundings...
Cons:
tribe tokens can be very volatile
centralization
tags can be abused (but it is possible to fight against this)
In conclusion, communities are a need at STEEM and it's the right path to follow in the future, because STEEM IS ALL ABOUT THE PEOPLE!
~ph~

.:. .:. .:. .:. .:. .:. .:. .:. .:. .:. .:. .:. .:. .:. .:. .:. .:. .:. .:. .:. .:. .:. .:. .:. .:.

Don't forget to follow, resteem and browse my steempage to stay connected with all the great stuff!

Join SteemSavvy.com The Ultimate STEEM School
Do you need FREE affiliate marketing lessons? Join ClickTrackProfit
.:. .:. .:. .:. .:. .:. .:. .:. .:. .:. .:. .:. .:. .:. .:. .:. .:. .:. .:. .:. .:. .:. .:. .:. .:.