I have lots of ideas of small businesses that I can start that will help with the financial goals I have.
For my 100,000 Marlians Run (I have a goal of owning 100,000 Marlians - because ULOGS are the BEST most wonderful thing I like reading on this blockchain), I thought I would start The Happy Mail Project. Basically, I send mail on behalf of other people.
I got excited about this project and even got crispy dollar bills, and 2 dollar bills from my local bank to add to the mail, because what STEEM Blockchain user wouldn't want to use their STEEM Engine tokens to send a $2.00 bill to a kid on their birthday? This was in addition to the stack of birthday, congratulations, and thank you cards I bought at my kids last fundraiser.
I have worked the Happy Mail Project before. I was an Etsy Shop Owner, and used those $2.50 - $10.00 transactions to build a HUGE crafting supplies inventory. I also had lots of fun making the mail with my kids.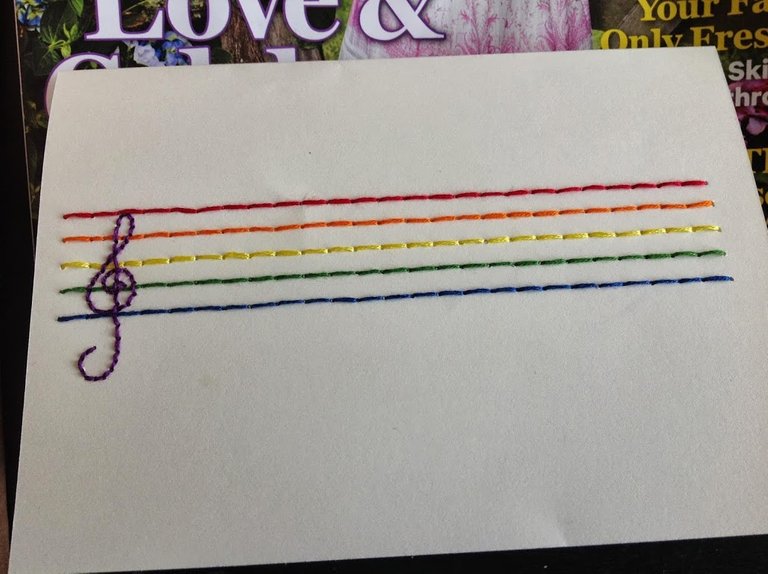 This is a picture of a card I embroidered which I was really proud of. It was a musical rainbow.
For my Build a HUGE Home Library Goal I thought I would start a reading blog, which I attached to a Barefoot Books or Usborne Books subscription. The Blog would be based on the blockchain and would be advertised using pinterest and Twitter. This has been profitable for me in the past, helping me build a big home library (which now lives at my husbands house) and I LOVE the idea of owning an online bookstore.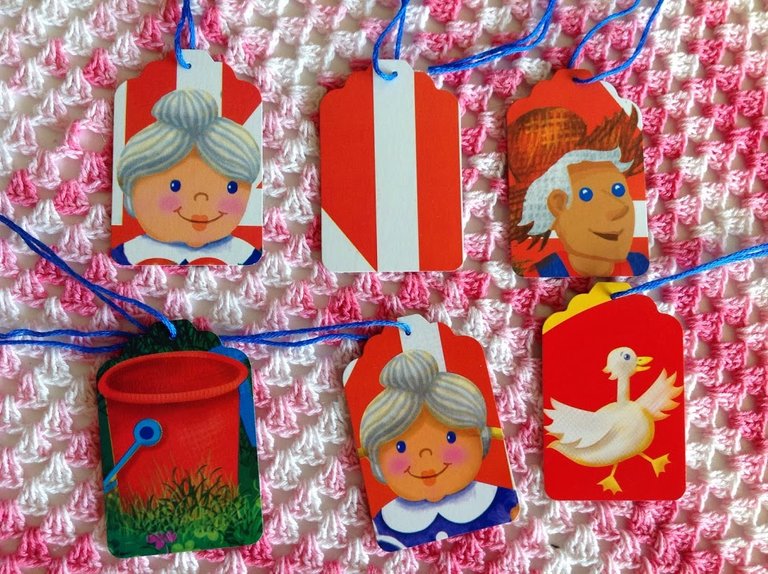 Sometimes my children were not so respectful to their books, (they were really young,) I got really good at mending books and when they were beyond repair, I would craft with them making things like these lovely tags, which I later sold on ETSY, annd used the money of course, to buy more books
For my freelancing gig which is what pays for my families "extras" like clothes, and school supplies, and home goods, movies, small furniture pieces and restaurant meals, I was going to start a niche blog (either real estate or court reporting) and use it as a way to send writing samples for people in such industry who need help with their writing.
For my everyday basic $$ needs (the ones that are usually met by a job and sometimes by my patient husband) I was going to really concentrate on the scoping career, and finish it up. Something I think I can accomplish in the next six months.
For my magic money (the money I need to buy a bigger home, pay of debt and upgrade my house without having to slowly save for it) I was going to finally publish those ebooks I have halfway written and actually start marketing.
Wow! I got it all figured out!
Then I stopped all my planning and really looked at my plans. I thought about how these ideas are not original or new, and how I have been playing with them for a while. I looked at how many of my projects I have started and how many of them are so close to finishing, right on the tip of my tongue.
And that's when I had the best business idea ever which is to concentrate on only ONE thing. Really, what I NEED right now, is not the same as what I want. What I need is a steady income, which I can earn from home when a soon to be here baby is sleeping. Something flexible that will allow me to keep up with taking the kids to school. Something I can do while the laundry does itself or dinner sits on the crockpot.
What I need to do is finish the scoping class and get started on that work from home job.
As much as my heart knows that it is a short-term solution (cause hey, those novels WILL sell, and I will soon be debt free and in a bigger home) I also know that I need the stability of a short term solution.
So I am leaving all my wonderful ideas in a journal - and concentrating on the scoping.
Sure, I will still be writing my ulogs, and sure, if writing gigs land on my lap I will still complete them, but, I will be a laser beam and not a flashlight and get that project off the ground.
Once I am done with the Scoping School and once I have a few steady gigs lined up, I can get on to the next project.
ONE AT A TIME.
Besides, my ideas are marinating, when I finally give them time, they will thrive. And of course, I am a soon to be mom of four, how much time do I really want to spend building micro businesses, and how much time would I rather spend having my 7 year old read me OG the Frog?
Thanks for reading, hope you are having an awesome day.

---
Posted via Marlians.com