Hey Jessintrepreneurs
The internet and eCommerce have, without a doubt, changed the way we conduct business and brought with it a host of opportunities. Creating your eCommerce store is an excellent adventure. I would highly recommend people persue. If you have your brick and mortar business and would like to get a few more sales online or if you want to keep costs low save on rent and have an online-only business.
If you're passionate about it, I'm sure you won't mind your products taking over your garage or lounge and shipping your orders from your home or if you are lucky enough to get affordable storage and shipping services in your area that can work well too.
Using eCommerce effectively
What I like to see from eCommerce stores are companies producing goods locally this could be anything from sauces and condiments to garments and shoes. What I want to see is people building sustainable businesses, creating jobs, securing local resources and building wealth from within their immediate area and using the internet to gain a larger footprint.
The whole point of these online stores was to move income quicker and more effectively to regions where it may not have got their otherwise.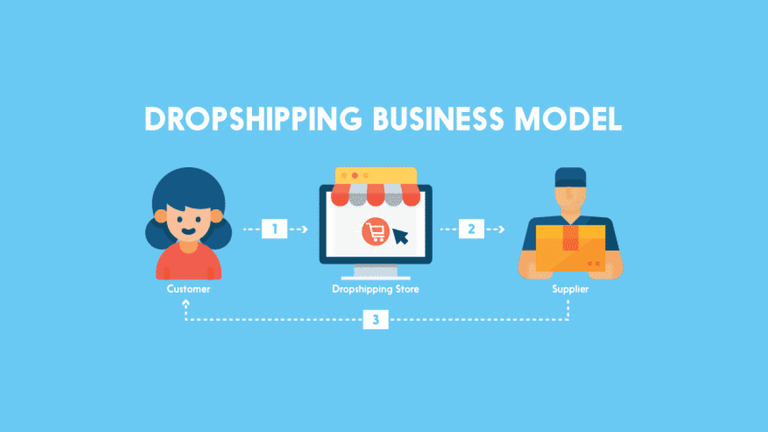 Image source: - feedough.com
Why eCommerce when you can be an "eMiddleman."
Humans are inherently lazy and will always look for the quickest way to turn a profit. As eCommerce giants came into play, a few people figured out that they could shift traffic towards themselves take orders on behalf of others and turn a profit.
We've seen affiliate marketing become a significant revenue driver for online entrepreneurs, but that had its limitations since it was mostly digital goods or ticketing. Still, then the concept of Dropshipping and FBA came into play, and these online entrepreneurs took to it like wildfire.
Dropshipping and FBA (Fulfillment by Amazon)
Dropshipping is an online business model based on an order fulfilment strategy where the merchant lists products on his website, markets it and takes the orders under his brand but doesn't keep any stock. The business is only a front, and a third party does all the actual shipping and fulfilment.
The growth of Amazon, Alibaba and AliExpress have given these Dropshippers with the help of Shopify and WooCommerce the ability to create these skeleton stores online, attract customers and sell products with never even knowing a thing about the condition of the product or where it comes from or to whom it is going.
All these people are interested in is monetising the traffic they get and trying to skim off as much off the top of the sale as possible. They never build a loyal customer base; they never develop a relationship with their clientele, they have no control or vested interest in quality control or delivering a good product or service it's all about making money.
The dropshipping dilemma
The dropshipping dilemma also involves a whole lot of logistics as your shipping product from overseas or other regions and then individually shipping them back and hoping for a low return rate. Yes you expect people to return products in this business model but hope to make a profit overall or hope people feel its too much of a waste to return the item. I hate to sound like a Greta, but all this is bad for the environment and highly ineffective, but they do not realise it because the bill is subsidised by the wholesalers they buy from and shipping these products.
You're sending your local currency overseas then bringing in goods to sell at a profit and then continue sending money out of the country if it's successful. Yes, you may make it big, but all that money leaving your country could have been used to build a viable business in your local community. A company you can take pride in and profits from that is the real goal.
But people are getting rich from it
Well people also get rich from hacking dolphins and whales to death, and clubbing baby seals doesn't mean its good for the world, right? Money knows no morals and its up to us as a people to build sustainable businesses and reward those who do so over intermediaries, rent-seekers and price schemers.
If we are to build economies that work, we need to start supporting local businesses, shopping local, producing local and building communities with the help of the internet.
Let's connect
If you liked this post sprinkle it with an upvote or resteem and if you don't already, consider following me @chekohler


---
| Buy & sell STEEM | Donate LikeCoin For Free | Earn Interest On Crypto |
| --- | --- | --- |
| | | |