I've been writing about several aspects of dcity so far, but I would like to add to that a weekly update about changes that I have made. Tutorials are great for understanding a certain aspect of the game, but along side these it is great to also be able to get insights on day-to-day strategic choices from players that are a bit further ahead in the game. That is what I will try to provide you with in these weekly updates.
Currently I have two dcities. One on my main account @elbrava, which you can find here. My aim for this city is to simply grow as fast as possible and enter the top200 of dcities. This will likely require me to invest more money to make that happen.
My other dcity is for my @invest4free account, which you can find here. This second account I set up specifically to show that through being active on Hive, you can become an investor for free. You will actually be able to build an investment portfolio that will generate passive income for you through being active on hive.
This weeks developments are:
@elbrava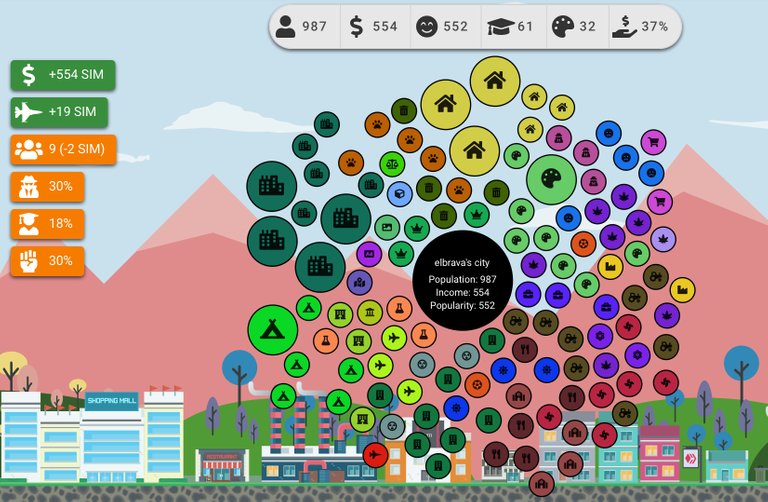 This week I invested another 100 Hive into my dcity. Half of that was my last big Steem power down. I have started the power down of the last 5 steem and that will be the end of my Steem journey. I also still had about 50 Hive in ionomy that I was trading between BTC and Hive. I decided to stop doing that, as I do too many things already. And it is pretty hard work to earn more from trading than from dcity.
This has resulted in me getting back to the 240th position in the rankings, which could have been higher if I hadn't moved all banks to invest4free along with all crime reduction buildings.
I might actually move the 3 cinema's back to @elbrava, since I have decided to not sell the 2 shopping malls I got. I will keep those on @elbrava. With the current crime rate it should be profitable to keep them there and it will allow me to get more. Moving the cinema's back will enable me to grow the population, which should help me get higher in the rankings.
I have now also started a cryptobrewmaster account for @elbrava, since that would make an excellent way to keep investing in my dcity.
Since my base income is now higher than 800 SIM and we still have war tax going on, I now earn about 650 SIM per day. So I am getting close to the point where I can buy a new random card every day just from SIM income.
I also bought some technologies, since the prices for tier 1 and 2 technologies are getting really low. If you haven't looked at it in a while, then you definitely should. Especially the tier1 technologies are now cheaper than a random card.
So now my Factories produce 23 SIM instead of 20. My Farms produce 10 SIM instead of 6, my Wind turbines now produce 5 instead of 3 SIM and my Solar Plants produce 7 instead of 5 SIM.
@invest4free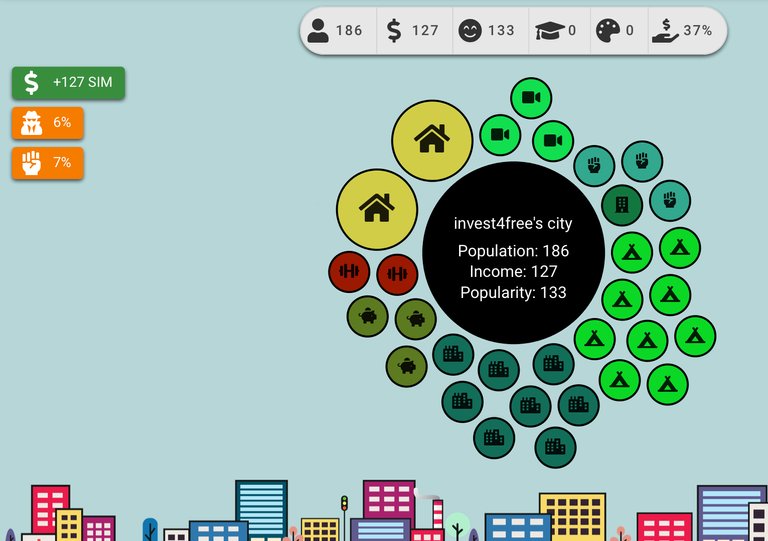 Due to the banks, cinema's, gym's and housing this dcity is now producing 127 SIM after taxes. The base income is 201 SIM. Pretty epic.
I have been quite lucky so far with my 5-6% crime rate. It has gone up to 7% now, but I have only seen a robbery of my banks 1 time. I will probably buy the tier 1 crime reduction technology, since that works very well with police stations. Of which I have 3 already.
I will continue to let @invest4free be my banking dcity for now. I heard from Gerber in discord that generation 3 cards will bring changes to the crime metrics. That all dcities will have to control crime and not just for a couple buildings. So we will see. Until that time I will likely keep things as they are.
Also, for this dcity I will keep buying 2nd generation cards, whereas for @elbrava I will keep buying 1st generation cards. As that has helped me significantly to get higher in the rankings.
And that is it for this week.
If you have any questions about your dcity about how to improve it, how to grow it more quickly or any other question. Please do ask in the comments. I try to always give a response.
Thanks for reading, do follow me for more dcity and investment content and see you next time!
————————————
If you would like to start investing in dcity, because it is fun and very profitable. Or you want to get more hive to increase your investment. Then why not start a Cryptobrewmaster account?
Cryptobrewmaster is completely free. It is also very simple, since it is still in alpha test and you can get the minimum withdrawal of 1000 CBM tokens in about 1 month. That is currently about 45–50 hive.
If you use my referral link then we both get some free ingredients to speed up the production progress: Click here