Summary
The rate of change in economic growth and inflation (or recession risk) will once again be the driving force behind asset class performance.
You do not have to hold a massive position in US stocks to benefit from continued gains. You can use an approach that balances "risk."
The trajectory of economic indicators continues to favor a defensive tilt as employment remains a critical factor in 2020. Early signs of cyclical inflation pressure have emerged.
The Federal Reserve is here to stay. In 2020 we will see continued balance sheet expansion, a lowering of the Fed Funds rate, or both.
I'm holding a portfolio balanced based on "risk," but tilted slightly defensive to benefit from a continued decline in short-term interest rates and residual economic cycle risks.
I do much more than just articles at EPB Macro Research: Members get access to model portfolios, regular updates, a chat room, and more. Get started today »

As investors enter 2020, and as they eye key economic indicators, including employment, they ought to consider getting defensive.
Eric Basmajian, in this 2020 Outlook installment, suggests investors should take a balanced approach as they enter the New Year. They also need to keep an eye on Fed actions.
A big surprise for 2020? Basmajian suggests continued woes at Boeing could impact what happens with the economy.
What do you expect to be the key driver of bond market performance over the course of 2020? Will interest rates rise this year?
The US Treasury market will continue to be driven by a combination of growth expectations, inflation expectations, monetary policy expectations, and credit risk. The US Treasury market is more than likely to have zero credit risk in 2020, and monetary policy will ultimately follow the economy. The analysis of the Treasury market can, therefore, be simplified to growth and inflation.
Late in 2018, when the 30-year yield was near 3.50%, I wrote about a significant buying opportunity in long-term bonds (TLT) as yields would fall to a new all-time low. The analysis was based on the premise that lower growth and lower inflation would bring lower long-term interest rates.
Throughout 2019, core PCE inflation fell from 1.97% to 1.6%. Real GDP growth declined from 3.13% in Q3 of 2018 to 2.1% in Q3 of 2019. The 30-year yield reached an all-time low in 2019, falling below 1.90%.
The analysis of long-term Treasury bonds has changed in 2020.
In 2019, both economic growth and inflation were expected to decline. As we start 2020, US economic growth remains in a downward trend, but leading indicators of inflation have started turning higher.
In January of 2019, our proprietary measure of global money supply growth turned higher.
GDP Weighted Global Money Supply Growth: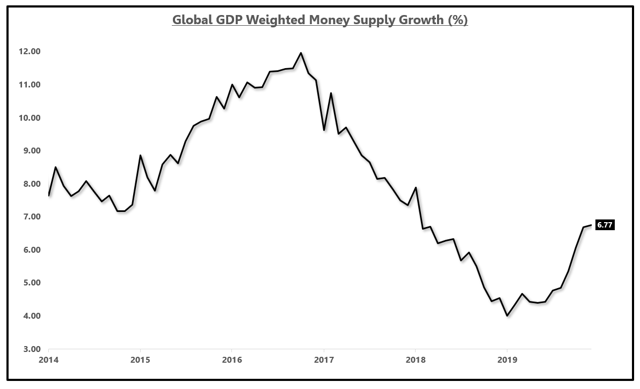 Source: Bloomberg, EPB Macro Research
One year later, this long-leading indicator translated to a significant increase in the growth rate of raw industrial materials and core import price growth.
As the chart shows, the growth rate of both raw industrial materials and core import prices was declining throughout 2019.
---
Author Bio:

Steem Account: @ericbasmajian
Twitter: @EPBresearch
Seeking Alpha Account: Eric Basmajian

Steem Account Status: Unclaimed
Are you Eric Basmajian? If so, you have a Steem account that is unclaimed with pending cryptocurrency rewards sitting in it from your content. Your account was reserved by the Steemleo team and is receiving the rewards of all posts syndicated from your content on other sites.
If you want to claim this account and the rewards that it has been collecting, please contact the Steemleo team via twitter or discord to claim the account. You can also view the rewards currently sitting in the account by visiting the wallet page for this account.
What is Steemleo Content Syndication?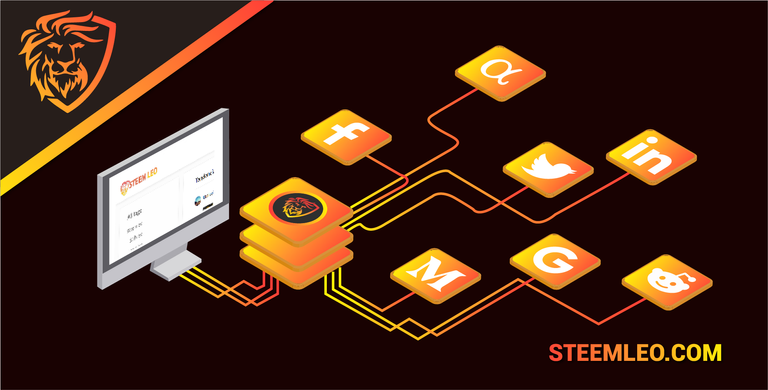 The Steemleo community is syndicating high-quality financial content from across the internet. We're also creating free Steem accounts for the authors of that content who have not yet discovered the Steem blockchain as a means to monetizing their content and we're listing those accounts as the 100% beneficiaries to all the rewards. If you want to learn more about Steemleo's content syndication strategy, click here.
Posted via Steemleo