I read a post from @horpey yesterday about automating your #steem posts to your Twitter account. I think it a brilliant idea and one which we should all be doing to get some more attention to our blogs and to the site in general. One of the things that STEEM needs is more eyes on the content so sharing to twitter with good tags should help to get more views onto our work.


The original post is here with the step by step instructions and takes only a few minutes to set up.



I set it up today and tested it out with my daily
@actifit
post and it worked perfectly. Once it was set up, all I had to do was post to STEEM as usual and it showed up on my twitter account within a minute. So handy.
Now I'm not a prolific tweeter by any means and only have a small amount of followers because of this but that's because it requires extra effort every time I want to share something. Now it will be automated for all of my posts and should improve my visibility as well.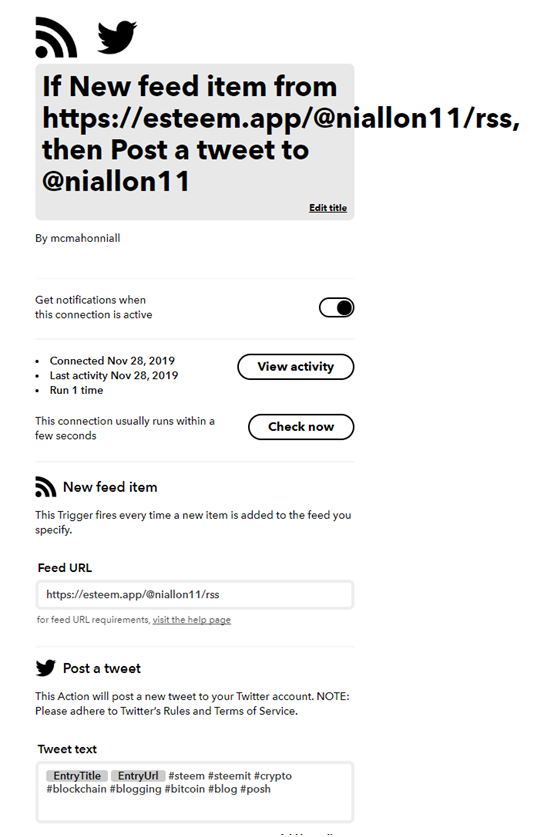 On the website where you set it up the box allows you to automate your hashtags as well so I think it's a good idea to add a few for #steem and #steemit to increase their use and visibility. #crypto and #bitcoin to get it in front of external but like minded twitter users and tags for #blog and #blogging to capture that group of people who might be interested in reading and writing on STEEM.
I think that full credit has to go to @horpey for a detailed and well put together post that makes it easy to set up for any user that is active on twitter.
I think it would be great to see some of the regular and quality users on STEEM set up this service and get some more STEEM content flowing onto twitter. The like of @pennsif, @reggaesteem, @coruscate, @blewitt, @exyle, @paulag, @taskmaster4550, @tarazkp, @coingecko and all the other interesting users who I follow on STEEM and on twitter. People that should be showcased to the wider audience and could attract more people in to read and comment. ( I've heard rumors of guest accounts but until then even getting more clicks onto the site is good for STEEM. It means more recognition and greater brand awareness.)
It's all about getting eyes onto the content and bringing people to STEEM. We complain about lack of marketing but here is one example of how the users can showcase the chain in a fast and simple way to increase the brand recognition. I hope to see a lot of users add this to their profiles and keep spreading the word.