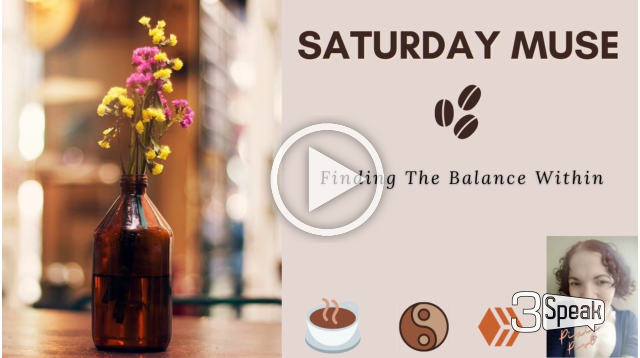 ---
#PixiePost #SaturdayMuse #FindingBalanceWithin
The weekend is here & so far it has been a reflective one for me. Since I was under the weather yesterday, I wasn't able to do my latest edition to the Friday Freedom Series. So, I decided to sit in front of the camera today to make up for it….
There has been so much talk about censorship & freedom of speech, which is so important. We also have been working to make our impact on the world and are struggling to find that balance within….
Start off your weekend with this video as I share some thoughts about these topics as I deal with Timmy, coffee & garbage trucks as well… ;)
Music: Cafe Mornings - Cool Cat Stumble - T. Morri
─── ・ 。゚☆: .☽ . :☆゚. ───
Coffee, Cards & Pixie Dust podcast https://anchor.fm/pixiepost
Give this a like if you enjoy this kind of content. It lets me know what videos give YOU value. Don't forget to subscribe & hit the notification bell so you don't miss the next video.
💜 To know thyself is to know thy truth. 💜
─── ・ 。゚☆: .☽ . :☆゚. ───
Get a 30 Day Free Trial of Epidemic Sound https://www.epidemicsound.com/referral/cgrnmi/
A Must Have Tool To Grow Your Channel
https://www.tubebuddy.com/pixiepost
💜 This video is not sponsored - affiliate links above are products I fully believe in and use 💜
─── ・ 。゚☆: .☽ . :☆゚. ───
Connect with me on the following social media sites:
Instagram: https://www.instagram.com/pixie_post_dreams/
https://www.instagram.com/timmytheangelkitty
Twitter: https://twitter.com/ThePixiePost
My NEW Store: https://www.zazzle.com/store/pixie_po...
The Pixie Post - http://www.trker.com/go/96848
Pixie Post Facebook Page: http://fb.me/pixiepostwithjennnieto
Hive: https://hive.blog/@pixiepost
PeakD: https://peakd.com/@pixiepost
─── ・ 。゚☆: .☽ . :☆゚. ───
---
▶️ 3Speak