I'm busy. Talk to me later.
Or, I'm busy right now. I have works to do. I'll call you later.
Many times, we talk like this. We also feel proud showing our business to others. Some even use this to intentionally avoid others or a particular person.
Whatever the reason is, you simply cannot say you are too busy to spare moments to hear others. 🙃
Yes, that's what the new corporate culture is teaching us to adopt. Even in some cases, speaking about your inability to spare a moment to respond to others is considered as impotency.
--------------->>>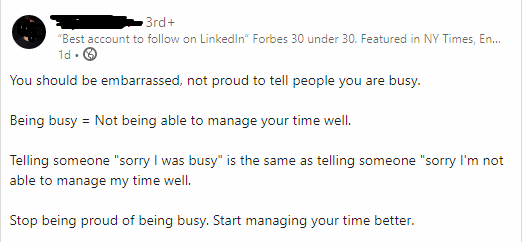 How come?
Well, I might have some huge tasks ahead. I might be concentrating fully on my ongoing task when giving a pause may interrupt the workflow.
Yes, we have our excuses. It's better we call it our legit reasons -- not excuses.
So, can it be justified? What is the new corporate culture thinking about it?
It's a direct NO. Nah, you can't say that. 🤦‍♂️
According to the trend, saying 'I'm busy' equals to your confession that you can't manage your time strategically. 🙄🤔
So, to be straight, 'sorry, I'm busy' is the shorter version of 'sorry, I am not competent enough to manage my time properly.'
And, that's how your corporate boss will treat you — marking you as one of their incompetent executives.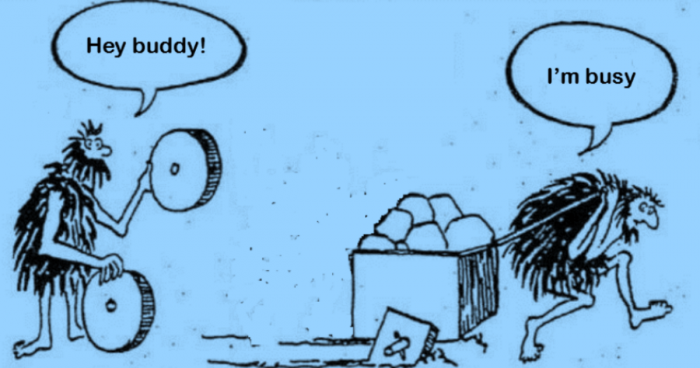 However, there's controversy.
Yes, I too am not in support of this new culture. I think this is another propaganda to make you feel inferior and that's when your bosses will suck every last strand of energy from you by allocating additional tasks for you to execute. Cause, you can't say, "sorry sir, I'm busy." 👿
Did you face this at your offices? How are you planning to overcome this new 'threat'☠️?