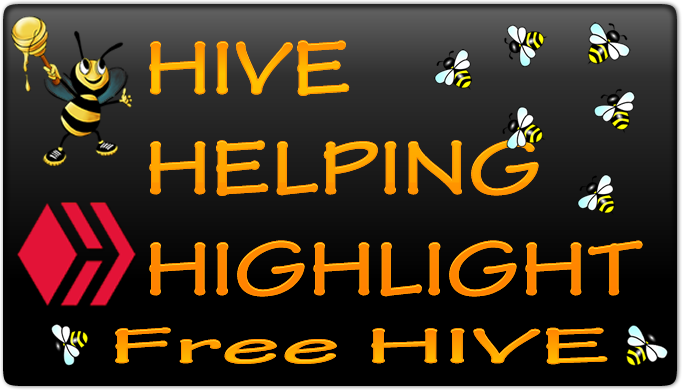 Hive Helping Highlight will Highlight a Hive Post as a way of encouraging people to engage with that post
I encourage all people to put a comment below and include the Hive name of the author of the Highlighted Post.
A name will be randomly selected from all that comment below for a prize of HIVE
(The selected name will receive a percentage of the Author rewards of this post and announced in the next Hive Helping Highlight Post)
I also encourage you all to visit the Highlighted post, let the Author know that you have read their post and make an engaged comment in that post.
This is a great way of engaging with someone new, Learning something new and being inspired by someone outside of your circle.
Being supportive of all members on HIVE is being part of the Swarm


online-business-and-improving-online-security
Today @futurekr talks about the importance of Online Security and provides some hints on how to improve
I have chosen this post today because all of us are developing our online presence and online businenesses and we need to be constantly vigilant when it comes to security, keeping passwords safe, changing them up every now and then, being mindful of emails and text messages that are clearly phishing and making sure that we secure any log in with 2 Factor Authentication.
And the number one for those of us on HIVE, keep your keys printed and safely secure , dont keep them on your computer, not only for a potential hack but also if your harddrive crashes and you cannopt retrieve the data you have hard copies. This should also be said for any passwords that you have.
Be mindful at all times about Cyber security and dont become complacent
Thanks for sharing your post with us @futurekr

Thank you to all that participated in the last 'Hive Helping Highlight'
A Name has been selected randomly from all those that commented on the Hive Helping Highlight Post using http://namepicker.com to be the recipient of a Hive Prize
The winner is: @derangedvisions


Do you want to have a FREE comprehensive Tool to navigate your way around HIVE
Click the Banner below and start your training today