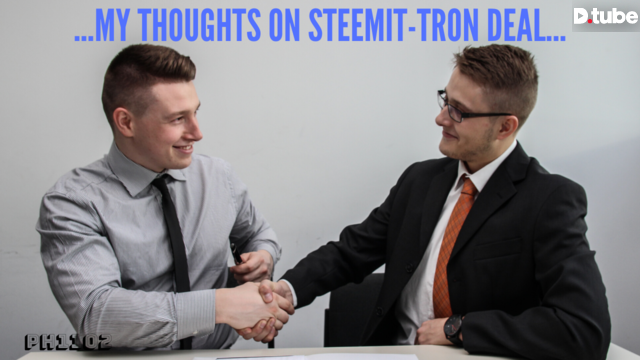 ---
I'm not a guy that rushes into things without thinking about it... a few times... at least... :) And also, it is important to give others a chance to express their point of view, before making some conclusions...
And, I have to say that all these announcements from the new Steemit Inc. boss, Justin Sun, were a bit clumsy and without a lot of real info... I can only say that they were perfectly timed... To kill a buzzing around the "Voice"... That was a pretty nice move, and it was very effective...
I have been involved in TRX a year ago, and in that time I have watched a lot of interviews with Justin Sun, and read a lot of news about him... I would say that he is the kind of person that you can dislike, but you have to admit that he knows how to marketing stuff and know how to get attention to himself and projects that he runs...
Of course, this deal has a lot of pros and cons, but I would say that's too early to make harsh conclusions as they have just made a deal... and it's impossible to do some things in a day or two, as some of the Steemians think... And it's too early to create panic as we really don't know Justin's future steps about Steemit and STEEM...
I would say that maybe even he doesn't know his exact moves for the future... And knowing that, we have a chance to convert some of his thoughts and maybe "float the boat" on our path... To do that, we should create a channel for communication with Justin and try to open a dialogue as adult people... Without attacking the first ball...
I have read a lot of stuff about this, but it's interesting that nobody has mention current employees in Steemit Inc (@andrarchy, @justinw, @vandeberg...)... Maybe they can be our first channel of communication with Justin and introduction to the STEEM community...
Don't forget to check out the video...
Just my 2 STEEM...
~ph~
---
Music in video:
Growing Up by Scott Buckley https://soundcloud.com/scottbuckley
Creative Commons — Attribution 3.0 Unported — CC BY 3.0

.:. .:. .:. .:. .:. .:. .:. .:. .:. .:. .:. .:. .:. .:. .:. .:. .:. .:. .:. .:. .:. .:. .:. .:. .:.

Don't forget to follow, resteem and browse my steempage to stay connected with all the great stuff!

You can find me on ClickTrackProfit .:. Twitter .:. LBRY

.:. .:. .:. .:. .:. .:. .:. .:. .:. .:. .:. .:. .:. .:. .:. .:. .:. .:. .:. .:. .:. .:. .:. .:. .:.
---
▶️ DTube
▶️ IPFS